Congress leader Rahul Gandhi Wednesday termed as "very serious" the issue of China releasing a "standard map" that laid claim over Arunachal Pradesh and Aksai Chin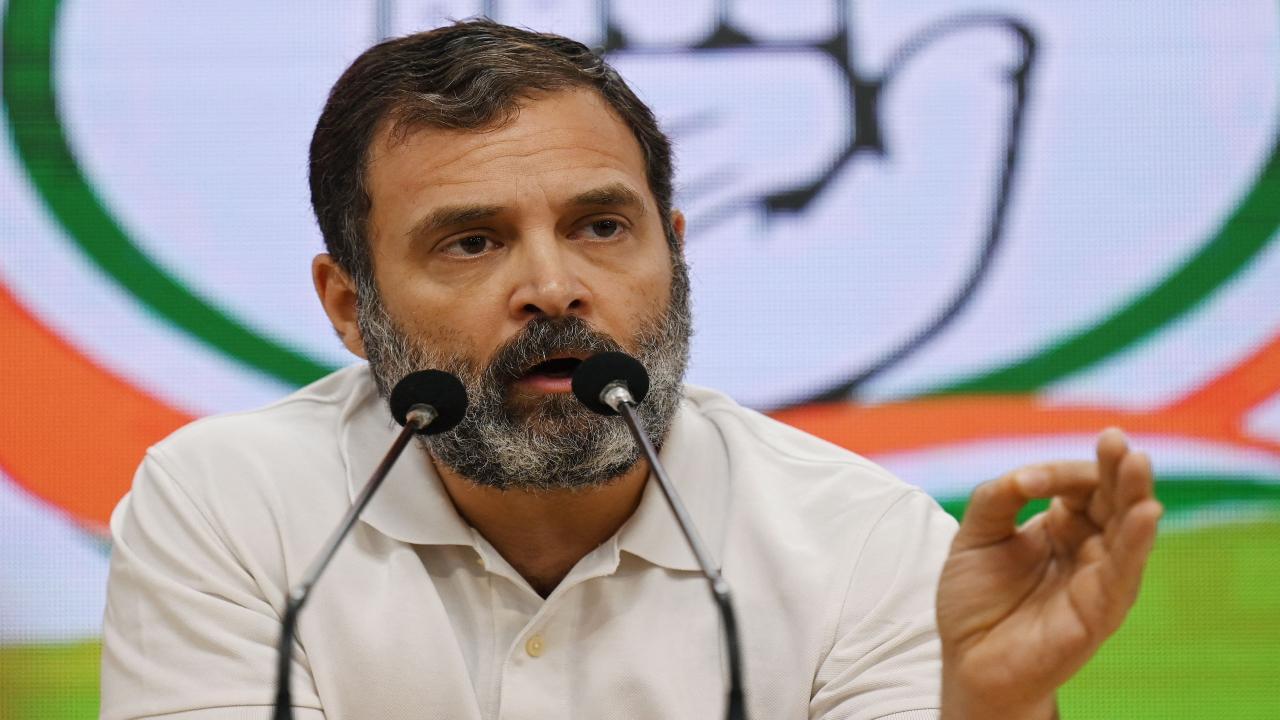 File Photo/PTI
Listen to this article
China map issue 'very serious', PM should speak on it: Rahul Gandhi
x
Congress leader Rahul Gandhi Wednesday termed as "very serious" the issue of China releasing a "standard map" that laid claim over Arunachal Pradesh and Aksai Chin. He said the neighbouring country had already taken India's land in Ladakh and Prime Minister Narendra Modi should speak on the issue, PTI reported.
On Monday, Beijing released the 2023 edition of the so-called "standard map of China" that laid claim over Arunachal Pradesh and Aksai Chin as regions within its borders.
ADVERTISEMENT
Asked about the map issue as he was leaving for Karnataka, Gandhi told reporters, "I have just returned from Ladakh and I have been saying for years that what the PM has said, that not one inch of land has been lost in Ladakh, is an absolute lie. The whole of Ladakh knows that China has usurped our land."
"This map issue is very serious but they have already taken away our land and the PM should say something about that too," the former Congress president said.
The Congress on Tuesday took strong objection to the inclusion of Arunachal Pradesh and Aksai Chin in China's map and asserted that these are inalienable parts of India which no such illegal representation or arbitrarily invented map by the "habitual offender" can change.
Raising the Sino-India border issue in Kargil last week, Gandhi said everyone in Ladakh knows that China has "taken away our land", claiming that the prime minister's assertion that not an inch of land was occupied was "absolutely false".
India has lodged a strong protest with China over the map.
Also read: Sanjay Raut supports Rahul Gandhi's claims after China's new map includes Arunachal and Aksai Chin
External Affairs Ministry spokesperson Arindam Bagchi on Tuesday said India rejects these claims as they have no basis and that such steps by the Chinese side only "complicate" the resolution of the boundary question.
On Tuesday, Shiv Sena (UBT) MP Sanjay Raut lent support to Rahul Gandhi's assertions following China's release of a revised map. He emphasized that if the Central government possesses the necessary resolve, it should consider a surgical strike against China in response.
Raut's remarks come in the wake of Rahul Gandhi's claims about Chinese incursions into Ladakh's Pangong valley.
While speaking to reporters in a press briefing, Raut said that Rahul Gandhi's claims that China has entered Pangong valley in Ladakh were true.
"(Our Prime Minister Narendra Modi) recently attended the BRICS summit and greeted Xi Jinping. After that, comes the map of China. Rahul Gandhi's claim is true that China has entered the Pangong valley in Ladakh. China tries to enter Arunachal. If you (Central government) have courage then do a surgical strike on China," the Shiv Sena (UBT) leader said. (Agencies)
"Exciting news! Mid-day is now on WhatsApp Channels

Subscribe today by clicking the link and stay updated with the latest news!"
Click here! Do you like to interpret your dreams?