During physical checking of the bag, Asstt. Sub Inspector Hari Kishan of CISF detected fake RBI documents Rs 88 thousand crores, stickers with Indian Emblem, RBI Logo, Bond Papers, etc. The passengers were supposed to travel to Chennai, the CISF said in a statement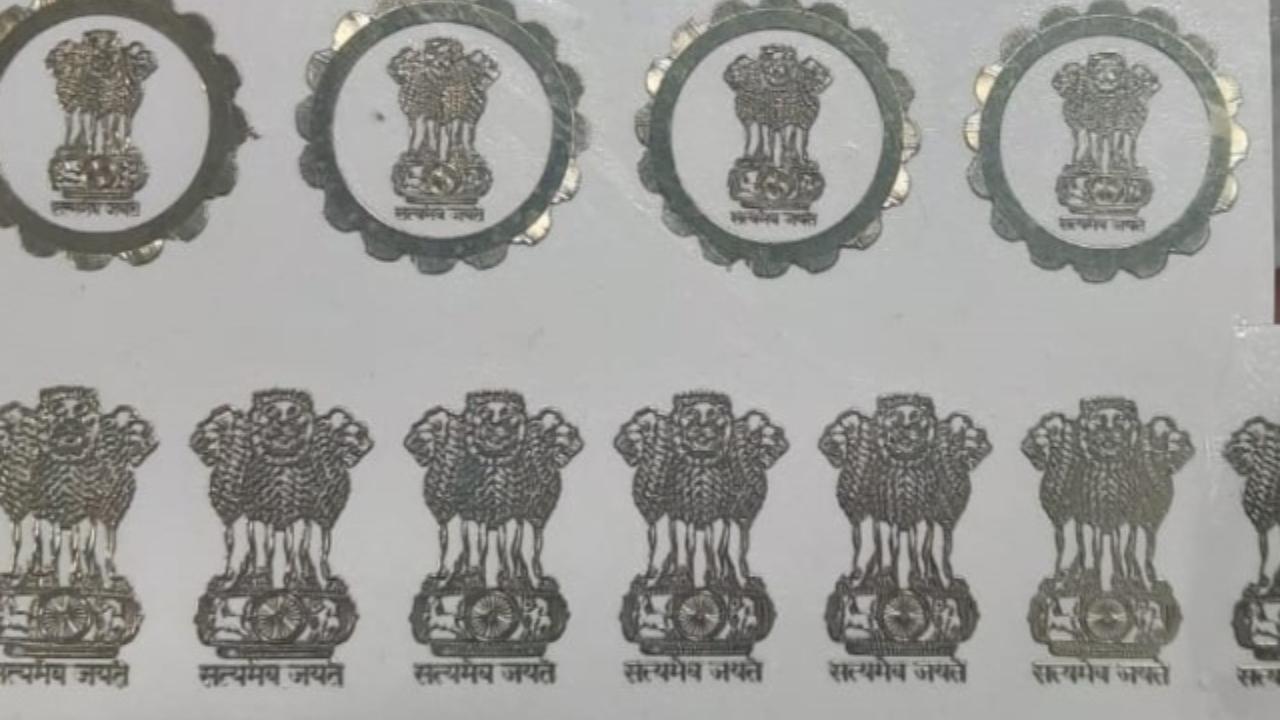 The recovered logos. Pic/CISF
A Central Industrial Security Force (CISF) official denied a bribe of Rs 3 lakh that was offered to him  by a passenger at Delhi airport. The official, Asstt. Sub Inspector Hari Kishan busted three passengers allegedly carrying fake Reserve Bank of India (RBI) on Friday, an official press release by the CISF said on Saturday.   
According to the release, at about 6:20 pm, during a pre-embarkation security check at Domestic security hold area, Terminal-3 Indira Gandhi International (IGI) Airport in New Delhi, the screener deployed at X-BIS No. 17 noticed suspicious images in a hand bag. The bag was marked for physical checks.
ADVERTISEMENT
"During physical checking of the bag, Asstt. Sub Inspector Hari Kishan of CISF detected fake RBI documents (Document of Rs 88 thousand crores), stickers with Indian Emblem, RBI Logo, Bond Papers, etc. The passenger was later identified as Rahul, who was travelling along with two co-passengers Abdul Irfan and Arpudharaj (All Indian nationals) who were supposed to travel to Chennai," the CISF said in a statement. 
The press release further said, on query by Asstt. Sub Inspector Hari Kishan of CISF regarding carrying of such important documents and stickers, the passengers did not reply satisfactorily and discreetly offered him a bribe of Rs 3,00,000 to let them go along with the detected documents. However, Asstt. Sub Inspector Hari Kishan rebuffed the
offer and apprehended the erring passengers and immediately informed the matter to the senior officers of CISF.
Also Read: 25-year-old Man killed for Rs 500 near Bandra railway station, two brothers held
It said, the matter was informed to Income Tax officials, who reached at the location and after enquiry it was decided to handover the apprehended passengers and detected documents, stickers, etc to Delhi Police for further investigation. 
"All three passengers along with their belongings and the documents were handed over to Delhi Police by CISF for further legal action in the matter. It is learnt that an FIR has been registered at IGI Airport Police Station in the matter and it is further being investigated by the police. Sheel Vardhan Singh, DG, CISF has appreciated Asstt. Sub Inspector Hari Kishan for his honesty and declared a cash reward to him," the CISF said in the press release. Will the newly created special police commissioner post help Mumbai with better policing?