Gandhi, during a media interaction at the National Press Club in Washington, US, was asked about his party being in alliance with the Indian Union Muslim League (IUML) in Kerala while talking about secularism, to which he answered "Muslim League is a completely secular party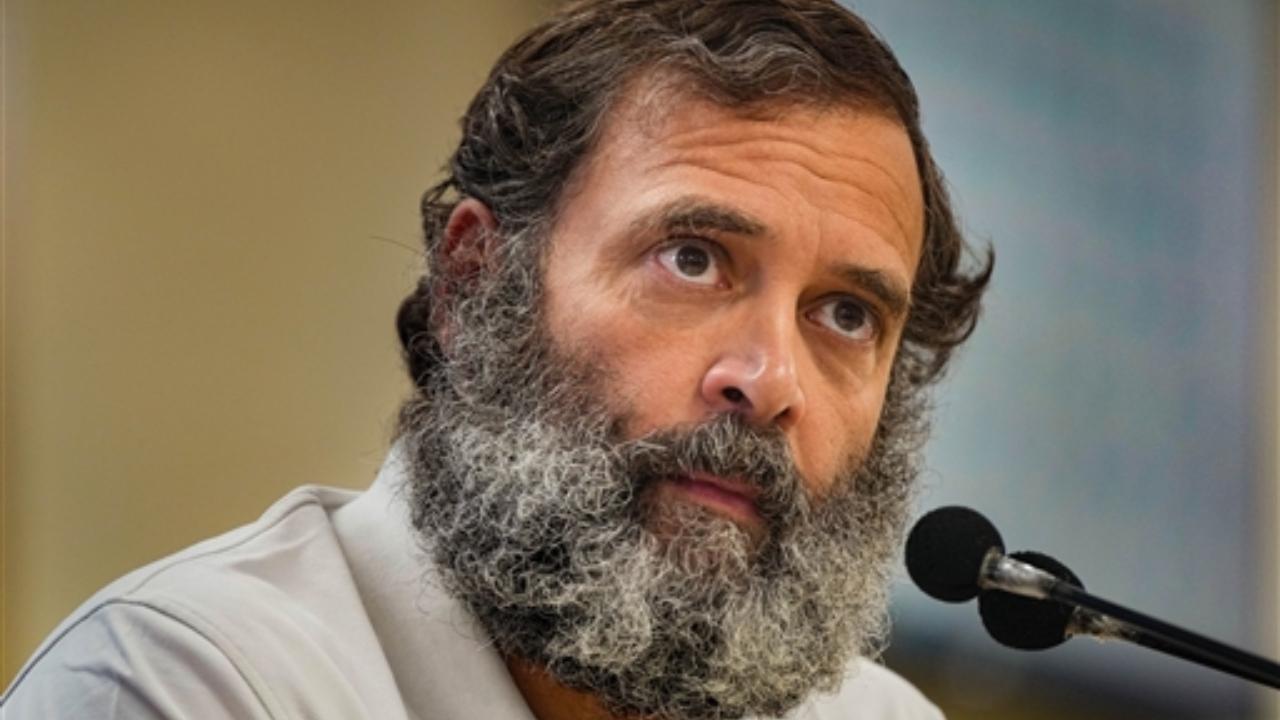 Rahul Gandhi. Pic/PTI
Rahul Gandhi's remark that IUML is a "completely secular party" triggered a political slugfest on Friday with the BJP alleging that the Kerala-based party is guided by the same mindset which was behind the Muslim League and the Congress reminding the saffron party about its veteran leader L K Advani's praise for Mohammad Ali Jinnah during his 2005 Pakistan visit, reported PTI.
According to PTI, Gandhi, during a media interaction at the National Press Club in Washington, US, was asked about his party being in alliance with the Indian Union Muslim League (IUML) in Kerala while talking about secularism, to which he answered "Muslim League is a completely secular party. There is nothing non-secular about the Muslim League."
ADVERTISEMENT
Gandhi's remark drew a sharp response from the BJP as its leaders alleged that the IUML is guided by the same mindset which was behind Jinnah's All India Muslim League. Launching a scathing attack against Gandhi, Union minister Anurag Thakur said,"these are the same people who had stayed back after partition. They formed the Muslim League hereafter partition and became MPs. They advocated for Sharia law and wanted separate seats reserved for Muslims. They are the same people who are part of the same Muslim League.
"It is Rahul Gandhi and the Congress that sees Hindu terrorism but feels Muslim League is secular." In a counter-attack, the Congress said the party Gandhi referred to was different from the Muslim League, for which the BJP has "more love" and whose leader Jinnah was hailed by Advani.
In a tweet, Congress general secretary Jairam Ramesh said,"Syama Prasad Mookerjee was in league with the Muslim League in the government in Bengal when (Mahatma) Gandhiji launched Quit India movement. SPM was singularly responsible for the partition of Bengal." He also tagged a tweet by Congress leader Amitabh Dubey who had slammed BJP IT department head Amit Malviya for his criticism of Gandhi, saying "You're confusing the Kerala-based IUML he is talking about with Jinnah's Muslim League that took Savarkar's two-nation theory to its logical conclusion."
"The same Muslim League with whom BJP founder SP Mookerjee and Hindu Mahasabha formed coalition governments in Bengal, Sind, NWFP (North-West Frontier Province)," Dubey said. Congress' media department head Pawan Khera hit out at the BJP over its criticism and said the BJP-RSS have more knowledge of Pakistan's politics and Jinnah's Muslim League as they share a historical 'jugalbandi'.
He said the NDA government led by Atal Bihari Vajpayee had sent IUML leader E Ahamed to Geneva to represent India. "IUML established the largest Sanskrit University in Kerala. The BJP also made an alliance with IUML for Nagpur Municipal Corporation. The omniscient Vishwaguru of WhatsApp nursery, please enrich your knowledge," Khera claimed in a tweet in Hindi.
Meanwhile, the IUML welcomed Gandhi's statement that the Kerala-based party is completely secular, saying the Congress leader's assertion came from his party's experience. "Rahul Gandhi's statement that the Muslim League is a secular party is based on his party's experience. We look at it with great responsibility. The Muslim League's close relationship with Congress dates back to the days of Indira Gandhi," IUML general secretary P K Kunhalikutty said in a Facebook post.
BJP national spokesperson and MP Sudhanshu Trivedi claimed a link between the regional party and Jinnah's outfit, which spearheaded the partition stir among Muslims.
"For the Congress, parties such as AIMIM, Muslim League and Indian Secular Front, a West Bengal party formed by a Muslim cleric, are secular and the PFI, a banned radical Islamic organisation, is a cultural body," he said. Mocking Gandhi, the BJP leader said his claim raises a question mark on his wisdom.
Reacting to the BJP's criticism, Congress spokesperson Gourav Vallabh said the party Gandhi referred to is IUML which is a registered political party in India. "Is a registered party in India not a secular party? Does the Election Commission get ineligible parties registered? I would like to remind the BJP that this is not the party with which Syama Prasad Mookerjee aligned to form the government in Bengal," Vallabh said at a press conference at the AICC headquarters here.
"That Muslim League of Jinnah is different, with which you formed the government. Rahul Gandhi has not talked about that Muslim League but the thing is that you have more love for that party, therefore, you think that the party being talked about is the one whose leader was Jinnah," he said, slamming the BJP.
Vallabh said he would like to tell the BJP people that the former Congress chief was not talking about the Muslim League of Jinnah on whose mausoleum in Pakistan, BJP co-founder Advani had hailed him and called him "secular".
In 2005, Advani visited Pakistan and praised the neighbouring country's founder Jinnah, triggering criticism from within his own party. Hitting out at the BJP leaders for their criticism, Vallabh said,"so all those who today are talking about IUML should go and ask Advani ji," he said.
(With inputs from PTI) Do you practice ecotourism?