Congress and the Bharatiya Janata Party sparred over Rahul Gandhi's "one such specimen" remark made in the US against Prime Minister Narendra Modi, with the ruling party slamming him as a "fake Gandhi" who "insults" India on foreign soil.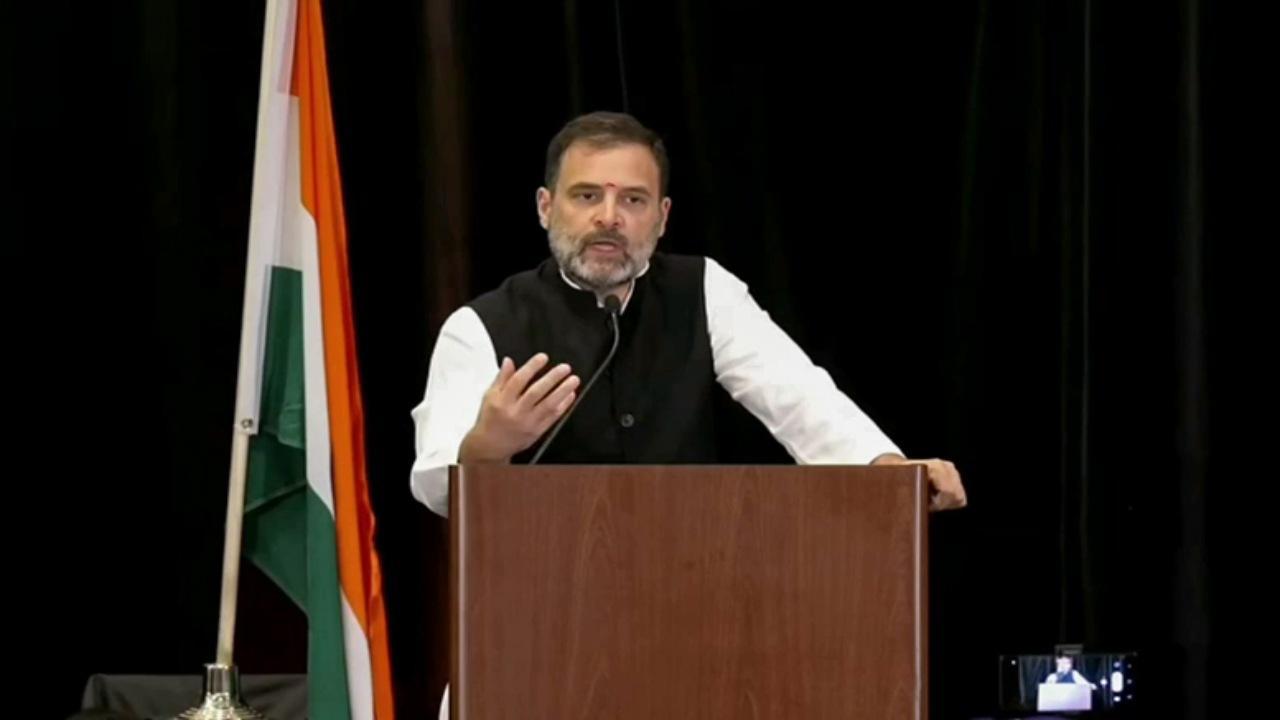 Rahul Gandhi. File photo ANI
The Congress and the Bharatiya Janata Party sparred over Rahul Gandhi's "one such specimen" remark made in the US against Prime Minister Narendra Modi, with the ruling party slamming him as a "fake Gandhi" who "insults" India on foreign soil.
Addressing an event in Santa Clara in the US, Gandhi took a dig at Prime Minister Modi, describing him as a "specimen", who could start explaining to God how the universe worked.
ADVERTISEMENT
Leading the attack on Gandhi, Union Information and Broadcasting Minister Anurag Thakur claimed that the Congress goes abroad on "sponsored programmes" for "anti-India propaganda" to insult the country on foreign soil.
The Congress hit back, saying these are "made-up distractions" by Modi and his "drum beaters". It also said the former party chief's comments and beliefs have always been in the best interests of the country.
"Rather than being a mere event, the Bharat Jodo Yatra has become a transformational movement. It continues to resonate with millions of Indians here and around the world because it gave them a platform to raise their issues," Congress general secretary Jairam Ramesh said on Twitter, tagging Gandhi's tweet on his remarks in the US.
"The real issues hurting our people are unemployment, soaring price rise and the spread of anger and hatred - completely made-up distractions by the PM and his drum beaters will not change that," he said.
Asked about the BJP's criticism of Gandhi during a press conference at the AICC headquarters here, Congress MP Deepender Hooda said, the former party chief's statements and beliefs have always been in the best interest of the country. "No person should think of being synonymous with the country," he said.
Thakur further said Gandhi likened the alleged targeting of Muslims in India to what used to happen to Dalits in Uttar Pradesh in the 1980s but forgot to tell people that it was the Congress that was in power in the country and the state then.
In his address, the Congress leader also alleged that other minorities like Sikhs and Christians, besides Dalits and tribals, were also being targeted.
Slamming him for criticising the state of affairs in India under the Modi government, Thakur said it has become a habit of the Congress leader to insult the country as he does not consider India a nation. The BJP leader alleged that Gandhi had himself said so earlier.
Also read: Mumbai: Water supply to be affected in parts of city between June 4 to June 8, check details
"Who are the people behind such programmes and whose platforms are used for such anti-India campaigns? These questions had risen even during Gandhi's last foreign visit and this time too, his visit has started by defaming India," Thakur said.
Union Minister for Parliamentary Affairs Pralhad Joshi claimed that the Congress leader's knowledge of history did not go beyond his family.
"It is funny how someone who knows nothing is suddenly an expert on everything. A man whose knowledge of history does not go beyond his family is talking about history," the senior BJP leader said.
"No Mr Fake Gandhi! The core of India is its culture. Unlike you, who use foreign soil to tarnish the country, Indians are very proud of their history and can very well defend their geography," he said.
Gandhi, 52, told Indian-Americans in the US that the idea of India was under attack and being challenged.
BJP chief spokesperson and Rajya Sabha member Anil Baluni said it is in the Congress' character to defame the country and conspire against it.
The world is lauding India for its development under Prime Minister Modi's leadership but some leaders in the country are working to malign it on foreign soil, he said.
Senior BJP leader and Rajya Sabha MP Sushil Modi said Gandhi is making such remarks out of "frustration" as people of the country are standing by Prime Minister Modi.
"People from the Congress following dynastic tradition feel that it is their birthright to rule but today they have been deprived of this right and people are standing by Narendra Modi due to his work," he said.
Thakur said while India was progressing and touching new heights under Modi, leaders like Rahul Gandhi were insulting the country abroad.
"Rahul Gandhi forgets that what he talks about happened when the Congress governments were in power both at the Centre and states. Who was the prime minister when Sikhs were killed in 1984," he asked.
At the 'Mohabbat Ki Dukaan' event organised by the Indian Overseas Congress USA, Gandhi targeted the government, saying the poor and those from the minority communities feel helpless today in India.
"That is the disease. We have a group of people in India, who are absolutely convinced that they know everything. In fact, they think they know even better than God. They can sit down with God and have a conversation and explain to him about what is going on. Of course, our prime minister is one such specimen," he said.
Gandhi also took an apparent swipe at the Modi government, saying these people are "absolutely convinced" that they know everything and can explain history to historians, science to scientists and warfare to the army.
"If you sat Modiji with God, he will explain to God how the universe works and God will get confused," the Congress leader said, evoking laughter from the audience.
This story has been sourced from a third party syndicated feed, agencies. Mid-day accepts no responsibility or liability for its dependability, trustworthiness, reliability and data of the text. Mid-day management/mid-day.com reserves the sole right to alter, delete or remove (without notice) the content in its absolute discretion for any reason whatsoever.
"Exciting news! Mid-day is now on WhatsApp Channels

Subscribe today by clicking the link and stay updated with the latest news!"
Click here! Do you think there has been a recent rise in cold-blooded murders?