Delhi High Court Monday issued notice jailed Kashmiri separatist leader Yasin Malik after the National Investigation Agency moved a plea seeking death penalty for Malik who was "convicted in connection with a terror funding case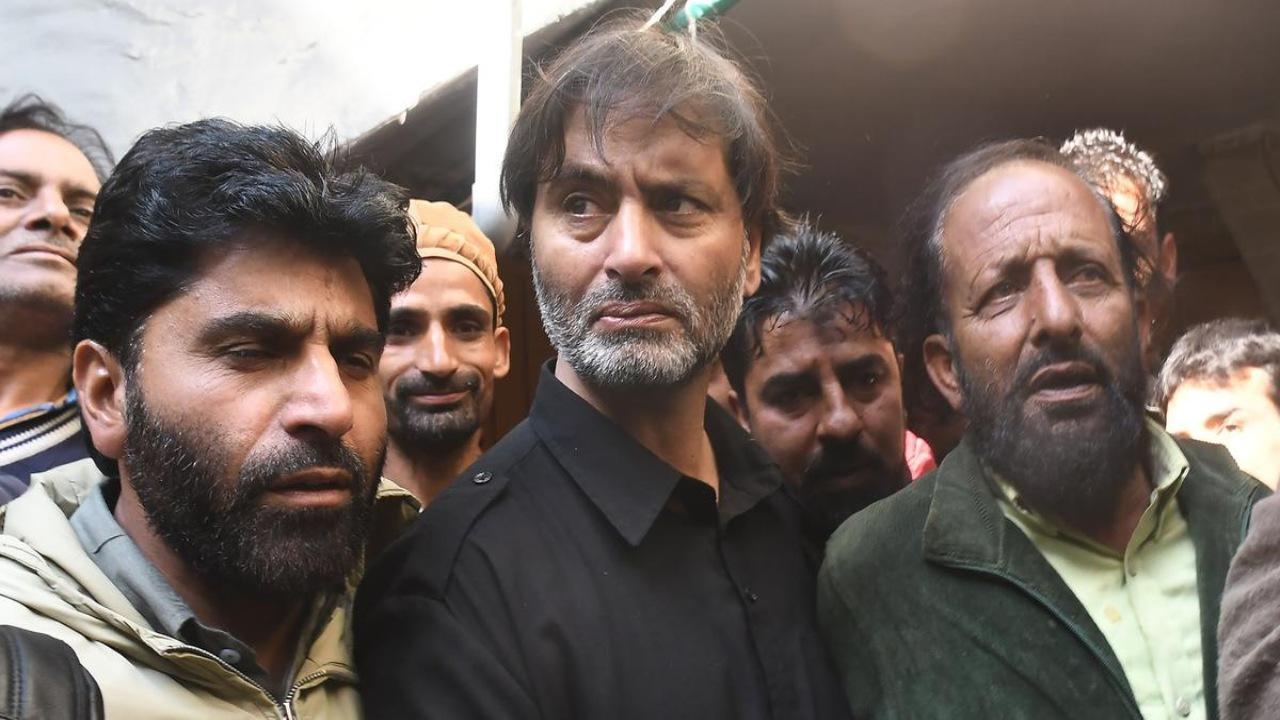 A file photo of separatist leader Yasin Malik (centre). Photo: Tauseef Mustafa/AFP
Delhi High Court Monday issued notice jailed Kashmiri separatist leader Yasin Malik after the National Investigation Agency moved a plea seeking death penalty for Malik who was "convicted in connection with a terror funding case".
Malik has been in Tihar Jail since january 2019.
ADVERTISEMENT
A division bench of Justice Siddharth Mridul and Justice Talwant Singh issued notice to Yasin Malik through the concerned Tihar Jail Superintendent and listed the matter for hearing on August 09, media reports said.
Solicitor General Tushar Mehta, representing the NIA, argued that propagating one region to be separated from the country makes the case "rarest of rare". "Any terrorist can come here and do terrorist activities, and court will say since he has pled guilty, I will give him life (sentence) and not capital," Mehta said, adding this way everyone will avoid trial.
Mehta also submitted that Yasin Malik is responsible for killing four Indian Air Force Personnel in Rawalpora, Srinagar and kidnapping of Dr. Rubaiya Sayeed, the daughter of then Union Home Minister Mufti Mohammed Sayeed. He said that it is a "rarest of rare case" deserving death sentence.
Mehta submitted charge under section 121 of Indian Penal Code (waging war against the Government of India) is made out against Malik which is punishable with death.
Also read: Hurriyat appeals GoI to release political prisoners and send a message of conciliation, says NIA seeking death penalty for Yasin Malik 'deeply disturbing'
The bench questioned NIA on specific charges against Malik and those to which he pleaded guilty. The court asked NIA to point out where such acts of killing and kidnapping are mentioned in the order framing charge passed by the trial court.
After hearing Mehta, the court issued notice on NIA's plea and also on the application seeking condonation of delay in refiling of the appeal. "In view of the circumstance that Yasin Malik, the sole respondent in this appeal, has inter alia pleaded guilty to a charge under section 121 IPC which provides for alternate death sentence, we issue notice to him in both the application and appeal through jail superintendent," the court said, while also issuing production warrants for Yasin Malik. Do you participate in rescuing animals in Mumbai?