"India, despite the many global challenges, is the fastest growing major economy today. This itself is the best advertisement for the democracy and the world. This itself says that democracy can deliver," he said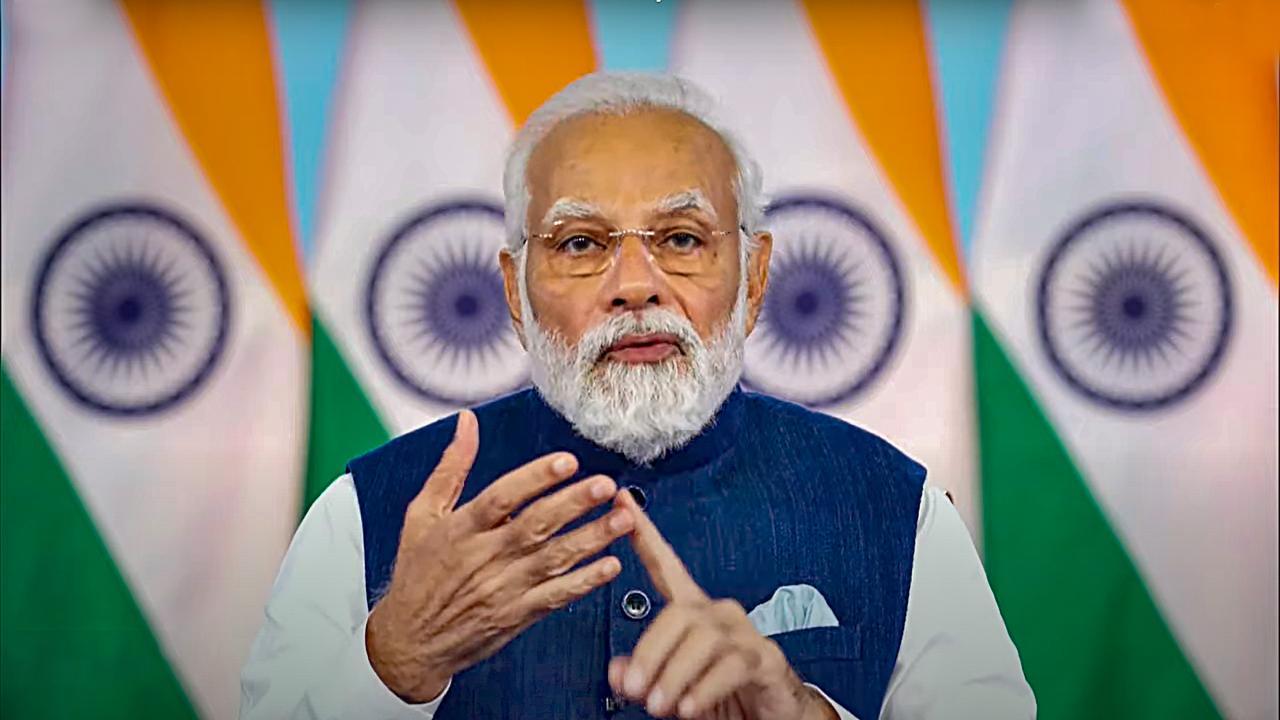 Prime Minister Narendra Modi addresses the Summit for Democracy, via video conferencing, in New Delhi, Wednesday, March 29, 2023. PTI Photo
Describing India as the mother of democracy, Prime Minister Narendra Modi on Wednesday said the country has become the fastest-growing major economy despite many global challenges and this proves that the democracy can deliver.
In a virtual address to the Summit for Democracy, 2023, Modi also said that every initiative of his government is powered by collective efforts of the citizens of India.
ADVERTISEMENT
"India, despite the many global challenges, is the fastest growing major economy today. This itself is the best advertisement for the democracy and the world. This itself says that democracy can deliver," he said.
Modi was speaking at the second Summit for Democracy, co-hosted by US President Joe Biden, Costa Rica President Rodrigo Chaves Robles, Zambia President Hakainde Hichilema, the Netherlands Prime Minister Mark Rutte and South Korea President Yoon Suk Yeol.
Speaking during the 'Leader-level Plenary on Democracy Delivering Economic Growth and Shared Prosperity' session hosted by President Yoon, he said the idea of elected leaders was a common feature in ancient India long before the rest of the world.
"Our epic Mahabharata describes the first duty of citizens as choosing their own leader. Our sacred vedas speak of political power being exercised by broad-based consultative bodies. There are also many historical evidences of republic states in ancient India where rulers were not hereditary," Modi said.
"India indeed is the mother of democracy. Democracy is not just a structure, it is also a spirit. It is based on the belief that the needs and aspirations of every human being are equally important. That is why in India, our guiding philosophy is 'Sabka saath, sabka vikas', meaning striving together for inclusive growth," he said.
Also read: Navi Mumbai: Policeman arrested in 'Karmuse case' found dead on railway track
"Whether it is our effort to fight climate change through lifestyle changes, to conserve water through distributed storage or provide clean cooking fuel to everyone, every initiative is powered by collective efforts of citizens of India. During Covid-19, India's response was people-driven," the prime minister added.
Modi said the country's 'vaccine maitri' initative was also guided by the mantra' of 'vasudeva kutumbakam', meaning 'one earth, one family and one future'.
This story has been sourced from a third party syndicated feed, agencies. Mid-day accepts no responsibility or liability for its dependability, trustworthiness, reliability and data of the text. Mid-day management/mid-day.com reserves the sole right to alter, delete or remove (without notice) the content in its absolute discretion for any reason whatsoever. Do you indulge in mindful activities for an improved mental health?