In India, until very recently, AVGAS 100 LL fuel primarily used by Flying Training Organisations (FTOs) and Defence forces was imported at a huge cost from European countries for decades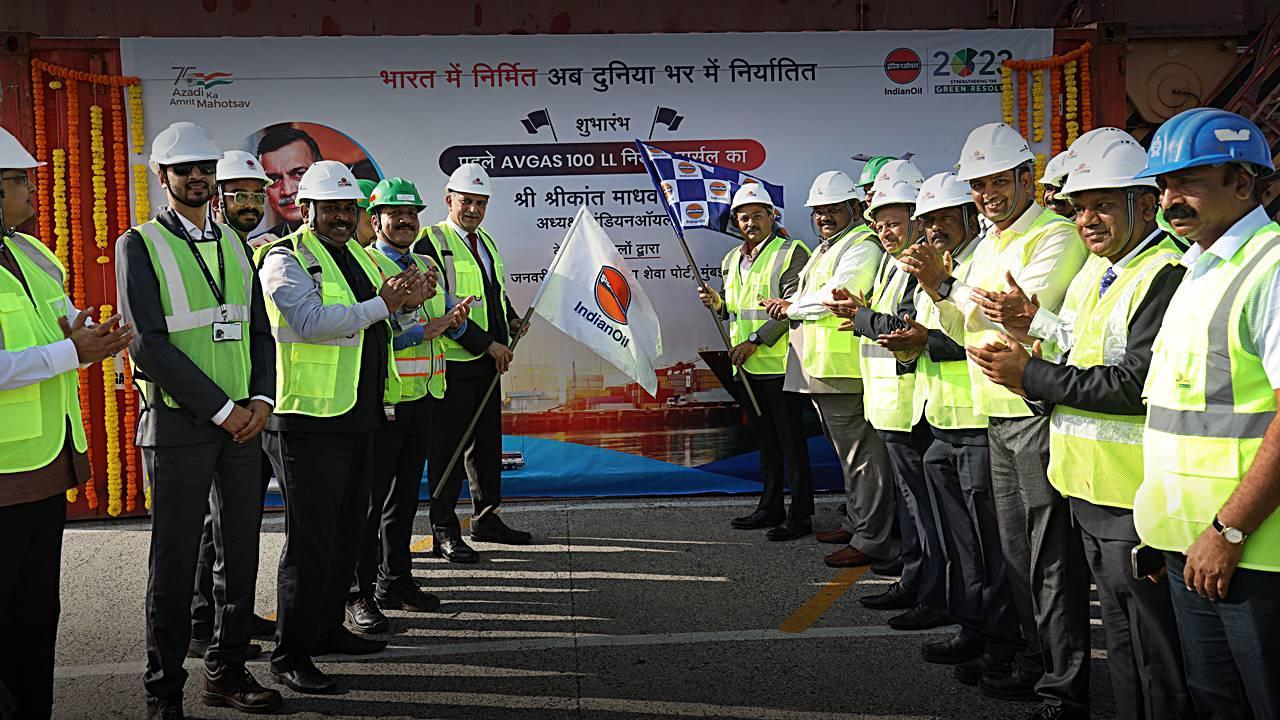 Principal grade of Aviation Gasoline, AVGAS 100 LL is designed for use in reciprocating piston engines aircrafts, mainly used by FTOs and defence forces for training pilots. Pic/IndianOil
The first export consignment of AVGAS 100 LL to Papua New Guinea from GTI Terminal of JNPT was flagged off on Saturday by the chairman of IndianOil – S M Vaidya. A press release by IndianOil mentioned that the consignment consisted of 16 KL of AVGAS packed in 80 barrels and that this was the first ever instance of India exporting AVGAS.
Speaking on the occasion, Vaidya said that IndianOil is fully geared to explore the possible business avenues opened up with manufacturing of this product. Vaidya said this while citing projected growth numbers of the global aviation gasoline market and aviation traffic. "The global aviation gasoline market is projected to grow at 5% CAGR. The Aviation traffic in India is also likely to grow by 7%," he said.
"With the superior performance quality standards and competitive prices, IndianOil is aiming to secure significant market share. The indigenous production of AVGAS 100 LL in India will not only help in saving foreign exchange on imports but will make pilot training in domestic flying institutes economical for budding pilots," Vaidya added.
In India, until very recently, AVGAS 100 LL fuel primarily used by Flying Training Organisations (FTOs) and Defence forces was imported at a huge cost from European countries for decades.
IndianOil launched the indigenous production of aviation fuel AVGAS 100 LL on September 26, 2022 at Air Force Station, Hindan and the same is now being extensively used in the domestic market.
Also read: Maharashtra: Indian Oil suspends 3 officers for financial malpractice
"The present production of AVGAS 100 LL is being done from IndianOil's Gujarat Refinery which has a capacity of 5TMT per annum. The domestic production of AVGAS 100 LL produced by Indian Oil at its Gujarat Refinery will make flying training more affordable in India and abroad," read the press release by IndianOil.
In countries such as South America, Asia Pacific, Middle East, Africa and Europe, there is  a significant consumption of AVGAS. "Therefore, there is a great opportunity to export AVGAS beyond the shores of India. As a first step in this direction, the first parcel of AVGAS produced in India was exported on date," the release added.
Principal grade of Aviation Gasoline, AVGAS 100 LL is designed for use in reciprocating piston engines aircrafts, mainly used by FTOs and defence forces for training pilots.
The release further mentioned that the AV GAS 100 LL produced by IndianOil's flagship refinery at Vadodara has been tested and certified by Directorate General of Civil Aviation (DGCA), the statutory body of the Government of India to regulate civil aviation in India. "It is a higher-octane Aviation fuel meeting the product specifications with superior performance quality standards, as compared to imported grades," it said. Should Joshimath subsidence be declared as a national disaster?