Addressing mediapersons on the issue of the Centre bringing in an ordinance negating the Supreme Court order, Arvind Kejriwal said that he stands with the people of the national capital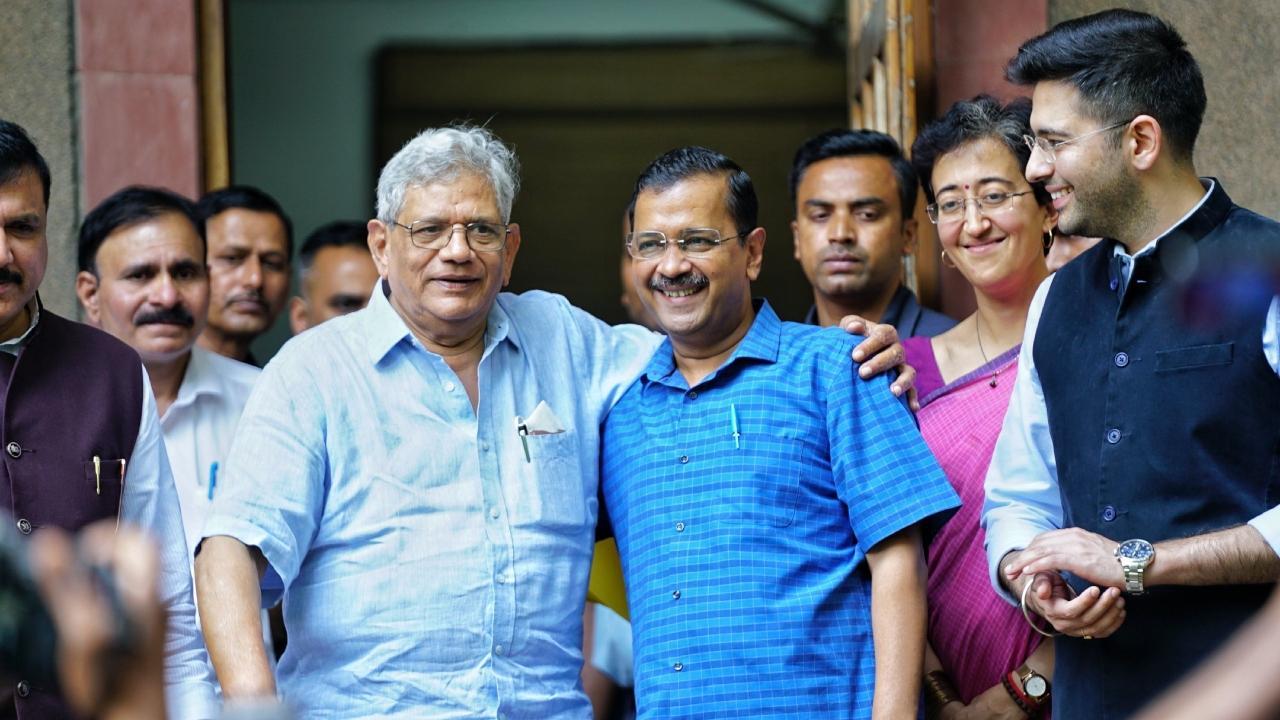 Sitaram Yechury and Arvind Kejriwal. Pic/Twitter@ArvindKejriwal
Communist Party of India (Marxist) General Secretary Sitaram Yechury on Tuesday met Delhi Chief Minister Arvind Kejriwal in the national capital and extended his support to the Aam Aadmi Party (AAP) convenor against the Centre's Ordinance on control over administrative services in Delhi.
According to news agency ANI, after the meeting, Yechury said, "We have condemned the ordinance brought by the Centre. It is unconstitutional. It is also contempt of Court. We appeal to the biggest opposition party Congress to come forward to save our constitution."
ADVERTISEMENT
Addressing mediapersons on the issue of the Centre bringing in an ordinance negating the Supreme Court order, Arvind Kejriwal said that he stands with the people of the national capital.
"CPI(M) has decided to extend support to the Delhi government against the Centre's ordinance," Kejriwal said.
Arvind Kejriwal said that they will challenge the Ordinance in the Supreme Court and hoped all Opposition parties will come together and support them on the issue, reported ANI
Kejriwal had on May 23 embarked on a nationwide tour to seek support from the Opposition parties against the Ordinance.
Kejriwal had met West Bengal Chief Minister Mamata Banerjee, former Maharashtra CM Uddhav Thackeray, Nationalist Congress Party (NCP) supremo Sharad Pawar, Bihar CM Nitish Kumar and his deputy Tejashwi Yadav.
Kejriwal has also sought time to meet Congress president Mallikarjun Kharge and party leader Rahul Gandhi for their support in the matter. 
The Centre on May 19 had promulgated the ordinance to create an authority for the transfer and posting of Group-A officers in Delhi, which the AAP government had called a deception with the Supreme Court verdict on control of services.
The ordinance came a week after the Supreme Court handed over the control of services in Delhi, excluding police, public order and land, to the elected government. It seeks to set up a National Capital Civil Service Authority for the transfer of and disciplinary proceedings against Group-A officers from the DANICS cadre.
Transfer and postings of all officers of the Delhi government were under the executive control of the lieutenant governor before the top court's May 11 verdict.
(With inputs from ANI)