Scores of residents on Tuesday held a protest demonstration in Udhampur district of Jammu region against the "targeted killing" of a man by militants in Anantnag district of Kashmir division on Monday night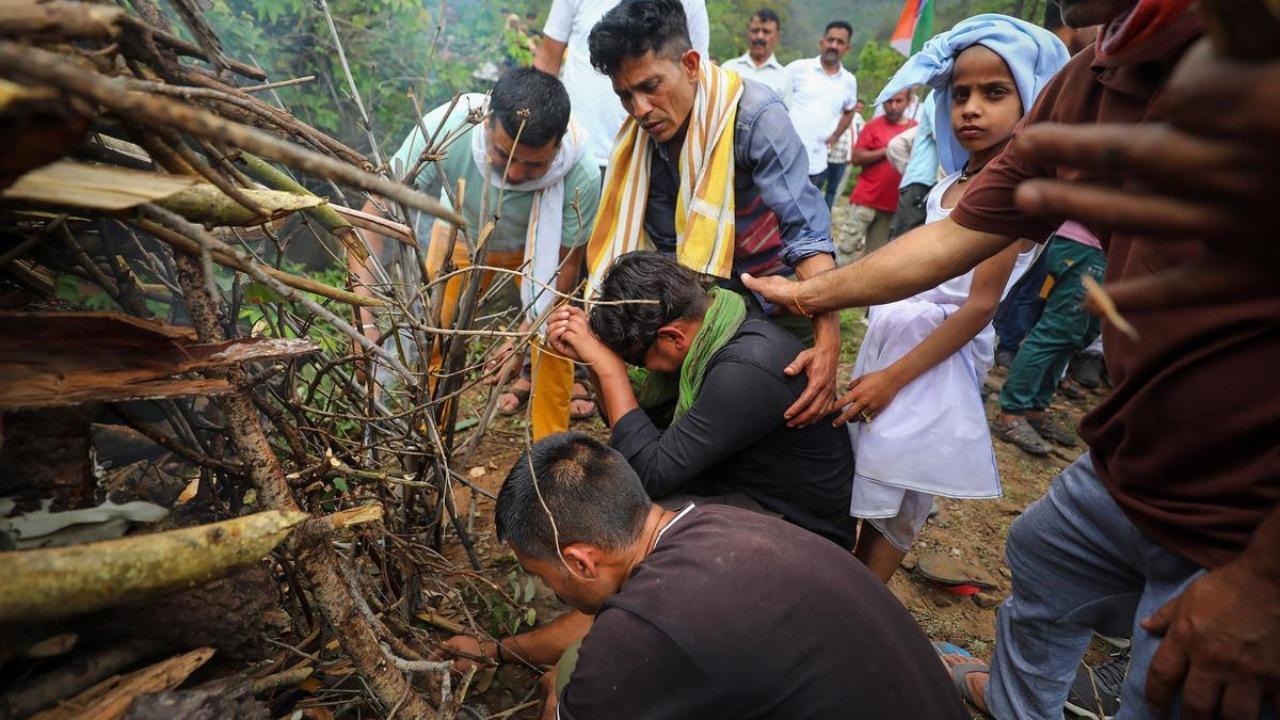 Family members perform rituals during the last rites of Deepu Kumar who was shot dead by terrorists in Anantnag district on Monday, in Udhampur district, on May 30, 2023. Photo/PTI
Scores of residents on Tuesday held a protest demonstration in Udhampur district of Jammu region against the "targeted killing" of a man by militants in Anantnag district of Kashmir division on Monday night.
Deepu Kumar, a resident of Udhampur, was shot dead by two motorcycle-borne youths from a close range at around 8:30 pm near Janglat Mandi in Anantnag town when he had gone to buy groceries. The slain was working at a private circus mela at an amusement park in Anantnag.
ADVERTISEMENT
Meanwhile, New Delhi-appointed Lieutenant Governor of Jammu and Kashmir Manoj Sinha has condemned the attack and extended condolences to the family of the slain civilian.
The LG said the Government and entire nation is standing shoulder to shoulder with the family. "Our security forces remain committed in their resolve to thwart the designs of terrorists and all efforts will be made to bring the perpetrators to justice," the Lt Governor said and also approved ex-gratia of Rs 5 lakh to the next of kin.
Meanwhile, National Conference president, Farooq Abdullah and Vice President Omar Abdullah condemned the killing and expressed their "unequivocal disapproval" of such "despicable acts of violence".
Peoples Democratic Party chief Mehbooba Mufti tweeted: "Deeply anguished by yet another attack on an innocent civilian in Anantnag. Deepu eked out his living by working at an amusement park. My heart goes out to his family in this hour of grief. This speaks volumes about GOI's policy which have been a monumental failure in J&K (SIC)."
Also read: Mumbai: 40-year-old killed after parking lot of Chembur building collapses on him
CPI(M) leader Mohammad Yousuf Tarigami in a tweet said that, "Condemning in no uncertain terms the killing of Deepu in south Kashmir's Anantnag town. The poor man was working miles away from his home to scrap a living. Such bestial acts won't achieve anything. Sharing the pain and grief of the bereaved family".
Meanwhile, police has launched an investigation into the incident, striving to bring the perpetrators to justice. "The police is working diligently to identify the terrorists and they will be killed very soon," an official said. Do you indulge in mindful activities for an improved mental health?