H. Lalengmawia, Commissioner and Secretary of the State Home Department, informed that the number of people migrating to Mizoram from Manipur, due to ongoing ethnic conflicts, has reached 8,282 as of Monday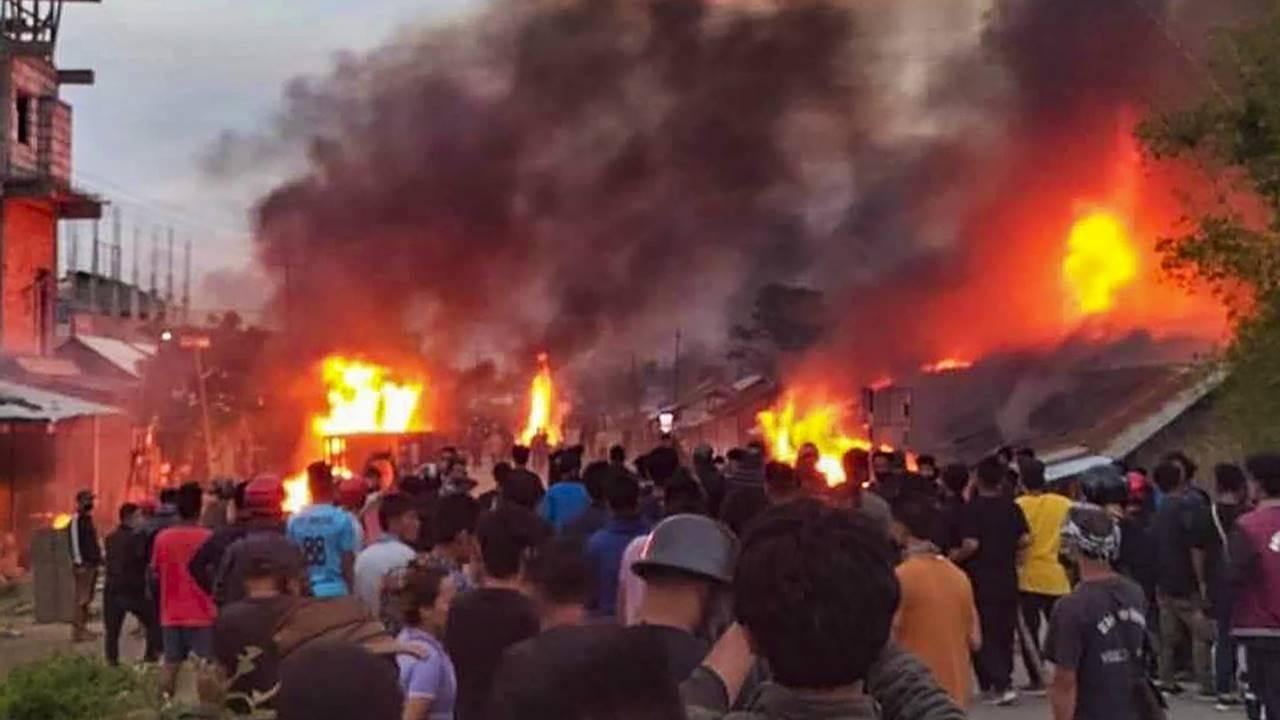 The ethnic violence initially erupted after a 'Tribal Solidarity March' was organized in the hill districts earlier this month to protest the demand by the Meitei community for Scheduled Tribe (ST) status. Pic/PTI
The Mizoram government has officially requested Rs 5 crore in assistance from the Central government to provide immediate relief to individuals seeking refuge in Mizoram from the violence-stricken state of Manipur, as stated by a senior official on Tuesday.
According to PTI, H. Lalengmawia, Commissioner and Secretary of the State Home Department, informed that the number of people migrating to Mizoram from Manipur, due to ongoing ethnic conflicts, has reached 8,282 as of Monday.
ADVERTISEMENT
Last week, a letter was sent to the Ministry of Home Affairs, seeking Rs 5 crore in financial aid for the internally displaced people. The state home secretary expressed optimism that the Central government would provide the necessary assistance, as these displaced individuals are Indian citizens.
It is noteworthy that Union Home Minister Amit Shah is presently on a four-day visit to Manipur, a state deeply affected by unrest.
Most of the displaced people have sought shelter in temporary camps across several villages, while others have found accommodation with relatives, Lalengmawia explained. According to the Mizoram home department, Kolasib district has received 2,925 people from Manipur, followed by 2,738 in Aizawl and 2,257 in Saitual. The remaining 363 individuals have taken refuge in Champhai, Khawzawl, Hnahthial, Serchhip, Mamit, and Lunglei districts.
The state government, along with non-governmental organizations, churches, and local authorities, is providing food and other essential supplies to the displaced individuals, the official stated. Thus far, the government has not faced any difficulties in terms of food and relief supplies due to the well-established arrangements made to accommodate the influx from the neighboring state. However, the state government may encounter challenges in the future, as Mizoram is also providing relief to over 35,000 individuals from Myanmar and Bangladesh.
In the meantime, Home Minister Amit Shah held consultations on Tuesday with various stakeholders, including a breakfast meeting with women leaders and a separate meeting with prominent figures, as part of his efforts to establish lasting peace in violence-stricken Manipur. This marks the first visit of the Home Minister to the northeastern state since the outbreak of ethnic clashes on May 3.
Following a relative lull for more than two weeks, the state recently witnessed a sudden escalation in clashes and exchanges of fire between militants and security forces on Sunday. The death toll from the clashes has now risen to 80, according to officials.
The ethnic violence initially erupted after a 'Tribal Solidarity March' was organized in the hill districts earlier this month to protest the demand by the Meitei community for Scheduled Tribe (ST) status. The violence followed a period of tension over the eviction of Kuki villagers from forest reserve land, which had led to a series of smaller protests.
(With PTI inputs) Do you practice ecotourism?