The state, in an affidavit submitted before a division bench of Acting Chief Justice AJ Desai and Justice Biren Vaishnav, said it issued a government resolution (GR) on March 6 regarding inspection and maintenance of major and minor bridges in areas under municipalities and municipal corporations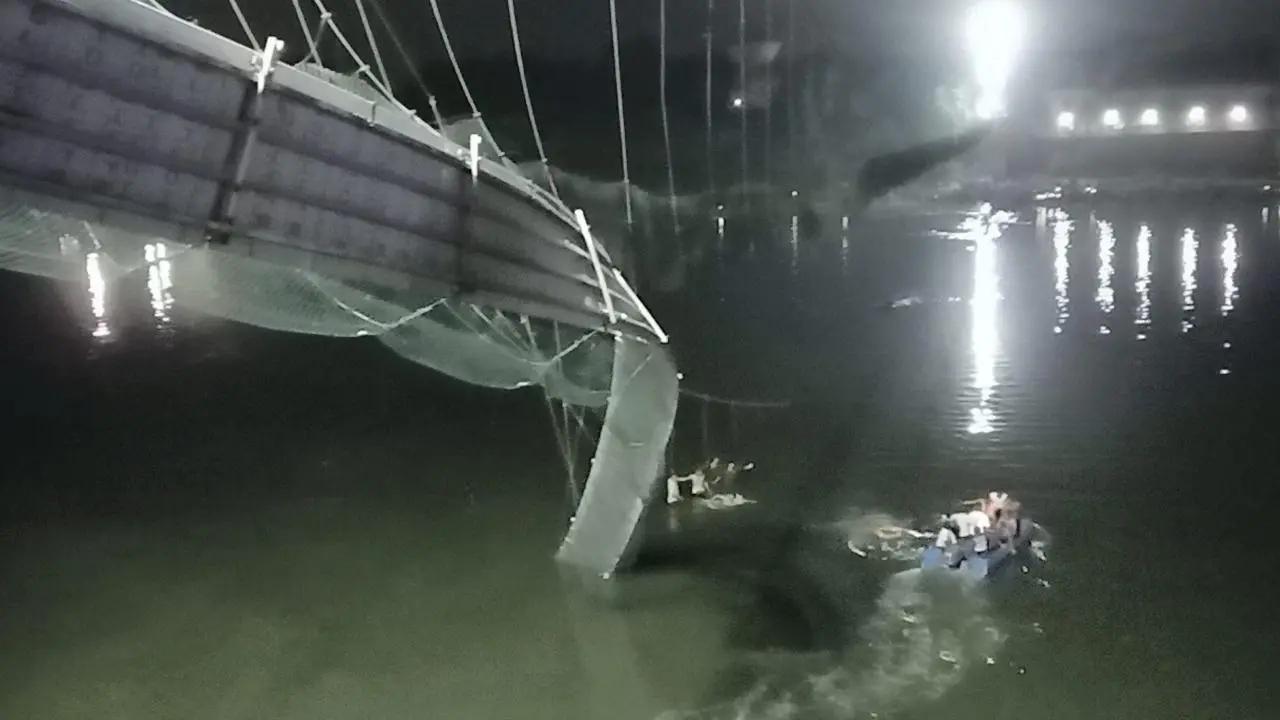 Morbi suspension bridge that had collapsed. File Pic/ PTI
Four months after the collapse of a suspension bridge in Morbi town of Gujarat killed 135 people, the Gujarat government on Thursday told the High Court it has formulated a detailed, uniform policy regarding inspection and maintenance of major and minor bridges located in urban areas.
The state, in an affidavit submitted before a division bench of Acting Chief Justice AJ Desai and Justice Biren Vaishnav, said it issued a government resolution (GR) on March 6 regarding inspection and maintenance of major and minor bridges in areas under municipalities and municipal corporations.
ADVERTISEMENT
The government told the Gujarat HC, hearing a suo motu (on its own) PIL on the October 30 crash of the suspension bridge on the Machchhu river in Morbi, that it has laid down a procedure for inspection of masonry structures twice a year, in May and October, that is before and after the monsoon.
Officers no less than the rank of a deputy executive engineer shall carry out inspections and prepare a report, on the basis of which executive engineers will physically check these structures, it said in the affidavit.
Inspections will be carried out for timely detection of any damage to bridges and remedial measures, said the state administration.
Also Read: Australian PM Anthony Albanese's Mumbai visit: Police issues preventive orders for city
Special inspections shall also be carried out for unusual occurrences such as earthquakes and passage of abnormal loads to ascertain their performance, and superintending engineers shall inspect special types of bridges at least once after the monsoon, according to the affidavit.
Items of damage to the structure needing urgent attention will be required to be brought to the notice of the competent authority with all pertinent details or record plans, it said.
The government also issued broad guidelines to carry out inspection of bridges.
It had earlier told the court there are 461 bridges under the urban development department, of which 398 do not require any repairs. Two of these are hanging bridges, both located in Rajkot district.
The state's road and building department takes care of 1,441 bridges for which the government already has a policy regarding their inspection and maintenance, it said.
This story has been sourced from a third party syndicated feed, agencies. Mid-day accepts no responsibility or liability for its dependability, trustworthiness, reliability and data of the text. Mid-day management/mid-day.com reserves the sole right to alter, delete or remove (without notice) the content in its absolute discretion for any reason whatsoever