The force rescued 44 victims and retrieved 121 bodies from the spot since the teams were deployed after the accident on June 2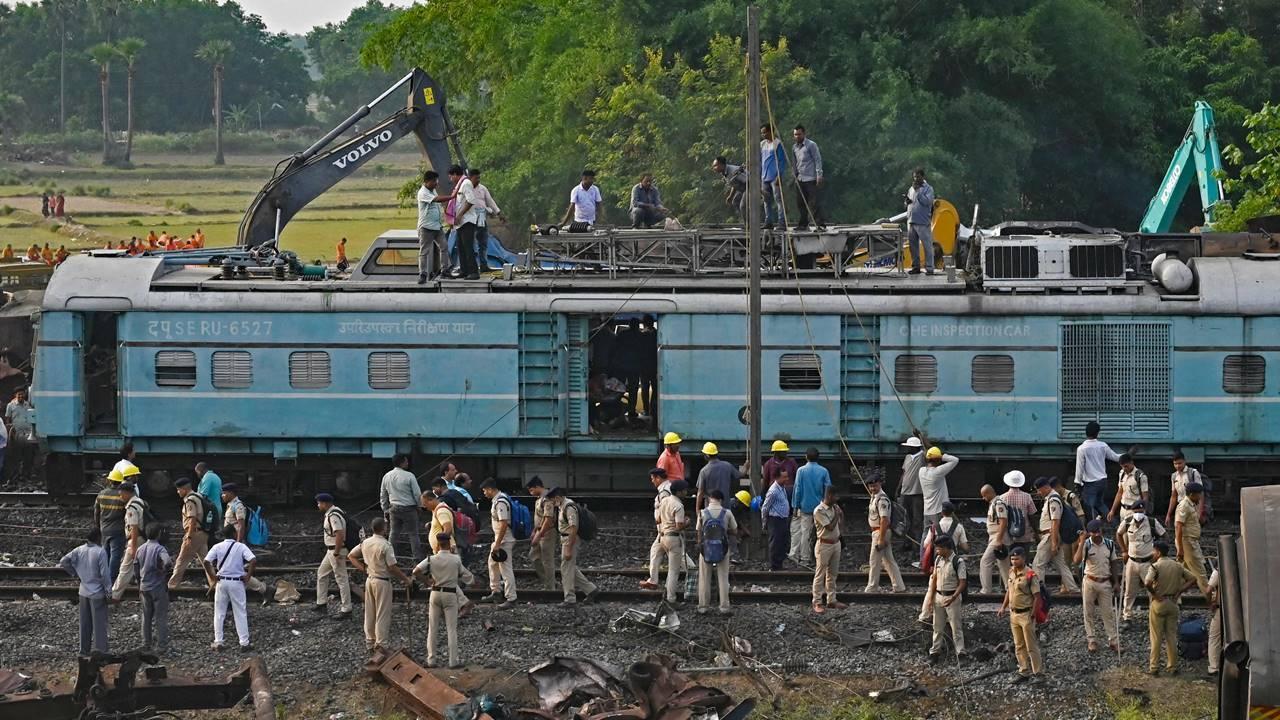 The accident spot. Pic/AFP
On Monday, officials said that the National Disaster Response Force ended its rescue operation with the withdrawal of all its nine teams from the triple train accident site in Odisha's Balasore district that has claimed at least 275 lives, PTI reported.
The force rescued 44 victims and retrieved 121 bodies from the spot since the teams were deployed after the accident on June 2, they told PTI.
ADVERTISEMENT
The operation has ended and all nine teams have now been withdrawn as there are no live or dead victims present at the accident site near the Bahanaga Bazar Railway Station. Eight teams were relieved on Sunday, while one was drawn out on Monday, they said.
The nine teams had joined the personnel of state disaster forces and the local administration to undertake rescue and relief operations after they were sent in from Balasore, Mundali (Cuttack district) and Kolkata.
The National Disaster Response Force (NDRF) rescuers carried heavy plasma and gas cutters, lifting pads, stretchers, canine teams and other equipment to undertake the operation.
The Shalimar-Chennai Central Coromandel Express entered the wrong track and hit a stationary goods train on Friday. Its coaches got scattered all around, including on an adjoining track and another passenger train -- Bengaluru-Howrah Superfast Express -- coming at a high speed rammed into them and derailed.
Meanwhile, on June 4, hours after minister Ashwini Vaishnaw said the "root cause" of the accident and the people behind the "criminal" act have been identified, the railways sought a CBI inquiry into the Balasore train crash.
Congress president Mallikarjun Kharge on Monday wrote to Prime Minister Narendra Modi over the Odisha railway tragedy, saying "all the empty safety claims" of Railway Minister Ashwini Vaishnaw have now been "exposed" and the government must bring to light the real reasons that caused this grave accident. In his letter to Modi, Kharge hit out at the Railway minister for seeking a CBI probe, saying the law enforcement agency is meant to investigate crimes, not railway accidents.
The first high-speed passenger train - Howrah-Puri Vande Bharat Express - after the triple train accident, passed through Balasore on Monday morning on restored tracks, officials told PTI.
(With inputs from PTI) Do you practice ecotourism?