Modi said it is natural for family members to have expectations but it is wrong if they are linked to consciousness about social class or status. "Exam results are not the end of life," he told the students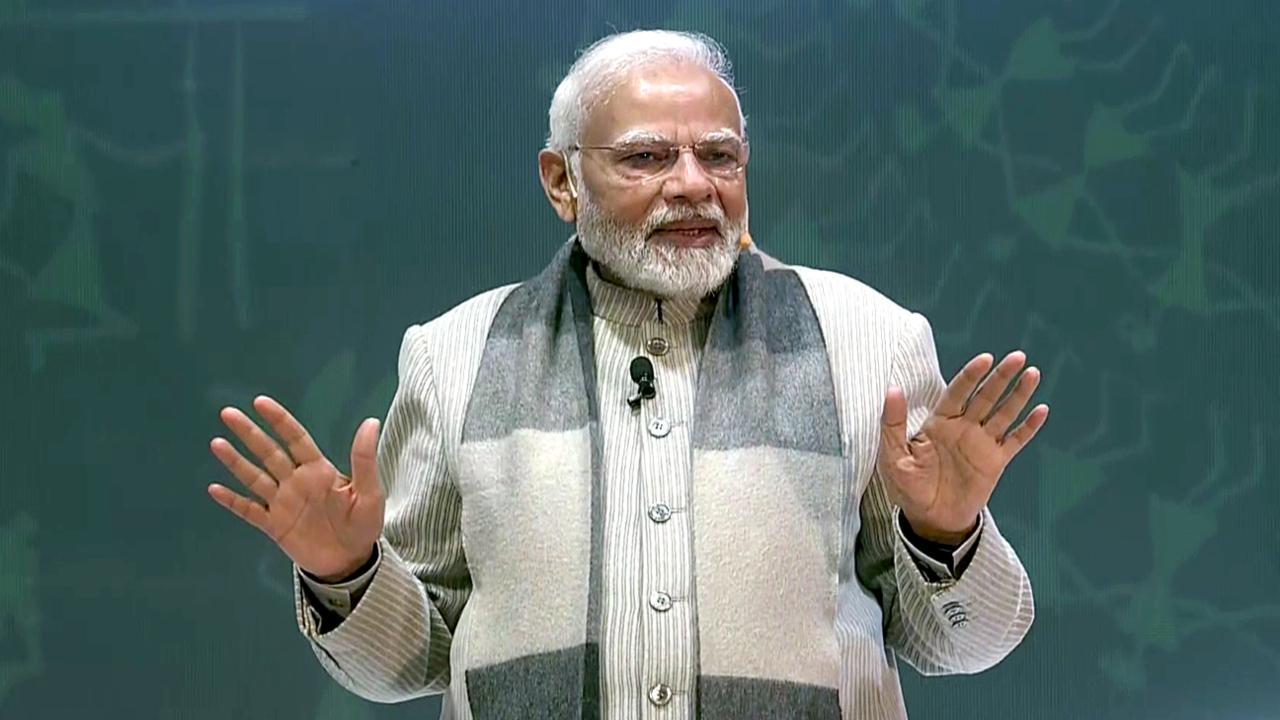 Prime Minister Narendra Modi addressing the 6th edition of 'Pariksha Pe Charcha', at Talkatora Stadium, in New Delhi on Friday. (ANI Photo)
Never take a shortcut, Prime Minister Narendra Modi said in his message to students on Friday, cautioning that cheating may help them in an exam or two but not in the long run.
Responding to questions from students during the sixth edition of 'Pariksha Pe Charcha', his annual interaction with students on issues such as exam stress, at Talkatora Stadium here, he said they should maintain focus on their work.
ADVERTISEMENT
He cautioned students against excessive use of gadgets and asked them to believe in their smartness and not of their mobile phones.
Also read: Chief Ministers of different states attend PM Modi's 'Pariksha Pe Charcha 2023'
"Don't be distracted by technology. Keep a separate time when you will use mobile phones for interaction on social media platforms," he said.
The prime minister also spoke strongly against the use of unfair practices in exams and advised students against boasting about how well their exam went to avoid stress.
"Cheating may help someone in an exam or two but not in life in the long run. Never take the shortcut. The hard work of students will always help them advance in life. Students should at times analyse the pressure applied on them to see if they are underestimating their strengths," he said.
Modi said it is natural for family members to have expectations but it is wrong if they are linked to consciousness about social class or status. "Exam results are not the end of life," he told the students.
Students should concentrate on their studies like a batter focuses on the ball thrown to him, ignoring the shouts for fours and sixes from the crowd, he added. "One of the reasons for stress is boasting about how well we did in our exam. Parents start believing in what the children say and start telling this to people around them. Avoid giving a wrong impression about your performance in exams," the PM said.
Underlining the need for students to expand their horizons, Modi advised parents to give their children some money after class 10 and 12 exams to travel to a few places and ask them to write about it.
"Students should be encouraged to go and meet people from different strata of society. Students should not be bound by many restrictions. We should allow them to expand their horizons," he said.
The prime minister advised teachers to welcome students who ask questions.
"When a student asks questions, that means he or she is inquisitive. This is a good sign," he said.
A record 38 lakh students registered this year for participation in 'Pariksha Pe Charcha'.
The number of registrations is at least 15 lakh more than last year, according to Union Education Minister Dharmendra Pradhan.
The first edition of the prime minister's interactive programme with school and college students was held on February 16, 2018.
This story has been sourced from a third party syndicated feed, agencies. Mid-day accepts no responsibility or liability for its dependability, trustworthiness, reliability and data of the text. Mid-day management/mid-day.com reserves the sole right to alter, delete or remove (without notice) the content in its absolute discretion for any reason whatsoever.