There were over 70 vehicles in the convoy of the security forces that were targeted by the vehicle. The vehicle was being driven by a Jaish-e-Mohammed terrorist who was later identified as Aadil Ahmad Dar, the vehicle had around 80 kilos of high-grade RDX explosive which was used in the suicide attack, reports say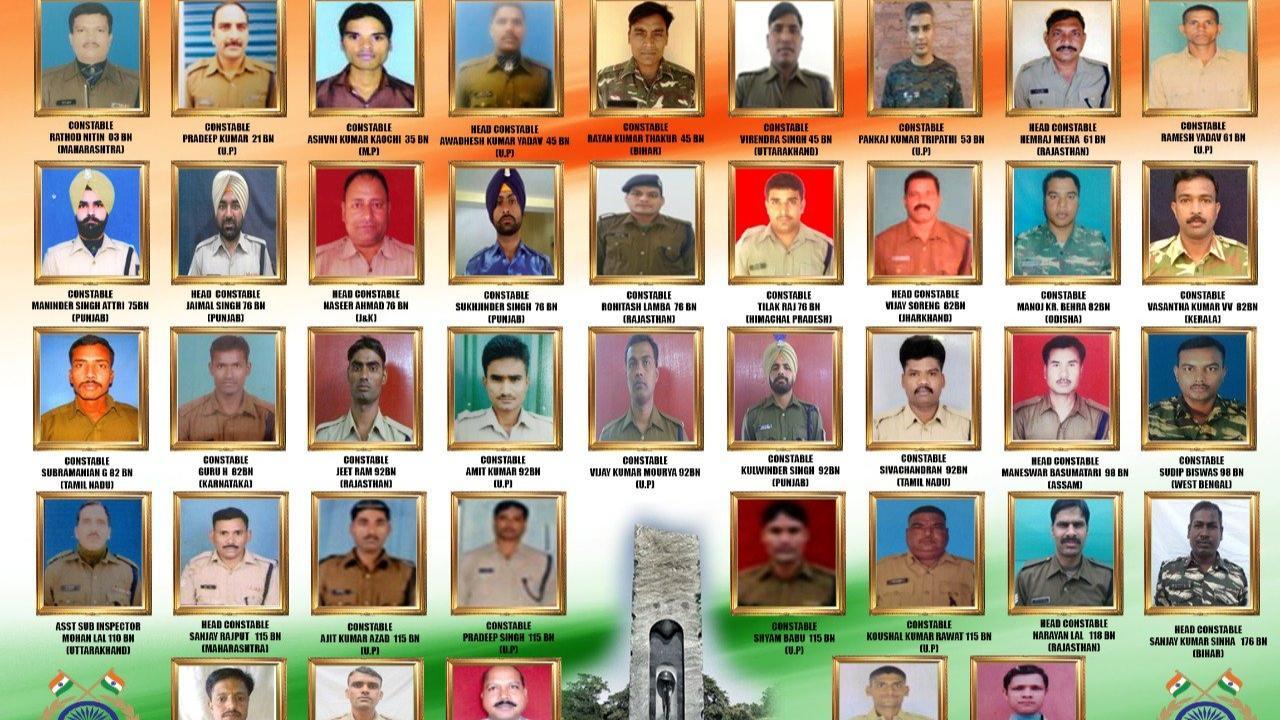 The martyred CRPF jawans. Pic/Twitter/official CRPF account
On February 14, 2019, as many as 40 Central Reserve Police Force (CRPF) jawans were killed and several others were injured after an explosives-laden vehicle rammed into a bus. The Bus was among the convoy of security forces. The incident took place at Awantipora, in Pulwama district of Jammu and Kashmir.
According to reports, there were over 70 vehicles in the convoy of the security forces that were targeted by the vehicle. The vehicle was being driven by a Jaish-e-Mohammed terrorist who was later identified as Aadil Ahmad Dar, the vehicle had around 80 kilos of high-grade RDX explosive which was used in the suicide attack.
ADVERTISEMENT
The reports say, Over 2,500 CRPF personnel were travelling in the convoy when the incident had taken place on the Srinagar-Jammu highway.
According to the official list of the martyred CRPF jawans, the most number of casualties were reportedly from Uttar Pradesh – at 12. Among the martyred CRPF personnel, four hailed from Punjab and five were from Rajasthan. Jawans from Maharashtra, Tamil Nadu, Kerala, Bihar, Odisha and West Bengal and Jammu and Kashmir were among those martyred. 
Also Read: CISF official at Delhi airport refuses bribe, nabs trio with fake RBI documents
Remembering the bravehearts on the Pulwama attack anniversary, here is the complete list of the jawans martyred on February 14, 2019.
Names of the martyred CRPF jawans:
1. Naseer Ahmad (Jammu and Kashmir)
2. Jaimal Singh (Punjab)
3. Tilak Raj (Himachal Pradesh)
4. Rohitash Lamba (Rajasthan)
5. Vijay Soreng (Jharkhand)
6. Vasantha Kumar VV (Kerala)
7. Subramaniam G (Tamil Nadui)
8. Manoja Kumar Behera (Odisha)
9. GD Guru H (Karnataka)
10. Narayan Lal Gurjar (Rajasthan)
11. Mahesh Kumar (Uttar Pradesh)
12. Hemraj Meena (Rajasthan)
13. PK Sahoo (Odisha)
14. Sanjay Rajput (Maharashtra)
15. Koushal Kumar Rawat (Uttar Pradesh)
16. Pradeep Singh (Uttar Pradesh)
17. Shyam Babu (Uttar Pradesh)
18. Ajit Kumar Azad (Uttar Pradesh)
18. Maninder Singh Attri (Punjab)
19. Bablu Santra (West Bengal)
20. Ashvni Kumar Kaochi (Madhya Pradesh)
21. Nitin Shivaji Rathod (Maharashtra)
22. Bhagirath Singh (Rajasthan)
23. Virendra Singh (Uttarakhand)
24. Awadhesh Kumar Yadav (Uttar Pradesh)
25. Ratan Kumar Thakur (Bihar)
26.Sanjay Kumar Sinha (Bihar)
27. Jeet Ram (Rajasthan)
28. Mohan Lal (Uttarakhand)
29. Pradeep Kumar (Uttar Pradesh)
30.. Ram Vakeel (Uttar Pradesh)
31.. Pankaj Kumar Tripathi (Uttar Pradesh)
32. Ramesh Yadav (Uttar Pradesh)
33.Sukhjinder Singh (Punjab)
34.Kulwinder Singh (Punjab)
35.Amit Kumar (Uttar Pradesh)
36.Vijay Kr. Mourya (Uttar Pradesh)
37.C. Sivachandran (Tamil Nadu)
38.Sudip Biswas (West Bengal)
39.Maninder Singh Attri (Punjab)
40.Maneswar Bsumatari (Assam)