While some users have said that they should be allowed to celebrate Holi the way they want to, others said that the billboard has a "beautiful" message and that there is nothing wrong in the advertisement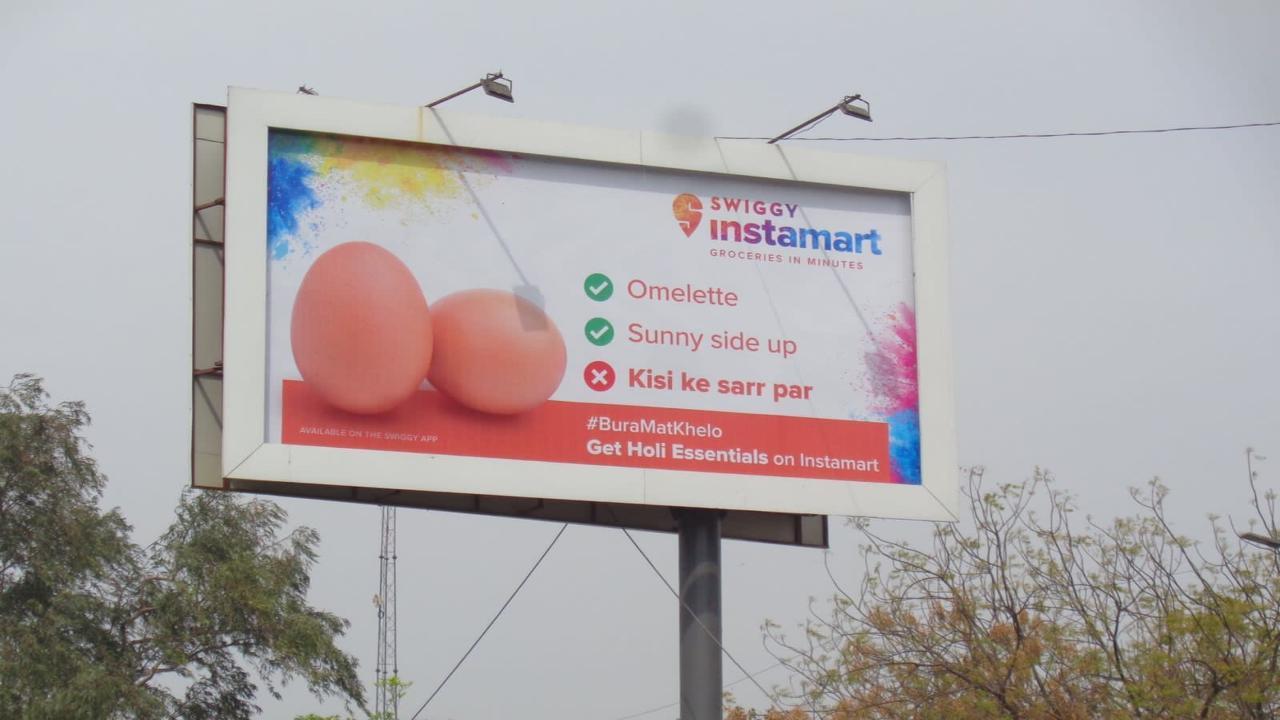 Image/Twitter
Country's top food delivery app, Swiggy, is embroiled in a controversy over a "controversial" Holi billboard.
Featuring eggs, the billboard reads, "Omelette; Sunny side-up; Kisi ke sarr par. #BuraMatKhelo. Get Holi essentials on Instamart", suggesting that eggs must be used for consumption and not to smash over someone's head.
ADVERTISEMENT
The advertisement is viral on Twitter and other social media platforms along with the hashtag #HinduPhobicSwiggy. While some users have said that they should be allowed to celebrate Holi the way they want to, others said that the billboard has a "beautiful" message and that there is nothing wrong in the advertisement.
The recent Billboard advertisement of @Swiggy is a clear attempt to defame Holi & create a negative perception among people. The lack of similar Ads for non-Hindu festivals shows a clear bias. Show some sensitivity and Apologize to Hindu community. #HinduPhobicSwiggy (SIC), wrote one user on twitter.
Another user said that Swiggy's advertisement is unacceptable and hurtful towards the sentiments of millions of people celebrating Holi.
Also read: Will forge alliance for Lok Sabha polls to save democracy and constitution: Maharashtra Congress Chief slams BJP
"... @Swiggy must take corrective measures by removing the ad & issuing a sincere apology to Hindus. We won't tolerate Selective gyan on our festivals. #HinduPhobicSwiggy SIC," he wrote.
Although some users were enraged over the Swiggy billboard, others said it was a "beautiful ad".
A user wrote, "I'm genuinely curious. Is breaking eggs on someone's head a part of Holi? In the ad, Swiggy seems to be asking people not to smash eggs on someone's head for Holi. How is it bad?"
Another user tweeted, "It's a beautiful ad by Swiggy. An egg is a product that should be eaten rather than thrown on somebody's head. They didn't say not to play Holi but to play with colors either, they are providing special Holi essentials also on their app. Positive advertisement."
"Exciting news! Mid-day is now on WhatsApp Channels

Subscribe today by clicking the link and stay updated with the latest news!"
Click here! Do you wear your contact lenses while sleeping?