Vasai builder cannot believe his family survived fall into Vaibhavwadi ravine when dodging an oncoming truck, with no more than bruises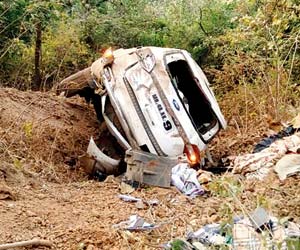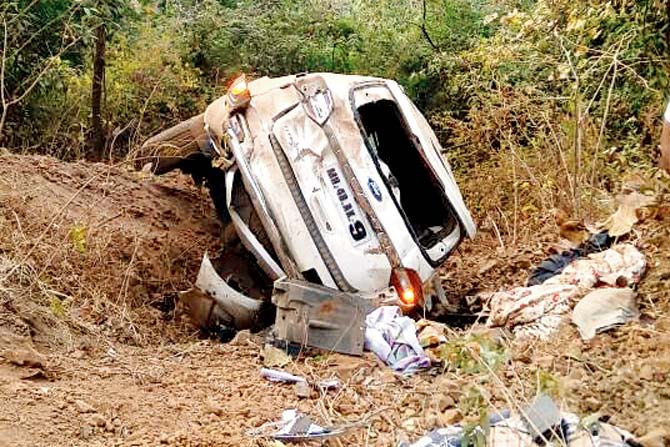 The accident spot
For Vasai-based builder Jitendra Singh, February 18 will be the day his family beat death. The Vasai family faced deadly odds on their way to vacation in Konkan as their SUV fell into a 400-foot-deep ravine and Jitendra's wife and children were flung out from the vehicle's window. Miraculously, all of them survived with no more than scratches and bruises.
ADVERTISEMENT
Jitendra, a 37-year-old builder, had planned the vacation over the long weekend -- Monday had been declared a holiday to mark the birth anniversary of Chhatrapati Shivaji. His wife Pallavi, 35, and children Janhavi, 13, Jiya, 9 and Atharva, 7, were excited about heading to Kankavli in Sindhudurg district for a short break. But disaster struck when the family was just a few hours away from their destination. Singh was driving in the narrow Vaibhavwadi stretch around 6 am, when he spotted a speeding truck coming straight for his car.
"At one point, there was a sharp right turn, and I saw the truck heading towards us. To avoid a collision, I drove away from it, but our car slipped off the road," Singh said.
Terrifying fall
The SUV tore through the makeshift barrier of rocks along the road, and plunged down a deep valley. Singh wasn't sure they were going to make it. "The car kept tumbling. I was pinned to the seat by the seatbelt and airbags. At first, my wife and kids were screaming, while the car kept falling deeper. Then, suddenly, they went silent," Singh recalled. By then, the car had somersaulted at least 10 times, and the windshield and windows had shattered. Singh realised his wife and kids were no longer in the car; they had been hurled out of the broken windows. "It was still dark, and I couldn't see a thing. I removed my seat belt and got out of the car. I was numb until I heard the cried of my family. I thanked god when I found them," said the survivor.
He held and consoled them until sunrise, glad that they were all alive. But it wasn't until daybreak that they realised just how lucky they had been. "When I saw the distance we had fallen, from the road till the point where our car finally crashed, I could not believe that we had survived without injuries. Pallavi suffered a few bruises on her limbs, otherwise, all of us are fine," he said.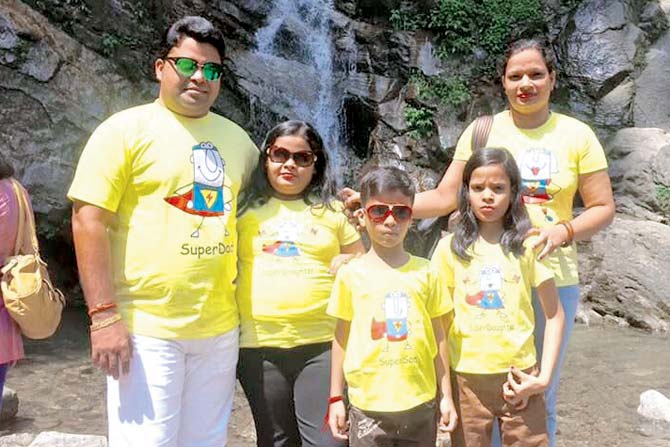 The Singh family of five was headed for Kankavli in Sindhudurg district over the long weekend
'Want to forget about it'
Pallavi, said, "God was with us; only he could have saved us from such a terrible accident. I don't know what to say; we just want to forget that moment."
The Singhs were rushed to Vaibhavwadi Hospital, where they received first aid. But Singh decided not to test his luck anymore.
"I decided to take my family back to Vasai. Although there were no visible injuries, I wanted to get a medical examination done," said Singh. The family is currently admitted in a private hospital in Vasai, said the police.
Catch up on all the latest Crime, National, International and Hatke news here. Also download the new mid-day Android and iOS apps to get latest updates
"Exciting news! Mid-day is now on WhatsApp Channels

Subscribe today by clicking the link and stay updated with the latest news!"
Click here!