I had already given Amma her autobiography that I wrote for her 95th birthday—Empress of Her Destiny: Autobiography of Indu Shedde, Vegetable Art Queen and much more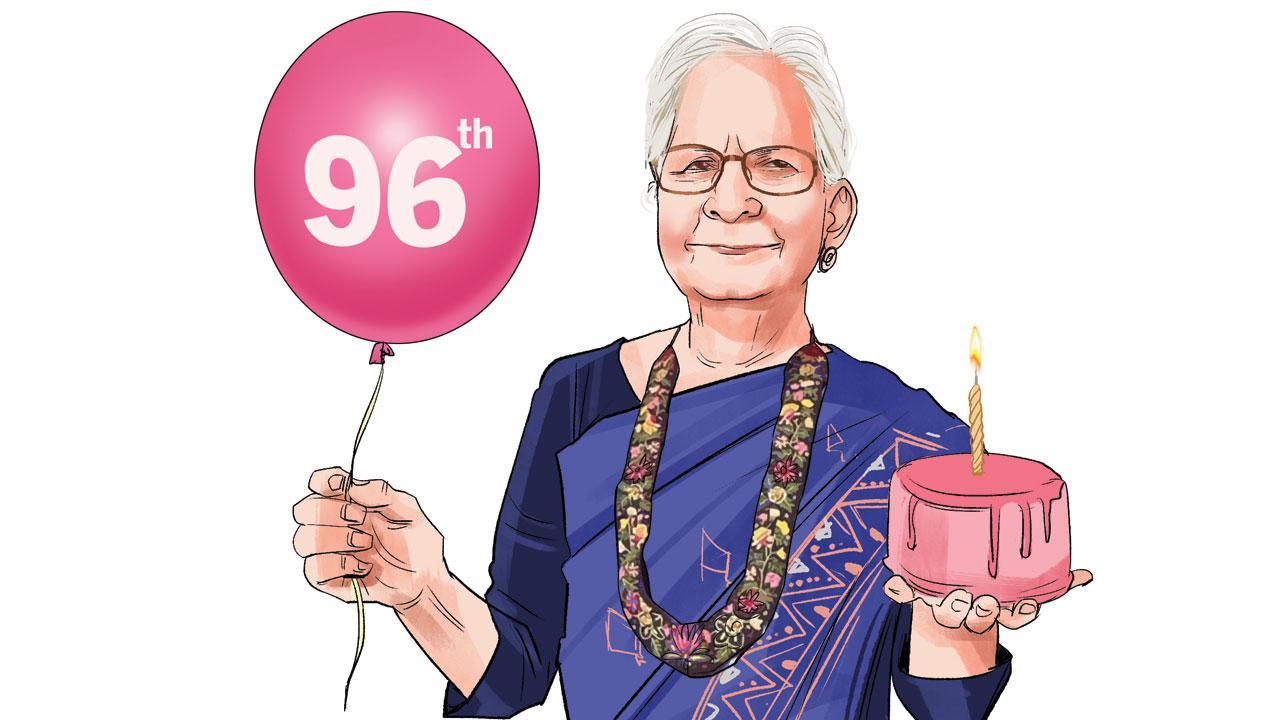 Illustration/Uday Mohite

I am in deep gratitude for being able to celebrate Amma, Indu Shedde's 96th birthday last week, with about 25 guests, in Panvel, where she lives, two hours from Mumbai. She's in good health, and equally importantly, in good spirits. She's always keen to learn new bhajans that she can sing at the temple that she visits daily, "so that God is not bored" listening to her current repertoire of bhajans.
Adorable, na?
I had already given Amma her autobiography that I wrote for her 95th birthday—Empress of Her Destiny: Autobiography of Indu Shedde, Vegetable Art Queen and much more. It took me about four years to put it together. The research, interviews, writing, editing, sourcing photos, permissions, layout and printing later became much more challenging because of the pandemic. But once you've given your mum her autobiography as a birthday gift, gosh, it's hard to top that. And I decided that nothing could be a more beautiful gift than for Amma to spend time with loved ones she rarely sees, as she lives outside Mumbai. But a special gift for Amma was when brilliant photographer Chirodeep Chaudhuri, ex-editor of photography, National Geographic Traveller India, and a friend, very kindly suggested/agreed to photograph Amma on her birthday.
Now, organising a birthday party is entirely different from organising a birthday party for mostly senior citizens and geriatric guests, especially if the party is out of Mumbai. At the very least, you need to arrange pick up and drop for every guest, and ensure that the menu is soft to chew for "in-dentured" guests. It was much more complicated as I had tried to finalise all key things since early February, as I would be away for nearly a month, returning to Mumbai just a day before B-day. So much of it was organised long distance via WhatsApp messages, while I was at the Berlin Film Festival, and later as I travelled to catch up with friends in Bayreuth, Oberwalgern and Amsterdam. And I got a lot of support from my sister Sarayu Kamat.
Also read: To all the homes I loved before
It was nice and loungy, as guests arrived all day at Amma's cottage in a senior citizen's home, in a 15-acre orchard. There was a superb, traditional Konkani lunch, with muga randai (bean sprouts cooked in a spicy coconut base), bhenda upkari (ladyfinger stir-fry), dal, rice, chapati, fresh amla (gooseberry) pickle and shevaiya kheeri (vermicelli dessert) with kaju-kishmish. For tea, there was Dutch truffle cake, hot mixed bhajiyas, farali pattice, Dharwar pedhas, Amma's favourite, as it originally comes from her hometown in Karnataka, and chai-coffee. 
Amma and our loved ones chatted and sang songs. The manager, the very kind Madhav Kini, did a small pooja for Amma in the temple nearby, where we sang bhajans. I invited our guests to share any thoughts about Amma, if they wished—what they liked/admired about her, any incident they remembered. I've been to many memorials, and my grief is always tinctured with disappointment when people praise the dead. Arre baba, they're gone and can't hear you. So if you love or admire someone, tell them now, they need to hear it when they're still around. I was very moved when Sheelu (Melwani) Aunty read out a two-page eulogy to Amma. "She's an angel. God has sent her for me," Sheelu Aunty declared effusively. Amma is a champion recycler, and Sheelu Aunty is her partner in crime, sewing over 400 beautiful bags that Amma has designed with leftover bits of cloth, all gifted to friends. Only later, I noticed in the photographs that Amma's close friend Sunanda Rao was gently tugging Sheelu Aunty's hand while she was reading her eulogy—and I wept. It's because Sunanda Aunty comes most evenings to read books to Amma, as Amma finds it difficult, and instinctively felt that if anything needed to be read to Amma, it should be her. I was so deeply humbled by her love and affection, and for being there for Amma. There are many others too, including Vishakha Patil, Suvarna Shedde and Padmini Basrur, who are very kind to Amma in their own special ways. Amma was totally thrilled with her birthday, and to see her smile means the world to me.
Meenakshi Shedde is India and South Asia Delegate to the Berlin International Film Festival, National Award-winning critic, curator to festivals worldwide and journalist. 
Reach her at meenakshi.shedde@mid-day.com