Now, right-wing goons state-wide are baying for their blood, leading to a terrific climax with a laugh-out loud moment concerning a "cattle truck" rumoured to be carrying beef.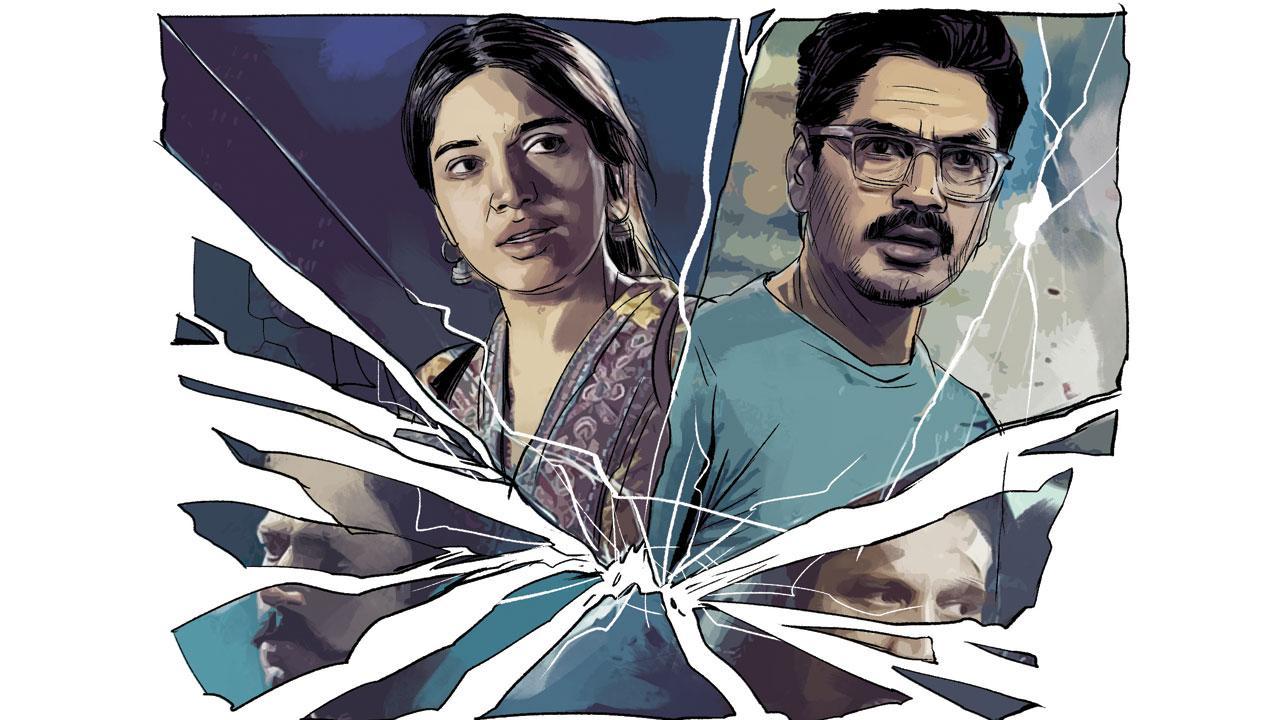 Illustration/Uday Mohite

To see Sudhir Mishra's Afwaah (Rumour) is to feel young and hopeful again. In a nation of thali bangers, he is one of the few filmmakers left, making Hindi cinema with a conscience, who lets it rip while commenting on why today's communal politics foretells doom. It's also a cautionary tale for those playing with fire, on how "the revolution devours its children". Above all, we are gobsmacked to see a film that openly critiques current political events get past the censors. After a number of independent filmmakers and stars have been hounded by right-wing powers and censorship, it is sudden oxygen to find political frankness in a Hindi film that holds up a mirror to society (other language cinemas do better).
Set in conservative Rajasthan, Nivedita (Bhumi Pednekar) is the daughter of the head of the right-wing Rashtriya Vikas Dal, and her fiancé is Vicky Bana (a poised Sumeet Vyas), the party's political heir apparent. Bana's provocative rally through a Muslim area leaves several dead, and a video of a Muslim butcher murdered by Bana's goon, Chandan, goes viral. Outraged at Bana's communal strategies, Nivedita runs away to avoid marrying him. When Bana's goons hound her, she is rescued by Rahab Ahmed (Nawazuddin Siddiqui), whom she accidentally meets in the street. The US-returned Ahmed is on his way to meet his wife Nandita at a literature festival in Rajasthan. Bana hires a young Gen Z social media manager, who spins the story of feisty Nivedita ditching right-wing Bana, into a love jihad story about Ahmed and Nivedita eloping, and it goes viral. Now, right-wing goons state-wide are baying for their blood, leading to a terrific climax with a laugh-out loud moment concerning a "cattle truck" rumoured to be carrying beef.
ADVERTISEMENT
This is not the Sudhir Mishra who directed Hazaaron Khwaishein Aisi (2003), the haunting, political, cult film, or Dharavi or Serious Men, or who wrote the delightful satire Jaane Bhi Do Yaaro with Kundan Shah, produced by NFDC in 1983; the veteran has directed and written over 20 films and series. Mishra's tone is somewhat uneven; more mainstream and in-your-face, making his voice heard in a majoritarian, nationalistic nation, whose government showers tax-free goodies on right-wing films like Kashmir Files and Uri: The Surgical Strike.
While Nawazuddin Siddiqui takes a while to settle into his character, Bhumi Pednekar puts in a spirited performance. The screenplay, by Sudhir Mishra, Nisarg Mehta and Shiva Shankar Bajpai, with dialogues by Apurva Dhar Badgaiyann, is gutsy. But what could have been better fleshed out is why Nivedita is secular in a right-wing household, than explain why rumours are dangerous. There are perceptive subplots, including about a character's (Sharib Hashmi, effective) loyalty to his political master, even after the latter tried to bump him off, and a feisty, marginalised policewoman (an excellent TJ Bhanu), who is sexually exploited by her boss Tomar, but she's no pushover. 
The cinematography of Mauricio Vidal (Narcos; he's Colombian) is thoughtful; including in a scene where Nivedita and Rahab are on opposite sides of the road with heavy traffic, and her life is at risk. Though editor Atanu Mukherjee's editing could have been a bit tighter, he mostly keeps the pace brisk. Bhaskar Roy and Kunal Lolsure's sound design, music by Shameer Tandon and background score by Czech composer Karel Antonin, complement the film well, with haunting lyrics by Dr Sagar, "Aaj yeh basant thoda bawala hua ma/Sarson ke khet mein apheem uga aya" (Spring is now a little fickle/Mustard fields yield opium). Mishra said he made Dr Sagar listen to Bob Dylan, while writing lyrics in Bhojpuri! Salute to Mishra, producer Anubhav Sinha and the courageous team.
Meenakshi Shedde is India and South Asia Delegate to the Berlin International Film Festival, National Award-winning critic, curator to festivals worldwide and journalist. 
Reach her at meenakshi.shedde@mid-day.com