And now that the day has turned into night, I ponder about film, and how different it is from theatre the space that I hail from. In film you tell stories via shots, in theatre, it's the words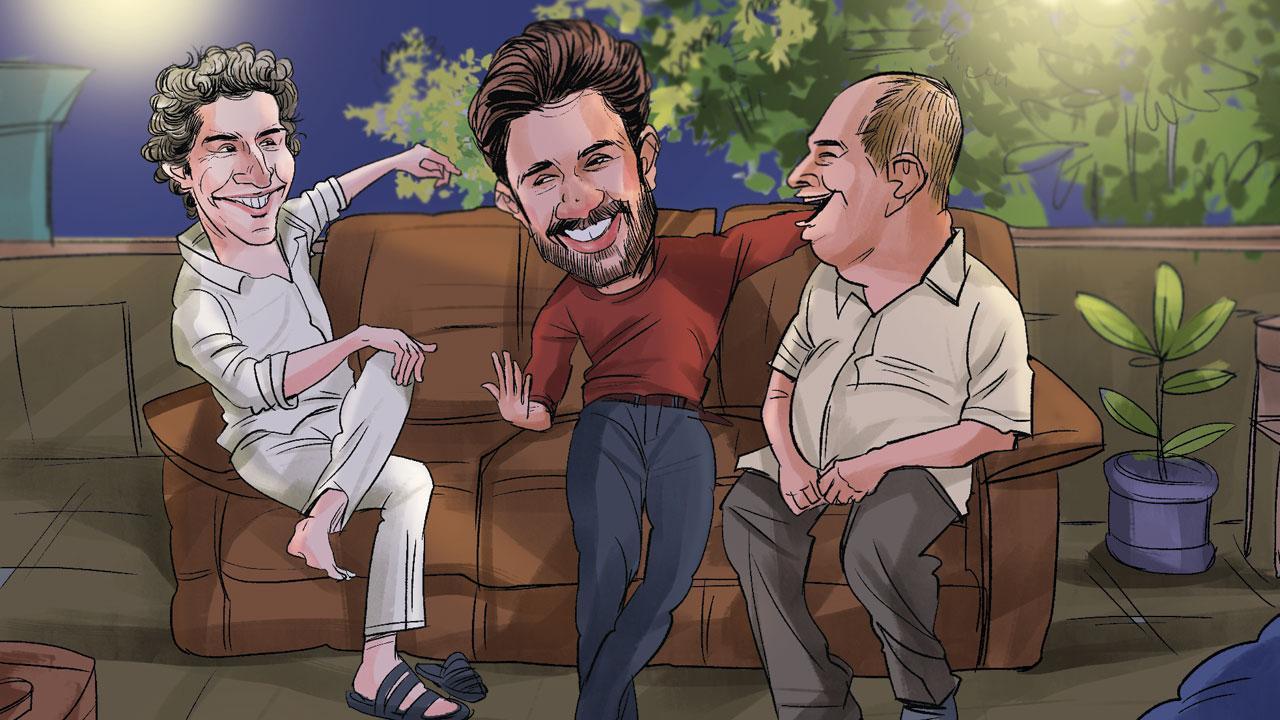 Illustration/Uday Mohite

It's 7 pm, on a terrace, in a Bandra film location on Turner Road.  We wait, for the darkness to set in, for neighbouring construction work to abate, for relentless car honking to lessen, we aim to recreate a Tardeo building terrace of 2018. Bombay terraces are safe havens—flying kites and first kisses, and kho-kho and cricket and kicking back after hard days. We're shooting our climax on the 14th day of a punishing schedule, with 26 days to go. Cinema is funny that way. Nothing is linear. It's tough on the actors, a last scene is shot ten days before the first scene. My three leads get set for a part heartbreaking-part humorous climax. For skeletons to come tumbling out of unseen cupboards.
Jim Sarbh gets focused, as he waits for the white noise to escape his head. Amit Sadh gears himself up for a verbal onslaught. Anuvab Pal rehearsing his lines, weighing the pros and cons of saying odd English phrases here and there in an otherwise Hindi film.
The three men are reclined on an aged sofa. They wait for last minute touches to be completed on the set. Cinema is relentless. No rest for the wicked. Countless moving parts. The cinematographer awaits. The clapper board man waits. The continuity-in-charge waits. The focus puller waits. And our fourth AD waits. He hasn't rested for awhile, not since he left Meerut five years ago. Bombay dreams and Bollywood dreams were nightmares for most part, and yet he waited. 
"Zindagi main aur kuch nahin aata," he tells me. He's waited a year till our film came along. "Mumbai main contacts bahut zaroori hai."
Our Executive Producer has waited many years for his father to forgive him, "He wanted me to join the army, my full family is in the armed forces, and I ran from Raipur to come here to be in films." He's seen many hungry days, but not for a day has the hunger in him died. I pray that his dad will see our film and finally be proud of him.
And now that the day has turned into night, I ponder about film, and how different it is from theatre the space that I hail from. In film you tell stories via shots, in theatre, it's the words.
And I'm thinking to myself, Pune Highway, a play I wrote 18 years ago, the core action was limited to one location. Bugs Bhargava and I have opened up the action to 130 scenes in ten different locations, that stretch from SoBo to Satara.
It was 18 years ago that Bugs put the thought in my head, "there's a film in this play, buddy!' he reasoned. I waited, to be ready to tell that story in cinematic terms, for that screenplay to be written just so, to break down the action via shots, to get our wishlist cast. 
Frankly, I've waited to be ready for this overwhelming medium called cinema to enter my creative DNA—it's fascinating to watch my English words morph into Hindi dialogue, and yet to retain the essence of the thought.
The characters that came out of my head 18 years ago, are the same, as insane, but the ecosystem has changed, the environment isn't the same, the India of 2004, unrecognisable today, and my characters, are ordinary people caught up in extraordinary circumstances. I'm hoping that we may have a new genre in our film, call it "nostalgic noir", as we traverse three timelines, as we criss-cross the lives of three men now in their late 30s, bound and hounded by decisions made in their 20s, having first met in the building of their birth, the terrace of which they now meet on, to rap, to rasp, to reminisce, as we wait for the night to fully envelop us, to begin, for the cameras to roll. And we wait. We all wait for that magic moment, the magic of cinema.
Cinema, the ultimate waiting game.
And then a voice breaks through the relative silence —'Action!'
Rahul daCunha is an adman, theatre director/playwright, photographer and traveller. Reach him at rahul.dacunha@mid-day.com Do you like to travel on budget?