Art's superpower is its ability to evoke a truth we all know, without having to label it, and so, join us into a new community.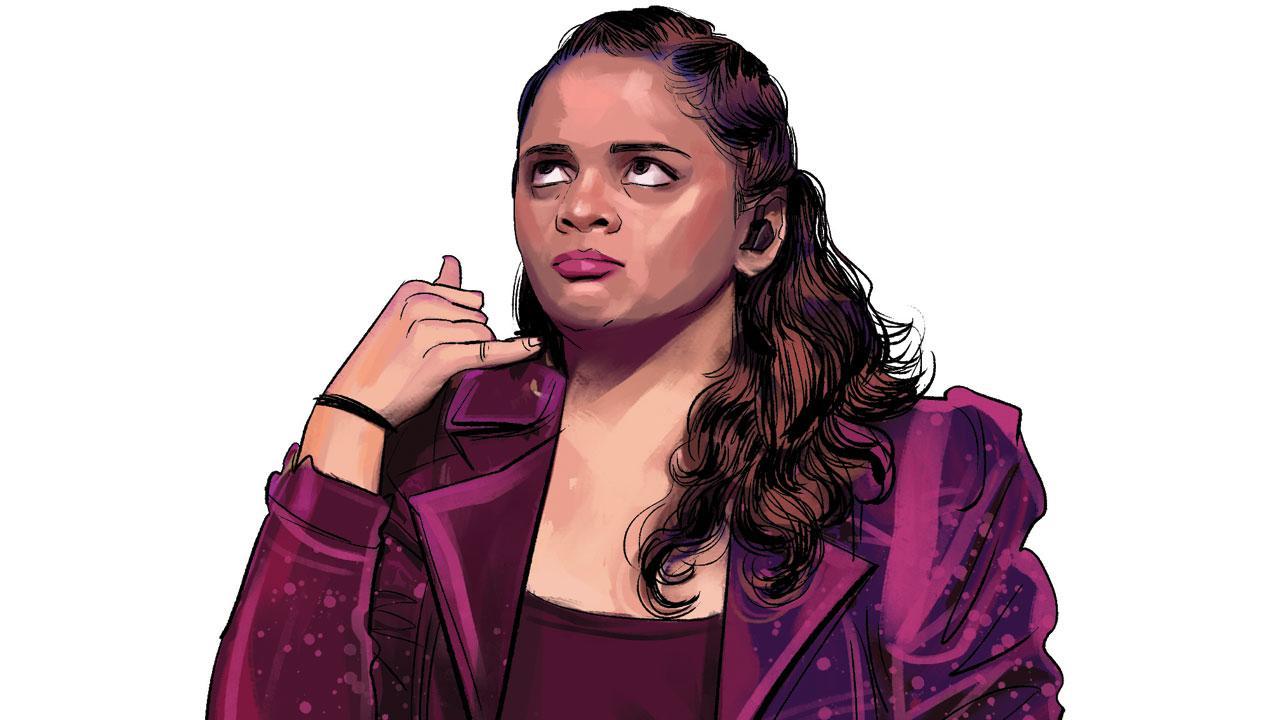 Illustration/Uday Mohite

At the outset, let me say, I am in love, fan-love. This is a dis-closure, meant to draw you closer, not a disclaimer because why would anyone want to dis-claim love or, in rap terms, dis the claim of love?
This week I stumbled upon Srushti Tawade, a 20-year old, Bombay-born competitor on the rap contest show MTV Hustle. Her now viral rap, Chill Kinda Guy, is rendered as a phone call from God. Pakaoed by fanatics (anti-fans?), God wants to set the record straight so that "Dikhawe ke liye woh bhakti bhi na kar paayein/Mandiron se masjidon se apne apne ghar jaayein (they quit the pretence of devotion/ head home from temples and mosques without commotion)".
Tawde nimbly, stylishly addresses contemporary politics where people are violently forced to take a certain god's name. "God" raps, I know there are people who say "mera naam lena din bhar, koi jo naam na le jeena mushkil kar/par mera koi aisa scene nahin hai chill kar" (people want people to say my name all day/ those who don't should have to pay/ that's not my scene, so chill hey). The rap's refrain where God describes himself as a chill guy, dariya-dil (compassionate) kinda guy with self-esteem that's hard to kill is both direct and subtle in commenting on the small-hearted insecurities that underlie bigotry. Art's superpower is its ability to evoke a truth we all know, without having to label it, and so, join us into a new community.
The show's judge, Badshah asks Tawade: do you know the difference between mainstream and underground? She shrugs, No. It's not a naïve, literal No. Rather, she does not defer to this division.
It is a generalisation, but in the popular arts, straight masculine work often stays within certain scripts— gritty realism, political dystopias, nihilistic self-pity. Spoken word, rap, poetry, comedy, film—all carry forward this yeh duniya agar mil bhi jaaye toh kya hai tradition of masculinity, politics and art. Srushti Tawade is one of those artists who muddies these gloomy waters with chill, optimistic confidence.
Gender and creativity, yaniki art and feminism are intertwined. With creativity and feminism, art and gender traverse boundaries to reinvent forms, scripts, ways of being. They blur these Lakshman Rekhas by fluidly cross-dressing across languages, styles and notions of gender, transmitting the pleasures of sarcasm, skill, versatility, humour and sexiness.
Tawade skates across languages, Hindi, English Marathi, rhyming nastik with sarcastic. Her on-point zingers reminded me of Arvind Krishna Mehrotra's jazz-like translations of Kabir—the OG with a trademark dis on ostentation and bigotry—karare cuts of Ismat Chugtai's women and tez andaz of lavani performers. Her reinvention of the story The Thirsty Crow owes much to Hindi film melodrama, rooted in class politics, but also deep emotion. With effervescent intellect she draws from myriad forms—poetry, song, film, storytelling—to create an individual style which is very Indian, very SRK, in this syncretic tendency.
New forms articulate new truths. But getting caught up in authenticity can limit truth to convention. In "Main nahin toh kaun be" Tawde, keeps turning conventions of the dis and beef into shout-outs and tareef—a self-aware re-invention by an #UnlimitedGirl. Sometimes forms liberate us. Sometimes we liberate the form.
It is exhilarating, liberating to watch such freedom at play. So, more Srushti Tawade please. And, more Srushti Tawades please!
Paromita Vohra is an award-winning Mumbai-based filmmaker, writer and curator working with fiction and non-fiction. Reach her at paromita.vohra@mid-day.com