The double centuries by the two youngsters were done in contrasting styles. Ishan Kishan loves to blast the ball to the leg-side much like Rishabh Pant whereas Shubman Gill stroked his way on both sides of the pitch and off the front as well as back foot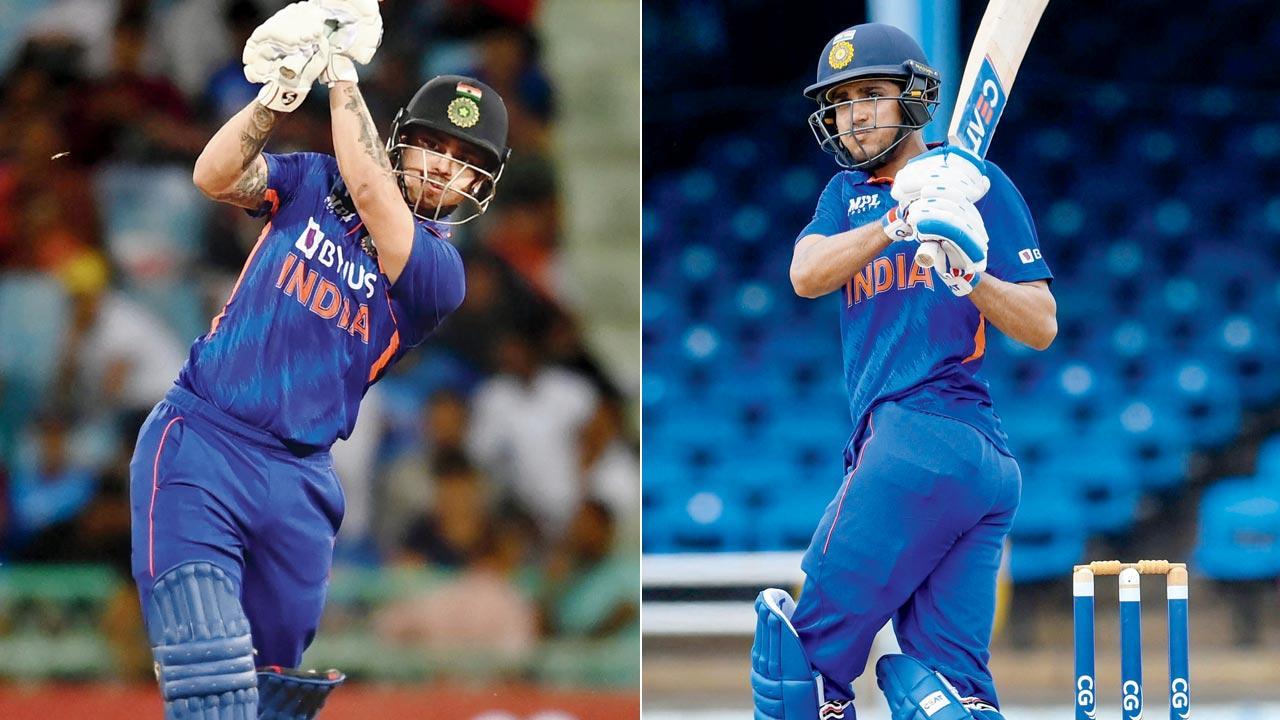 Ishan Kishan and Shubman Gill. Pics/AFP

In the last one month or so, there have been two double centuries cracked by Indian batsmen in one-day internationals. Both were magnificent innings by young men brimming with confidence and with a huge future ahead of them. They are in their early 20s, so what they make of the future is entirely up to them. Will they keep their head and feet on the ground after these stupendous knocks or are they going to get carried away so much that they think that all that they have to do is to just turn up at the crease and the runs will flow by automatically. 
Today's youngsters are super confident, and that's a wonderful thing. The worry of being dropped from the national team doesn't enter their minds as they have the cushion of an IPL contract. Therefore, failure doesn't scare them and they can go out and play what is popularly known as fearless cricket when it is actually worry-free cricket.  When being dropped from the national team is not a worry then a player can go out and play bindass cricket for there's always the IPL with its minimum 14 matches in which to make people forget the international failures. 
Record broken in a month
When Shubman Gill scored the double century, he beat the record set by Ishan Kishan hardly a month or so earlier at being the youngest to score a double century. These double tons were done in contrasting styles. Kishan loves to blast the ball to the leg-side much like Rishabh Pant does, but is a bit limited on the off-side like Pant is. If both these lefties can develop the lofted extra cover drive and also make more use of the back foot shots they will be pretty unstoppable.  Gill on the other hand, stroked his way on both sides of the pitch and off the front as well as back foot. He makes great use of his height and can play the pull shot off good length deliveries which shorter batters find hard to do. There was nothing brutal or hurried about his batting and so assured and smooth was his batting that I am tempted to give him the name 'Smoothman' Gill. He looks  an all-format player and if he stays grounded and injury-free, he  should end up with more records under his belt. 
Wrist spinners need backing
It's also great to see Kuldeep  Yadav come back strongly after being ignored for a while.  A wrist spinner needs backing from the skipper and selectors for there will be days when he will be expensive, but he is more likely to win more matches than lose them. With Hardik Pandya giving the sixth bowling option to the team, the captain can afford to go in with two spinners.  If one of them can bat too, then it's a huge plus indeed. These matches will give the Indian selectors a better indication of what the World Cup combo should be. There are some  more matches coming up after the IPL too and that should also be a big help to the selectors before they meet to pick the squad for the World Cup.
Also Read: Sunil Gavaskar on Sarfaraz's non-selection: Don't go by size, go by their scores
Media, look here please
Hopefully, our media won't be going to overseas commentators asking who should be picked for India. Never forget that these commentators are loyal to their country and may actually suggest names that may not be what India need. We saw what happened in the last World Cup where a newcomer's name was pushed by the overseas commentators during that season's IPL and he was eventually picked over a proven performer and India ended up hardly playing him in the XI.
Cricket being hugely popular, it is understandable that there has to be some cricket news or the other but it would be terrific if we don't go around asking foreigners what our teams should be, because then the joke could well be on us, the Indian fans and it won't be funny at all.
Professional Management Group