We celebrate women of substance who have graced these pages over the years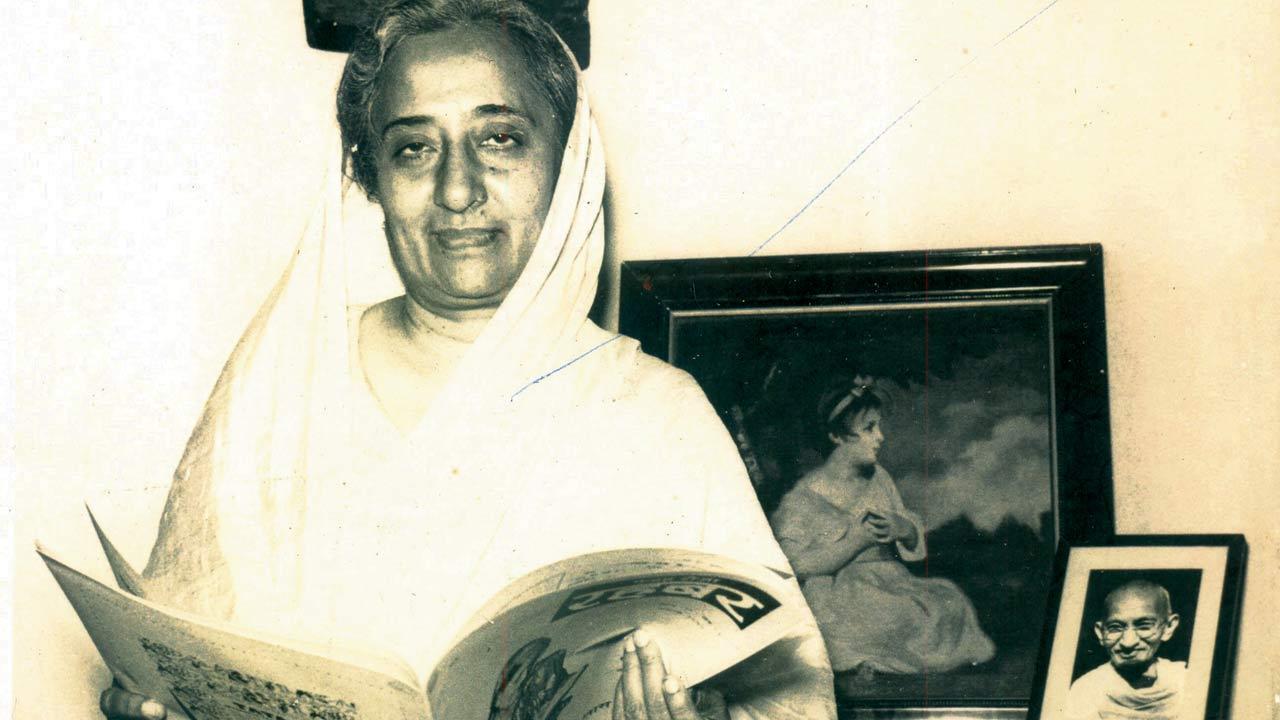 Kulsum Sayani

We agree, no single day validates woman power. But, in the month generating loads of hoopla over International Women's Day, why not shine the beam on outstanding women whose contributions to the city and country we have covered. Except for the first featured, the rest are no more with us.
Kulsum Sayani: Unity in language
Championing literacy and adult education, freedom activist and social worker Kulsum Sayani was the mother of Hamid and Ameen Sayani, the badshahs of radio broadcasting. She claimed an illustrious ancestry of her own—her father was Dr Rajabali Patel (naming the lane opposite Breach Candy Hospital), Gandhiji and Maulana Azad's personal physician.Among the multitude of causes Sayani espoused, she was Secretary of the Women's Unity Club in 1930, started by Dadabhai Naoroji's granddaughter Perin Captain to awaken national consciousness, and General Secretary, All India Women's Conference (1944-1946), formed with a membership of 6,500, swelling soon to 33,500. Most remarkably, Sayani published Rahber (Leader) in Devanagri, Urdu and Gujarati from her home. The newspaper advocated simple Hindustani as a unifying language for all Indians to communicate with.
Avabai Jamshedji Jeejeebhoy: Compassion and connection
While many city streets have interesting stories behind their names, that of Lady Jamshedji Road in Mahim is warmer than most. Mahim Causeway was a gift knitting Bombay's islands strategically together. Fascinatingly cosmopolitan, this arterial route was the result of hope and a promise. 
Distraught after miscarrying babies, Lady Avabai Jamshedji Jeejeebhoy, wife of the First Baronet, Sir Jamshedji Jeejeebhoy, prayed faithfully at Mount Mary Church in Bandra. Local Kolis rowed her to the Basilica in a boat between the isles of Salsette and Mahim. She felt great compassion for fishermen who lost their lives crossing the creek. When a child she bore did survive, in the mid-1840s, she donated R1,57,000 to construct this long stretch. LJ Road safely bridged dangerous south-to-north swamps. And the statue of the Virgin Mary at the holy shrine was adorned with the Jeejeebhoys' gift of a pearl necklace and earrings.
Kamlabai Nimbkar: Pioneer therapist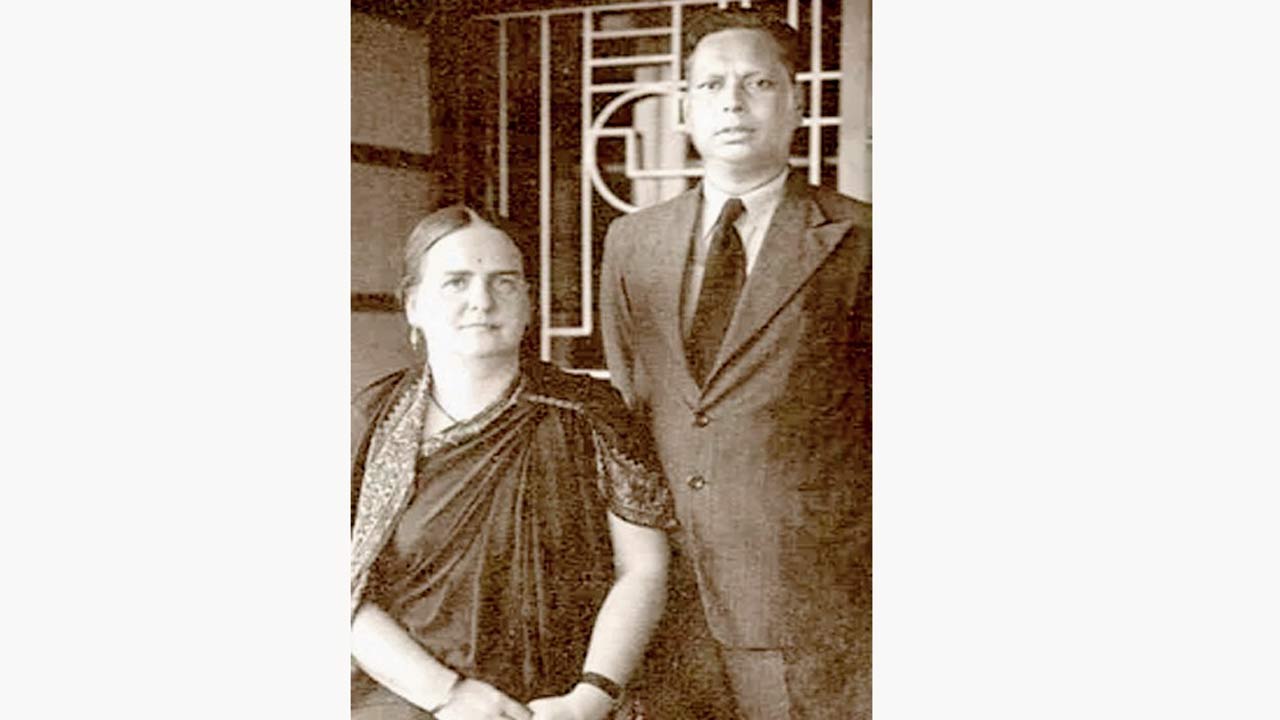 A luminous, less known life is memorialised by the library called Kamlabai V Nimbkar Pustakalay on Chitrakar Dhurandhar Road. Kamla Nimbkar was born Elizabeth Lundy, daughter of a Quaker businessman. Studying at the Philadelphia School of Occupational Therapy, she married Vishnu Nimbkar, whom she got to know as an engineering student in America. Converting to Hinduism, she moved to India with a new name in 1930. A pioneer of rehabilitation for the handicapped, Kamlabai established the country's first facility for occupational therapy at KEM Hospital in 1950. She also propagated the Froebel approach, encouraging holistic kindergarten motor skills, social participation, spontaneity of self-expression and creativity. The library she opened in 1948 still serves as a reading room, which welcomes students from SSC to IAS level. With Gujarati and English publications, it vitally doubles as a hub for children's activities and civil rights discussions.
Varsha Adalja: Humanist feminism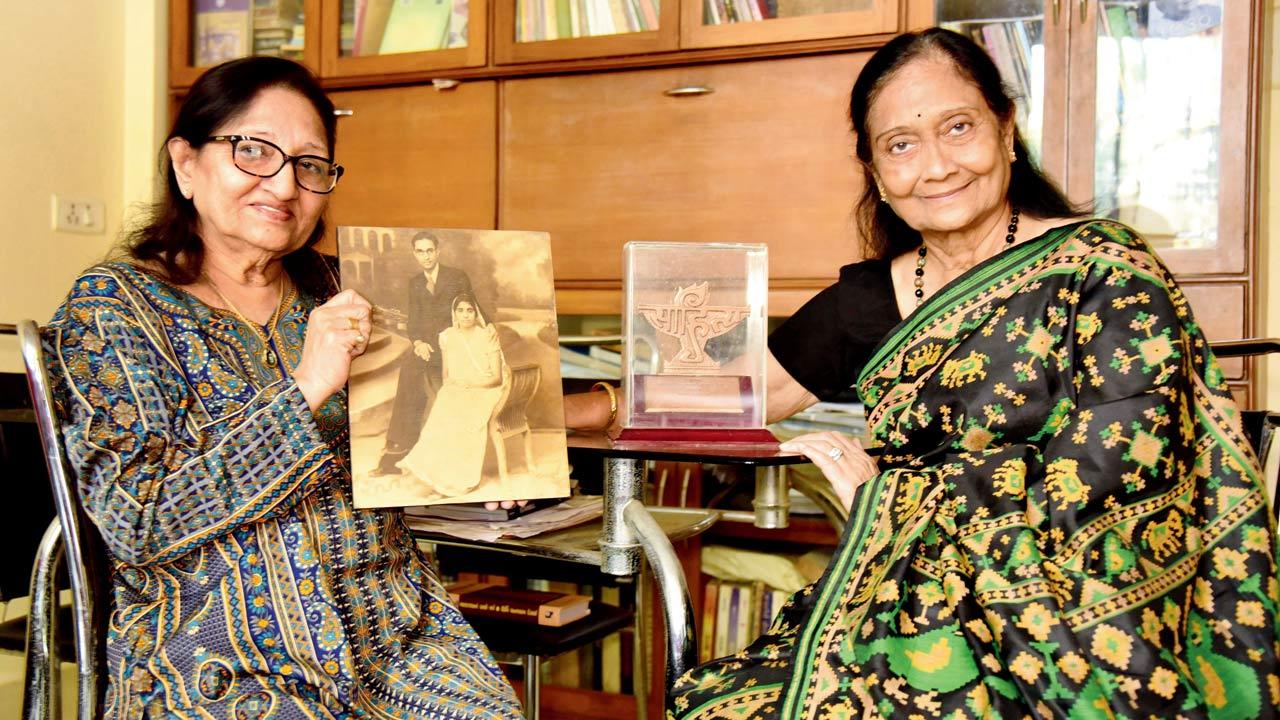 Writer Varsha Adalja (right) and her next-door neighbour Savita Malkani
On a street famed for unspooling reels of big-screen exploits, resides a real-life heroine. Cinema Road, abutting Metro, halts west at Walter de Souza Garden, honouring the field hockey star whose team wrested the gold when we met Britain at this game in the 1948 London Olympics. The cool verdure inspires one of our favourite authors, Varsha Adalja, in Gul Bahar, the horseshoe-shaped building that skirts the park. With 55 published novels, the winner of the 1995 Sahitya Akademi Award, for her book, Ansaar, says, "We valued gender equality before it became fashionable. Feminism is humanism, not fighting men." Catching up five years after our earlier interview, Adalja updates us. A recent gem is an English translation of her Gujarati novel Crossroad. Written as historical fiction, this spans five epic decades of Indian socio-politics, 1922 to 1973. When we first met, Adalja's neighbour, Savita Malkani, had dropped in, narrating a gutsy Partition story. Her mother-in-law Shami arrived in Bombay as a 32-year-young widow, shoved on the train from Sindh to save her five children.
Nuvart Mehta: From Armenia with love
Each time I walk along the Apollo Bunder waterfront, I remember cosy Christmas parties for Bombay Local History Society members, hosted by Nuvart Mehta in her Mark Haven terrace flat. An immigrant from Istanbul, Nuvart Parseghian was posted to Bombay in 1952 by the USIS education department. She nearly didn't make it. About to sail, she sniffed news of being sent elsewhere. "I told them, 'I'm packed for a tropical climate, I go there!'" she laughed. Once here, she married her Parsi colleague, Nari Mehta. Nuvart fiercely cared for the city until the end of the 100 years she lived. A neighbour marvels, "Every week she'd sit arguing in Colaba police station or municipal offices. We need civic-minded souls like her today."
Bapsy Sabavala: Four legs good
She gets our vote for devising unusual—even eccentric, as her family sportingly vouches—tactics to support welfare initiatives in Bombay and Matheran. Raising funds for every kind of charity by maverick means, Bapsy Sabavala, the dynamo daughter of Sir Cowasji Jehangir, was an avowed animal lover. Stopping at nothing to meet her philanthropic goals, she came clutching a pig underarm at a Taj ballroom gala. Congressman SK Patil, among other luminaries, suddenly found himself shaking the paw of a Shropshire-type pink porcine bundle, etiquette-tutored to greet guests like him. Intolerant of the slightest cruelty to four-legged creatures, Sabavala struck fear in tangawalas she saw beating bullocks and horses. Borrowing the whip of any repeat offender, she warned him a lick-lash with it, declaring, "Want to see how this feels when done to you?" 
Roshan Curmally: Educationist extraordinaire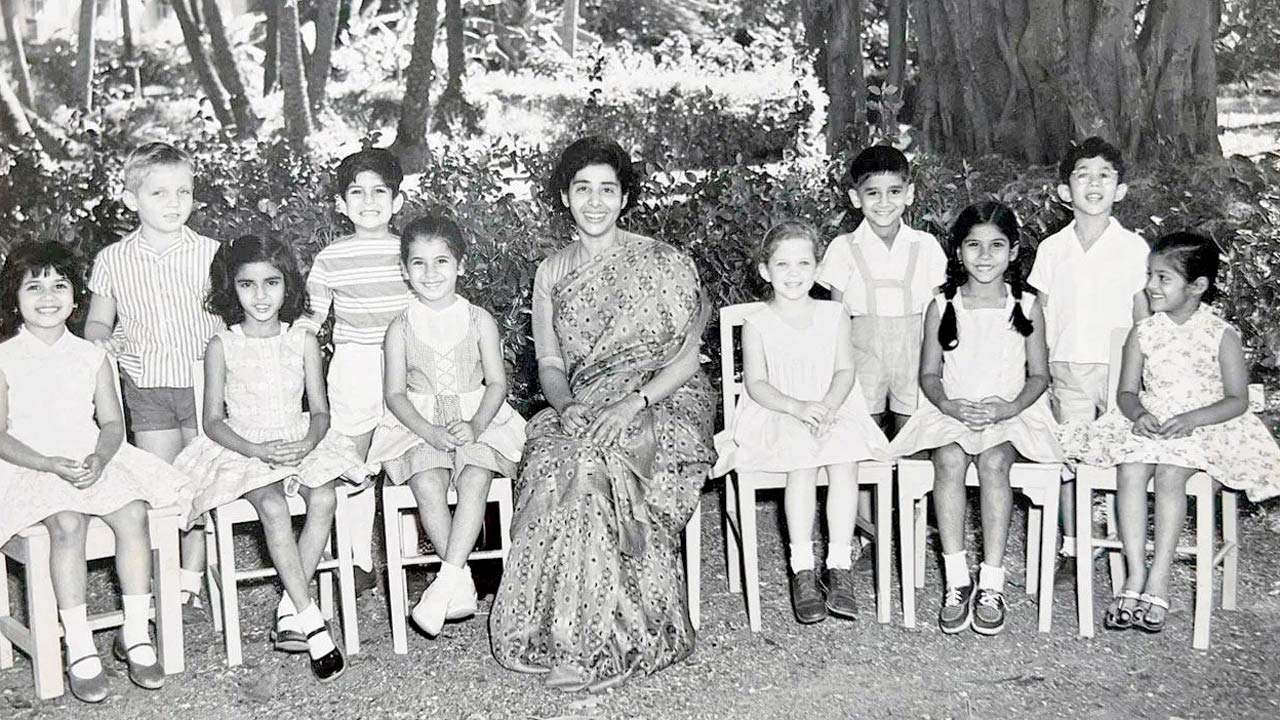 At a time when "education" is a money-making racket, let's hear it again for the enlightened lady steadfast to the philosophy that has set apart a school since 1948. Roshan Curmally, charismatic principal of West Wind Nursery, joined West Wind Nursery that year as its sole teacher. 
From my husband as a 1960s toddler to our kids in the 1990s, they had the happiest head-start to learning. The unique way Ms Curmally introduced preschoolers to phonics and graphemes, groomed them to delight in the printed word. Special needs kids flourished from the inclusive attitude of sensitised teachers. True to its founding non-profit ideology West Wind charges reasonable fees, and garners support for NGOs dedicated to education and health of underprivileged children.
Vina Mody: What Nebraska made in India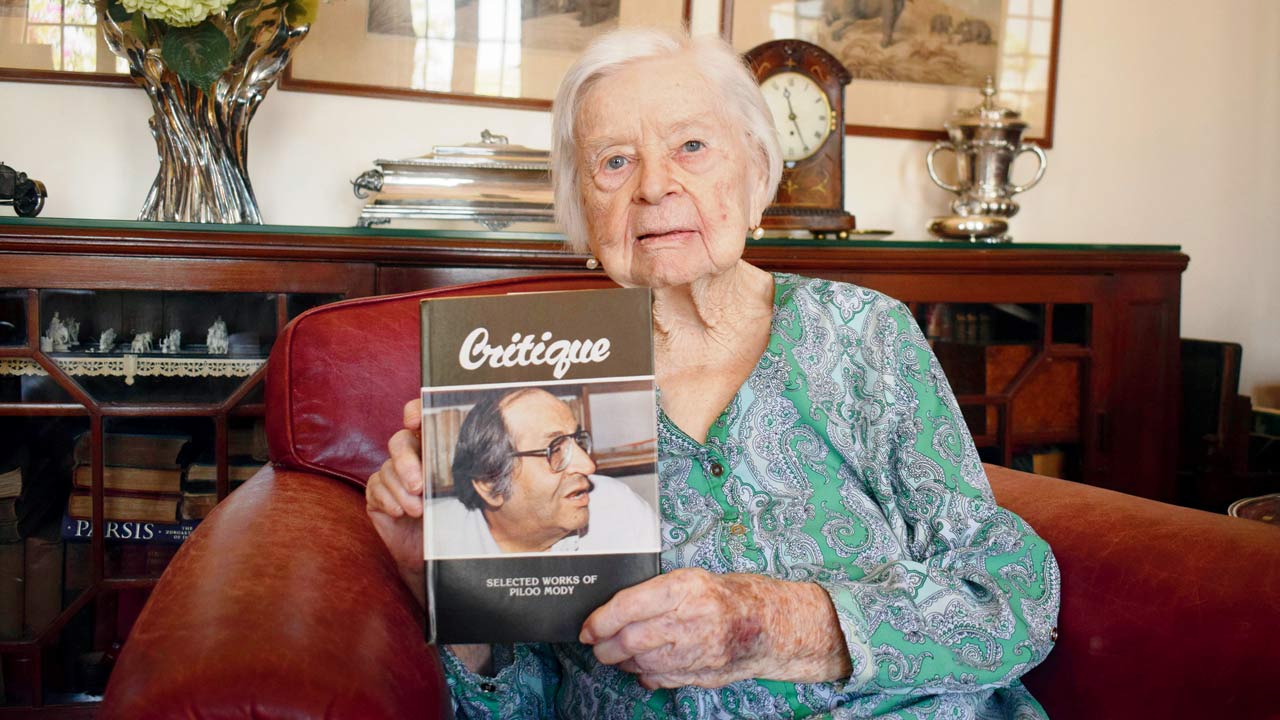 Ethnic chic was scarcely an aspiration until she chose to say it could be. Vina Mody practised Make in India and Local for Vocal way before a prime minister namesake preached it. "I didn't envision Contemporary Arts and Crafts [CAC], it was a crying need," she explained. "We [Mody and Colgan, the firm this American architect set up with her husband Piloo Mody] were doing interiors of flats and restaurants, demanding handloom textiles, ceramics and accessories. Nothing was available after the Brits pulled out." Partners who sharpened their pencils with her, to draw a new cultural map, were furniture makers Shirish Sankalia and Amrital Mistry, proprietors of Interfurn, and Muzaffar Ali Khan, the Nawabzada of Palanpur. CAC boosted a modern design sensibility, emerging as the forerunner of Indian lifestyle stores. It identified village talents, channelling them towards a functional aesthetic. Orders she commissioned sustained livelihoods, several of them women. Vina's legacy echoed Piloo's belief: "The world revolves around an idea. And every problem has its solution, given a clean heart, good intention and determination."
Magda Nachmann: Art and belonging
Gaining a reputation as "the great little lady of the Bombay art world" (critic Rudolf von Leyden's description of her), Magda Nachman was another emigre contributing substantially to the world of her adoption. She settled in the city from 1935 with her partner, the revolutionary MPT Acharya.  Despite a troubled formative career in Russia and Europe thwarted by war and revolution, Nachman went on to receive awards for portraits, sketches, landscapes and book illustrations. Fascinated by local colours of flowers, and the faces of tribals and peasants, she strikingly captured places she loved retreating to, such as the Matheran hills. "Magda is one of the best Bombay artists, highly esteemed by a small circle of connoisseurs, badly neglected by the average art public," assessed art historian Hermann Goetz. "Yet, she is a painter of India because she is not India-born, and a painter of the soul because she avoids imagery and mythology. This seems absurd and contradictory to familiar slogans."
Author-publisher Meher Marfatia writes fortnightly on everything that makes her love Mumbai and adore Bombay. You can reach her at meher.marfatia@mid-day.com/www.meher marfatia.com