Why do we listen when animals talk? The earliest anthropomorphic tales told cast a lifelong spell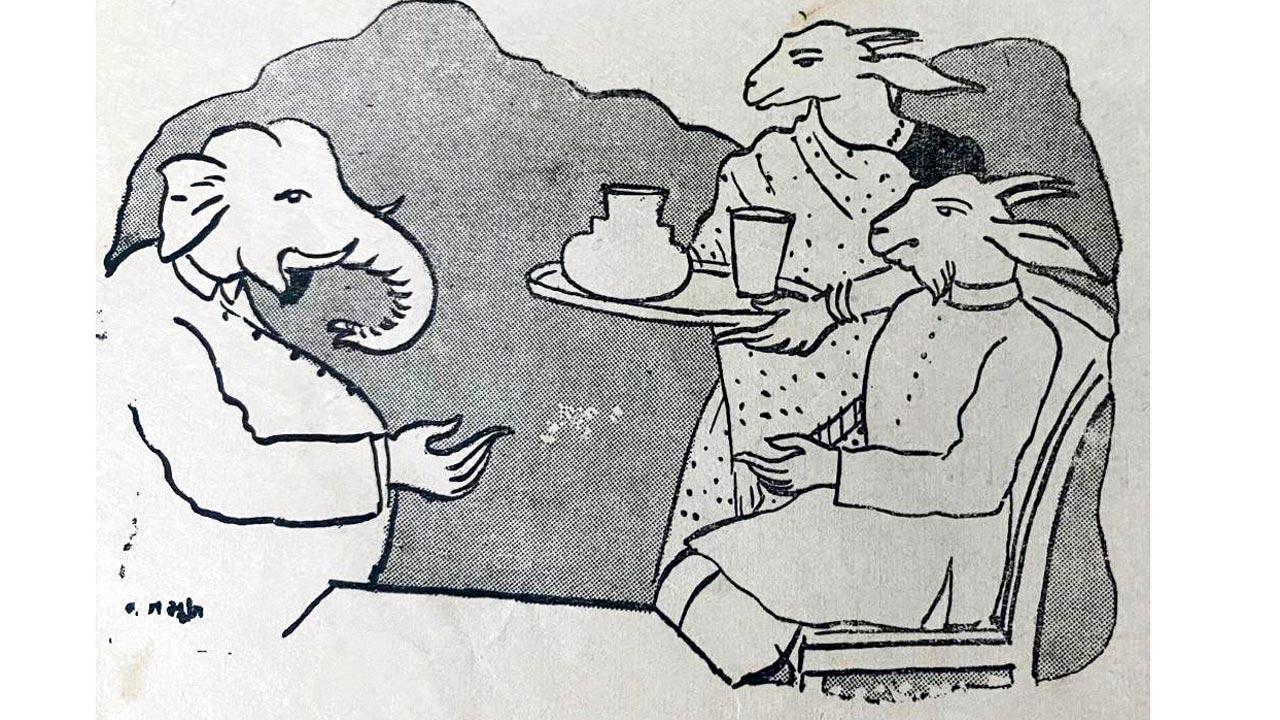 Cover of Bakor Patel na Chhabarda and an illustration showing the goat hero with his wife Shakri Patlani and Hathishankar Dhamdhamia. Pics Courtesy/Gandiv Sahitya

Forty years of being a bonafide member of the press leave me partial to a pair of its particularities. Magazine mastheads and book dedications. "For those who told me stories" is a recent example of the latter that stays in mind —from Janice Pariat's epochal novel, Everything the Light Touches, which sets travellers and discoverers across a sweep of continents over centuries. 
Arresting in its lucidity, the line has got me thinking and rethinking. Who were the storytellers of my formative years? How have they shaped a myriad lasting perceptions of my city, of the country, of the world, of life itself? Why are stories with animal characters the most attractive to pay attention to? 
ADVERTISEMENT
"Beduk bhau, beduk bhau kheltos ka" was an early refrain rendered in full-throated Marathi by Kamal, our house help. She sang the staccato tune in every rain shower. Inventing and inviting a baby frog to hop along with us en route to the neighbouring garden, she pointed out seasonal wonders. Wild daisy buds shooting up the pavement crack. A road sign struggling to survive fierce monsoon winds. The borawala on Bandra's Hill Road scampering for shelter against strong gusts from grey nimbus clouds.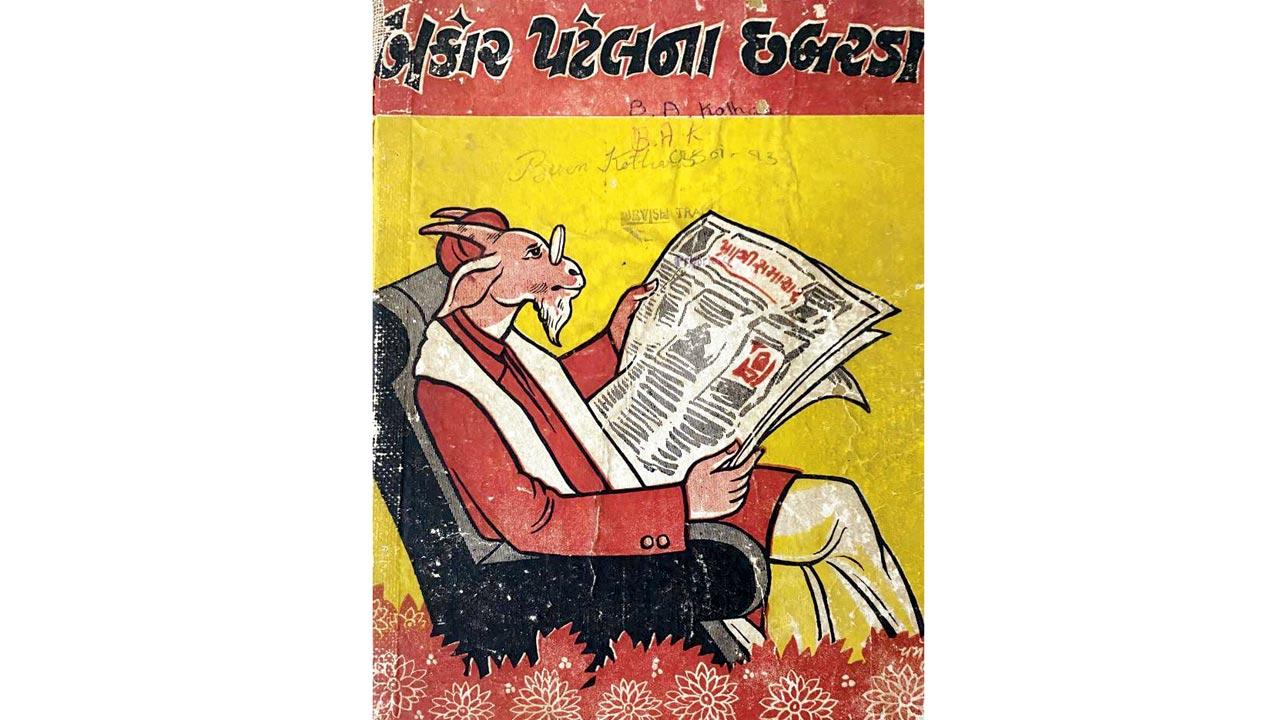 When it poured far too heavily to be out and about, the lovely ladies of the family dispelled any dismay my brother Phiroze and I felt at the prospect of no play evenings in Almeida Park, which commemorates Professor Raphael d'Almeida, the noted botanist who gave his daughters exotic flower names. 
Our grand-mum and mum shared Hollywood plotlines and convoluted plots of Hercule Poirot mysteries. And a bevy of aunts regaled us with simple, personal vignettes of daily life spent in different parts of India where our mill manager grandfather was posted.
Through their toddlerhood, both my children never tired hearing my ace raconteur mother-in-law tell them the "real stories" they begged for. Some flowed forth as her Kimmins boarding school tales, others were about the Convent of Jesus and Mary on Byculla's Clare Road. A fresh flood of anecdotes became their regular dinnertime treat.
Aunty D (Debalina Ray) reading to children at MCubed Library in Bandra
The stories we've all heard were relayed in an assortment of languages —Gujarati, English, Marathi and Hindi—depending on the teller. I was especially thrilled by those narrated in the softly inflected voice of Manek Dastoor, our cousin in Khar, who grew up in Navsari. Exceedingly fond of children and animals, she combined her loves, relating stories of animal protagonists with the young. Foremost among these were the escapades of Bakor Patel, a witty-wise goat in 1940s Bombay, where he traded with firms in Japan.
Created by Hariprasad Vyas, this paghadi-kurta-dhoti-clad hero rules as a four-legged star of Gujarati children's literature. With no siblings and scant mention of his parents, he interacts with his ever practical wife, Shakri Patlani, and evocatively christened friends: the tiger lawyer Vaghjibhai Vakil, elephant Hathishankar Dhamdhamia, camel Untadiya Doctor and cat Timu Pandit. 
"Most Gujaratis of a certain age recall the cover image of Bakor Patel with his cute beard and long ears, sitting on an armchair reading a newspaper," says my journalist friend Salil Tripathi. "In a play for Indian National Theatre in the 1970s, I acted as Timu Pandit. Though Vyas' cat was crafty, the humour lacked malice and the tone was uplifting."
The fourth generation of the writer's family reads to the fifth
Published in a children's biweekly from Gandiv Sahitya Mandir, Surat, the stories portray Bakor Patel always game for adventure, attempting experiences which more often than not go wrong. Taking failures and mishaps in his stride, he spiritedly bumbles on. The stories appeared from 1936 to 1955, with accompanying drawings, typography and typically stylised titles by the artist brothers Tansukh and Mansukh of Surat. "Chaal, Bakor Patel ni vaato vaachye?" Maneck would ask and I'd dive into her lap to be regaled from the compilations April Fool, Chamatkaar tya Namaskaar and Gammat par Gammat.  
I'm convinced those reading sessions honed my preference for the fun and folksy, the corny and zany. All of which converged in researching and authoring my first title as an independent publisher, Laughter in the House: 20th-Century Parsi Theatre, and, later, the Parsi Bol phrasebook editions co-published with Sooni Taraporevala.     
Other delightful creatures beautifully seized the imagination. An aunt got me acquainted with arguably literature's best-loved bear inhabiting the Hundred Acre Wood. With his red shirt stretching snug only halfway down a markedly tubby belly, Winnie the Pooh joins his furry and feathered pals, Piglet, Tigger, Owl, Rabbit, Eeyore the donkey, Kanga and baby Roo, to suggest great learnings: everyone needs someone, celebrate diversity in people, don't blindly trust authority. 
"Let's find out how Pooh got his name," the aunt coaxed, probably igniting my curiosity to figure derivative meanings. While AA Milne originally modelled Pooh on his son Christopher's stuffed teddy, the pocket diaries of Canadian vet and military man Harry Colebourn add the story of a real, orphaned bear cub he adopted in 1914, naming it Winnie after his hometown of Winnipeg.
Equally endearing bears are the Berenstains, introduced by a beloved primary school teacher, Miss Eugenie. She explained how the artist couple illustrating the series, Stan and Jan Berenstain, met as students at the Pennsylvania Museum and School of Industrial Art, visiting the local zoo together to sketch pictures as assignments.      
Besides the bear brethren, several species charm generations. Goats to elephants and tinier characters, there are adroit examples of anthropomorphism – assigning human traits to animals or objects. 
Why does this device, traditionally used in myth, fable and fairy fiction, work well and impact deeply? Largely because animals cast in human role play are whimsically reassuring. They allow emotional distance from pain in a manner too-true humans do not. They hold temporary reprieve from problems and dilemmas and a safe space for kids to explore or reflect in before reacting to critical choices. "What would Roly Robin do?" was the question I asked myself as a fan of the chirpy exploits of the Robin family serialised in Woman's Weekly, the magazine my mum subscribed to for recipes, romances and knitting patterns.
Every family has a preferred animal. Mine digs elephants. We've followed the tracks of herds of them over the years. My son wasn't quite four when he leaned into the hospital cot the morning his sister was born, saying "Mummy looks tired. Let me read you this," and began whispering a Babar the Elephant episode into her shell-small ears. That so made me smile away the Caesarean discomfort.
The brainchild of Jean de Brunhoff, country bumpkin Babar is hard to beat for smart individuality. Dressed in natty spats and determined to get ahead, Babar wanders into town to acquire a sartorial elegance his tribe has never known, becomes the hit of high society and is crowned elephant king. 
My daughter continued enjoying wonderful elephant sagas, even matching moment to mood. Shopping for paints at Crawford Market one afternoon, we found ourselves opposite the JJ School of Art. She happened to be clutching a 1919 author-illustrated edition of Just So Stories by Rudyard Kipling, whose wooden bungalow stood on the same grounds. His father John Lockwood Kipling, teacher of architectural sculpture, brought the family here when stationed on campus. Squatting under a mango tree at that spot, I read aloud the Tale of the Elephant's Child on the banks of the Limpopo River in Africa. Happily hooked, she wanted to wander around the historic precinct. 
In Madhur Jaffrey's Robi Dobi: the Marvelous Adventures of an Indian Elephant, magnanimous Robi Dobi meets and mentors a ragtag bunch of needy creatures. Little Big Ears: The Story of Ely, sees writer Cynthia Moss and photographer Martyn Colbeck compassionately trace the saga of crippled newborn Ely, an inspiring survivor who trumps threat to triumph, combining inner strength with sly mischief to keep himself going. Not to forget Disney's flap-eared Dumbo, the flying elephant who reassures us that it's okay to be different. 
Perking up the pages, elephants provide much to think about despite slapstick misfortunes. In Rosy is my Relative, by Gerald Durrell, the eponymous elephant with a circus background is thrust on a hesitant human to hysterical result. Resourceful, if riotous, among her other sterling qualities Rosy has a propensity for getting gloriously tipsy on any gin or cherry brandy her trunk wraps around. Inebriated enough to indulge in many a merry romp, her absurdity is endearing. 
Lumbering and towering, yet incredibly sage and gentle, Horton is one of the more memorable pachyderms in print. Child-centric and adult-admired, the Dr Seuss classic, Horton Hatches the Egg, describes this gallant elephant ludicrously offering to sit on the egg of a mother bird who won't. Guarding lazy Mayzie's chick through trying times until it finally hatches, loyal Horton succinctly trumpets the rhyme, "I meant what I said and I said what I meant/An elephant's faithful one hundred per cent!"  
Intelligent and insightful, maverick and magical, animals walk the talk. As a character in Janice Pariat's book remarks, "Isn't that why we embark on journeys? Not only to see new things, but to see things in new ways." 
Author-publisher Meher Marfatia writes fortnightly on everything that makes her love Mumbai and adore Bombay. You can reach her at meher.marfatia@mid-day.com/www.meher marfatia.com