Nanda's Shout is an important documentary exploring the evolution and uneven gains of the contemporary feminist movement in India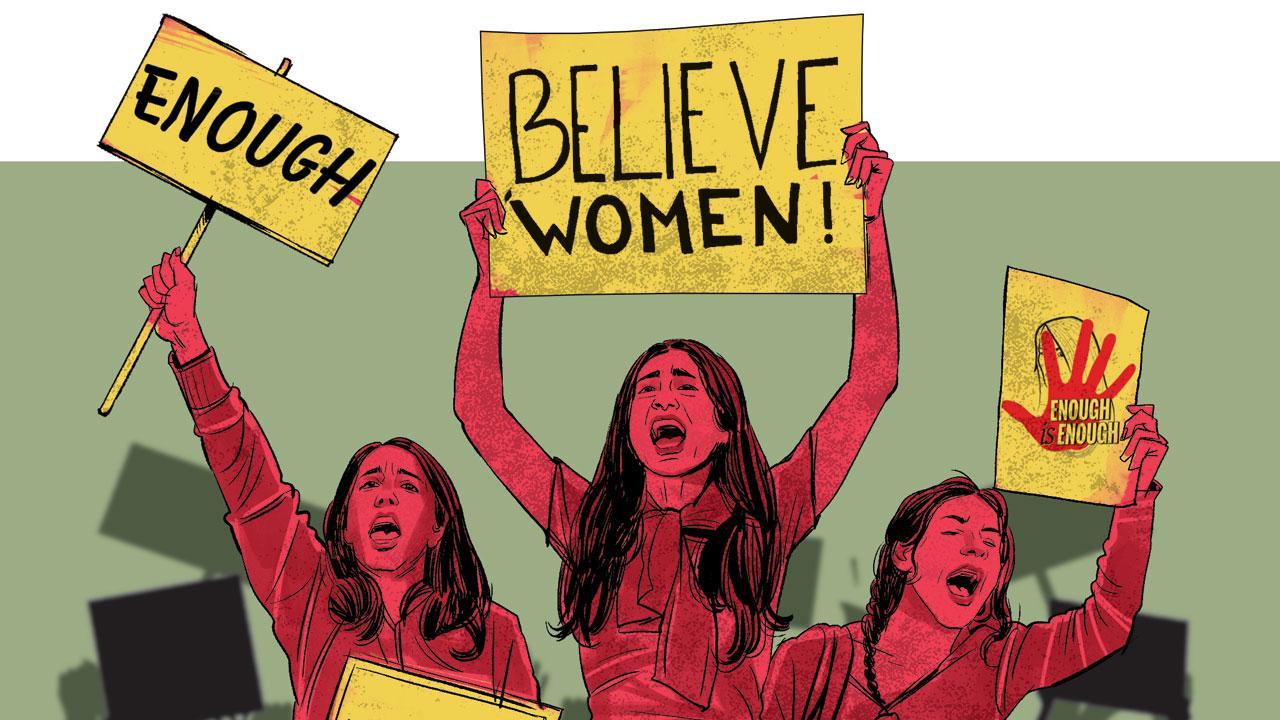 Illustration/Uday Mohite

At one point in Vinta Nanda's film Shout, a furious Manipuri woman explodes, following the rape and murder of Thangjam Manorama, allegedly by the Indian Army, in 2004. "Hey, Indian Army, come out," she screams with rage, "Rape us! Kill us! We are all Manorama's mother!" Elderly women of the Meira Paibi group gathered at the 17th Assam Rifles headquarters, stripped themselves naked, covered only by a banner that said, "Indian Army, Rape Us! Take our Flesh!" We've seen the clip before. Yet, it is unbelievable—and rare and compelling—to see such fury in an Indian woman, as Indian women's mainly dominant gene is compromise. Again, Assamese journalist Sabita Lahkar recalls the time her editor, Homen Borgohain, allegedly groped, then taunted her: "I called him a dog in front of the whole office. I'll never work for a dog like you," she said.  
Nanda's Shout is an important documentary exploring the evolution and uneven gains of the contemporary feminist movement in India. It is wide in scope, exploring many aspects of feminism, and through many lenses, including human rights, domestic violence, sexual violence, #MeToo, patriarchy, religion, caste, discrimination, Partition, state oppression, evolution of laws, literature, culture and films. It functions like a vital, all-India Bharat Jodo of feminists and feminism. It's also a searing indictment of India today and how it treats its women. Nanda is producer, director and writer of several television serials, including the trailblazing Tara. She also directed the film White Noise, and founded The Third Eye, and The Daily Eye, a news portal. She was in the news as part of the #MeToo movement, after she filed an FIR against popular TV star Alok Nath, for alleged rape, in 2018. Tragically, women are rarely believed.
ADVERTISEMENT
Shout is a straightforward, old-fashioned documentary with mostly talking heads, interspersed with visuals—and Nanda struggles to leaven the material with songs. Yet, the film is a powerful record, a rare, comprehensive feminist film overview—from little Asifa's rape and murder in Jammu, to Kerala, where the Church expelled a nun for protesting against the rape-accused Bishop Franco Mulakkal; from Rajasthan, sati heartland, to Manipur, where women are resisting Army oppression. There's even black humour as Dr Sr Jesme, gender activist, while being molested by a priest, recalls naively, when he stripped, "I had never seen a male body… their organs are outside, that was a shock to me."
Also read: In memory of a fine scolding
There are brutal, yet empowering stories of defiance—and male empathisers—including Bant Singh, Punjabi Dalit labourer-singer-activist, who secured a rape conviction against the upper caste boys who gang-raped his daughter. It is rare that a Dalit can convict an upper caste man for any crime; in retaliation, the upper castes hacked off his hands and legs. There are icons like Bhanwari Devi: the protests against her gang-rape resulted, eventually, in the Sexual Harassment of Women at Workplace (Prevention, Prohibition and Redressal) Act, 2013. Urvashi Butalia, co-founder of Kali for Women/Zubaan Books, is hopeful of the younger generation of feminists. Journalist Namita Bhandare talks of 72 per cent of teenage girls wanting a career before getting married (we would love details of the study). We see feisty young women, including Dalit activist Manisha Mashaal and passionate poet-activist Amy Singh. The latter ends with her stirring Hindi poem: "If you had what we wanted, we would ask you for it. 
But it belongs to us, and we will take it: azadi, freedom." Above all, Nanda chooses to leave her own #MeToo case out of it, giving her distance, and sublimating it into an expansive sisterhood.  
There's workman-like cinematography by Shanti Bhushan Roy and editing by Puloma Pal. Unfortunately, the film doesn't include the sterling Women in Cinema Committee (WCC) Kerala, apparently stalled by the lockdown. The producer is One Life Studios, Gayatri Gill, Rahul Kumar Tewary and Siddharth Kumar Tewary, and executive producer is Sandra de Castro Buffington. Women crew include director Vinta Nanda, editor Puloma Pal and producer Gayatri Gill. Although the Censor Board cleared it with minimal changes, Nanda said the producer was forcing her to dumb it down, or the film goes no further. She has refused, so the film is in limbo for now. Nanda embodies the film's tag line: #Shout. Be fierce.
Meenakshi Shedde is India and South Asia Delegate to the Berlin International Film Festival, National Award-winning critic, curator to festivals worldwide and journalist. 
Reach her at meenakshi.shedde@mid-day.com