Virat Kohli's three-year Test Century drought was massive for a player of his reputation and stature. But then, he's not the first and won't be the last to endure the demons that players have to conquer in terms of three-figure scores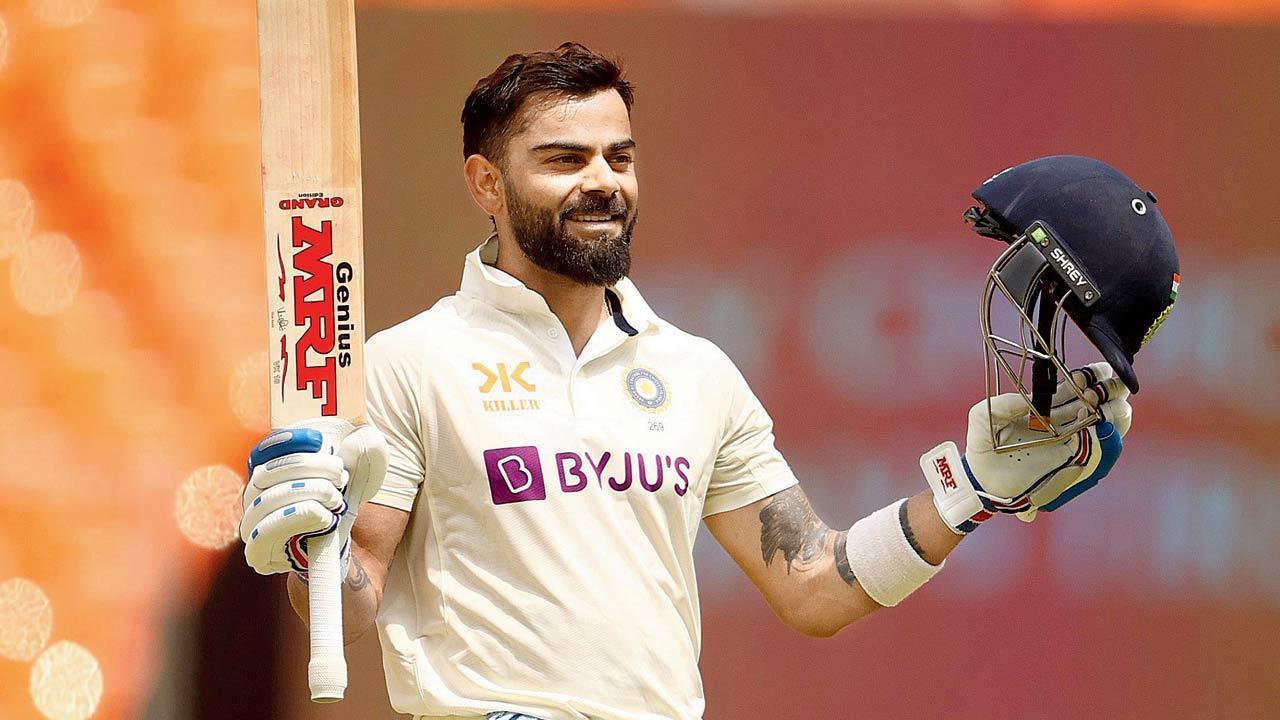 India's Virat Kohli celebrates after scoring his century during Day Four of the fourth Test against Australia at Ahmedabad on March 12. Pic/Getty Images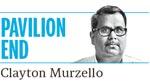 In India, more than any other cricketing country, a Test century is a glowing individual achievement as a career progresses.
In Mumbai, the importance of shambar (century in Marathi) used to be drilled into players by coaches and mentors from an early age. 
ADVERTISEMENT
Sunil Gavaskar, the highest century-maker in Test cricket from 1983 to 2005, relates a fascinating story about VS Patil, his senior at Dadar Union Sporting Club, in his autobiography Sunny Days. 
Patil, according to Gavaskar, would drop in often at the future Test star's Hindu Colony home in Dadar at night and remind him, "Sunny, century tomorrow."
The importance of a century is not lost on cricket fans as well. If they had their way, they'd want batsmen scoring hundreds in every Test they figure in.
The media come to the fore when a batsman hasn't scored a hundred for a while and that registers in the minds of cricket followers; even the players. 
Virat Kohli, who in Ahmedabad recently ended his three-year wait for a Test century, which came after a gap of 23 Tests, told head coach Rahul Dravid in an interview for the BCCI website: "The desperation to get to the three-figure mark is something that can grow on you as a batsman."
Also Read: Four decades of Motera
Before him, teammate Cheteshwar Pujara's unbeaten 102 against Bangladesh at Chittagong last December was his first ton in 29 Tests. 
I indulged in some random trivia-hunting the day after Kohli arrested his century drought.
I started with Australian Mark Taylor, who famously ended a wretched run with the bat with a century in the opening Test of the 1997 Ashes at Edgbaston in June. That century was his first since November 1995; a gap of 13 Tests. 
Not getting a hundred in a stretch of time doesn't always mean that the player in question is enduring an absolute bad patch. There could be a vital 70-odd along the way and, many a time, the rub of the green comes into play when a hundred is there for the taking.
Taylor didn't believe the media talk. "People were now writing that I had had a bad trot for 18 months, which was crap. In fact, the doldrums, which became the obsession of the cricketing media, lasted from around Christmas 1996 through to the century I scored at Edgbaston in mid-1997. Six months," he wrote in Time to Declare.
Save the fag end of his career when every cricket lover waited for his 100th international century, Sachin Tendulkar never really endured a shortage-of-centuries phase. But the build up to his 35th Test century, which would take him past Gavaskar's record of 34 tons, got to him. "There was this pressure which was building. The room service and housekeeping people in my hotel only spoke about getting Century No. 35. I was glad and relieved when it happened because I could then start enjoying the game again," he told me in an interview to commemorate his 20 years in international cricket.
Tendulkar's Test Nos. 178 to 200 didn't witness a hundred, but who at the Wankhede Stadium would say he didn't deserve one in his farewell Test in which he scored 74? He came close to a hundred at The Oval in 2011, but he had to walk off for 91 when umpire Rod Tucker adjudged him leg before to Tim Bresnan. 
Sourav Ganguly endured century 'breaks' too. It took him 23 Tests to log in another three-figure score from the time he scored his 125 against New Zealand in the 1999 Test at Ahmedabad. Hence, his 136 against the Zimbabweans at New Delhi in early 2002 came as a relief for the then India captain.  It must be said that Ganguly stayed unbeaten on 98 while steering India to a memorable Galle Test win over Sri Lanka in August 2001 during that period.
The Bengal man also had an 11-Test gap between his second Test century at Nottingham in 1996 and his third in Colombo the following year. Runs came in a flood in the return series against the Lankans… 109, 99, 173 and 11. 
VVS Laxman once had a 15-Test stretch (October 2010 to November 2011) without a hundred. And Rahul Dravid's next hundred after that epic 180 against Australia at Eden in 2001 came after a gap of 13 Tests. 
Back to Gavaskar. His 34 Test tons indicate in good measure his ability to get centuries consistently. As a big Gavaskar fan in 1981, I waited for him to get his next Test ton after the one against Pakistan at Chennai in 1980. The 1980 Jubilee Test against England and the 1980-81 tours to Australia and New Zealand were sans Gavaskar hundreds. He would have reached one in the 1981 Melbourne Test had umpire Rex Whitehead not ruled him out leg before wicket for 70. 
Gavaskar broke his century-less  sequence in the second Test against Keith Fletcher's 1981-82 Englishmen at Bangalore. It happened on a December Sunday. As a Class 7 student, I was summoned for Hindi and Marathi tuitions that day. But I didn't end up reaching there. I stood outside a television shop at Dadar, watched Gavaskar reach his 24th Test century, and returned home while my teacher wondered about my rare absence. I said I was sick.
Mrs Maggie Fernandes, my tuition teacher, passed away earlier this year. I am grateful to her for helping me get a break from my second and third language failures. And, of course, for letting me play hooky that day in 1981. I'd like to think that she wouldn't have minded if she had known I skipped class to indulge my enduring passion for cricket.
mid-day's group sports editor Clayton Murzello is a purist with an open stance. He tweets @ClaytonMurzello
Send your feedback to mailbag@mid-day.com
The views expressed in this column are the individual's and don't represent those of the paper