"Natasha, you seem in a surprisingly good mood this morning."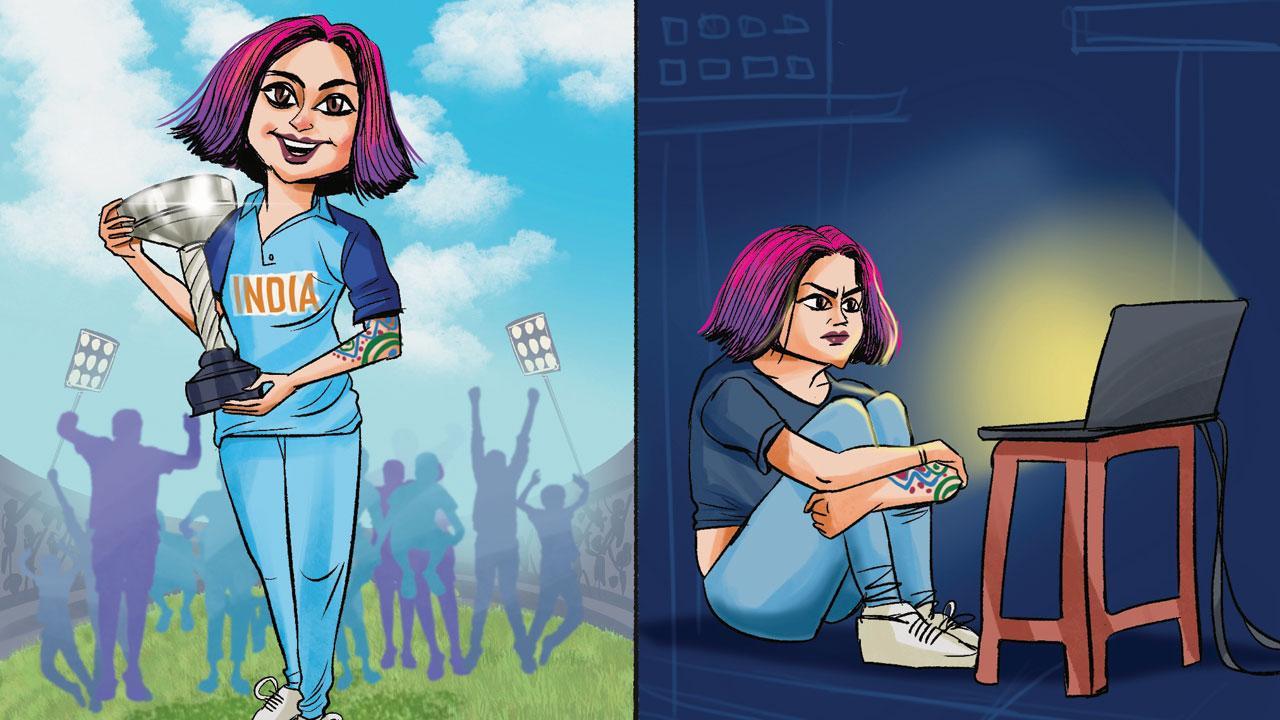 Illustration/Uday Mohite

Natasha aka Nats, my narcissistic 19-year-old neighbour, popped by… her nonchalant swagger, indicated she was generationally happy (meaning her joy wasn't personal, but peer related).
Nats carried with her that air of cocky overconfidence as if the Evolution of man really began in the early 2000s.
"Rahul bruh… wattup, wattup fam?" she cooed smugly ("Fam" is short for family, dear reader).
"Natasha, you seem in a surprisingly good mood this morning."
"What's that mean, dude. (Eye roll) I've been on Cloud 9 this whole last week."
"Why are you so chipper?"
"'Us young ladies have taken 'success' to another level," she said, proudly.
"Us… who's 'us'?", I enquired.
"Us 19-year-olds… Ask me why… ask me how?" 
"Why and how have you 19-year-olds taken success to the next level?"
"Hrmmpph, never thought you'd ask. First things first… our girls… our under-19 girls have won the inaugural World Cup cricket tournament, man… woohoo…they just cruised through the tournament and crushed the Brits in the finals. These are girls mostly from small towns in India—Hooghly-Chinsurah, Balitkuri in Basnagar, Siliguri, villages in Hyderabad, Madhya Pradesh—many of them have overcome some real hardships to get where they have. This is a victory for all of us Gen Z'ers. We live vicariously through them, man I would have loved to see the expression on my dad's face, when we won."
"Care to explain?"
"Papa is the ultimate chauvinist, doesn't like women to succeed in what he assumes are male bastions, like sports. My own sister, Namrata, was a sensational state-level badminton player for Punjab. Gopi Chand saw her at a local tournament, invited her to train at his academy in Hyderabad, but my monster papa put his foot down.
Ughhhhhhh, then got her married, imagine if Sania Mirza's family had stopped her from playing tennis. I'm so happy for these girls—many have gone beyond rigid family restrictions, fought patriarchy, battled the regressive beliefs that relegates us to 'your place is in the kitchen', this is serious 'nari shakti' ! I tell you bruh, any cricket official tries what that wrestling federation guy did… these girls won't just stage a dharna, they'll just shove their cricket bats where the sun doesn't shine!"
"Okay, I got this rather graphic picture."
"Talking about graphics… my first graphic novel is ready!' I took a breath.
"A graphic novel! What's it about?"
"Ok, let's begin at the beginning—so I saw the BBC documentary, dude."
"Which BBC Docu? Oh you mean, the BBC documentary… the one about—but it's banned, Natasha!"
'That's right, Rahul bruh. But this is the internet age, you know me, right. You know us, under 19-ers, tell us something is banned or it's out of bounds, we'll be even more determined to get it, and we did, we saw. It was 'awes'," she smiled rebelliously.
By now Nats' eyes had glazed over… the good mood was replaced by a black mist of intent.
"What's your graphic novel about?" I persisted.
"It's called—The Adventures of N."
"Who's N?"
"N… she's my female superhero, the first ever Indian female superhero."
"What does she do? Your superheroine 'N'?"
"Dude, she's a superhero… there's no such thing as a superheroine!" (Eye roll) She's a Gen Z warrior princess… a kind of 19-year-old Joan of Arc meets Rani of Jhansi meets the Black Widow."
"And what does she do?" Natasha smiled.
"Man, what does she not do… but long story short, she goes after bigotry, she goes after bad men with their biases, she tames bullies, and beasts and barbarians… so each story… she takes on a new baddie that befalls us here in India… bastards that beat their wives… bhakts that feel they own the land.
But she's 19 so she has modern superpowers, she doesn't need to fly rooftop to rooftop, she has AR (Augmented Reality), she has AI (Artificial Intelligence), she has Metaverse at her disposal… she's an AI Avenger, she's a hard-nosed hacker, she's a cyber crime crusader, she's a virtual vigilante… dude, she's something else, 
my N."
"Sounds amazing"
"She is! Okay dude… gotta bounce."
And with that, Natasha aka Nats aka N disappeared into the night.
Rahul daCunha is an adman, theatre director/playwright, photographer and traveller. Reach him at rahul.dacunha@mid-day.com