Could Uma consider one A Suitable Boy? Or, have Uma's parents made this account with faltu specs thus, inviting suitors in suits who suit them, not Uma?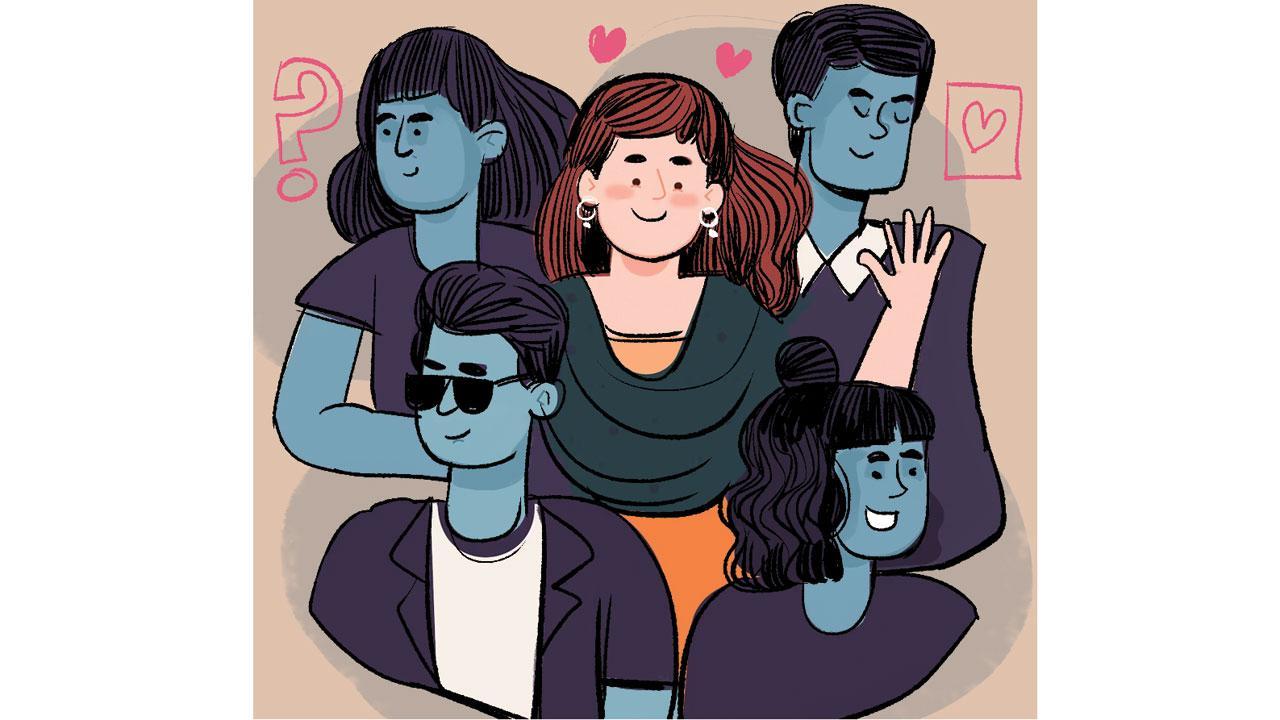 Illustration/Uday Mohite

I do not follow Humans of Bombay, recently trolled, mera matlab hai, recently in the news. But I am a little addicted to my inbox.
One Uma's Jeevansathi profile notifications mystifyingly appear in my inbox. Her prospective matches, Vinit, Nishant, Vishwas also appear, in ties and suits. Not so Abhishek from Aurangabad, in goggles, who messaged: hello, dear. Could Uma consider one A Suitable Boy? Or, have Uma's parents made this account with faltu specs thus, inviting suitors in suits who suit them, not Uma?
ADVERTISEMENT
Uma is not the only one. For some years now, I have received notifications for a Mrs Paro Devi. First her vegetable vendor application was acknowledged. Then—hurray—it was approved. Small ATM withdrawals—just a few hundred—are sometimes made. I wrote to one non-automated sender to clarify the confusion. But nothing's changed.
I'm the generation that survived Nigerian post office scams (google it under 30s walon) and sheikhs and kings offering to drown me in dollars if I shared my bank account information bas ek baar. Recently I even got confirmation of my alleged purchase of a gun (yes) for $569. I did not fall prey to clicking. But I admit my fingers have hovered on the link to Uma's account, involved in her story, routine though it is. 
I understand it's probably an elaborate clickbait that will unleash a thousand junk mail jeevansathis into my life, but still, I am curious about Uma, real or fictional.
Maybe Mrs Paro Devi is not real either, but I wonder. The other day I received an OTP in my email for a prison visit (denied, per a later intimation). I cannot stop thinking since then about my half namesake and what her life might be like.
My friend Hrujut Dave has received emails meant for another Hrujut Dave for years. We have followed his professional life from a managerial position to starting his own momo business. His irate customers want to send back non-veg momos he mis-delivered. Others sternly tell him they are losing revenue thanks to his tardy deliveries. TBH Hrujut, like that one unreliable cousin who assures us he will soon leave Elon Musk behind, does not inspire hope. My friend tried to set the mistaken identity record straight and for a while there was nothing. When after a gap, an email crossed tracks, we perked up. Hrujut was still selling momos. Still being scolded. I smiled.
Are humans interesting? Well, are people beautiful? Sometimes objectively so, but often It depends how we look at them. Artists and storytellers chisel details from the familiar to reveal its beauty and meaning, with a whisper, not an exclamation. This creates a bond of intimacy with the world so we see it and ourselves too, as beautiful and involving. Click-bait farms like Humans of Bombay are easy to diss. But much of what passes for human-interest, even in high-minded character driven documentaries, also actually asserts that humans are not interesting in themselves. They must be fitted into some readymade costume of victimhood or heroism, to matter. Rather than connecting people, these narratives erode our capacity to know others or even ourselves. The loneliness of our time is not coincidental.
Are stories about humans interesting? It depends on the storyteller. So, I will stick to my inbox with its partial, mysterious view, its slowly unfolding lives of others.
Paromita Vohra is an award-winning Mumbai-based filmmaker, writer and curator working with fiction and non-fiction. Reach her at paromita.vohra@mid-day.com
"Exciting news! Mid-day is now on WhatsApp Channels

Subscribe today by clicking the link and stay updated with the latest news!"
Click here!