As his clients register stupendous victories, the political consultant has come to symbolise the desperation and fear of BJP's opponents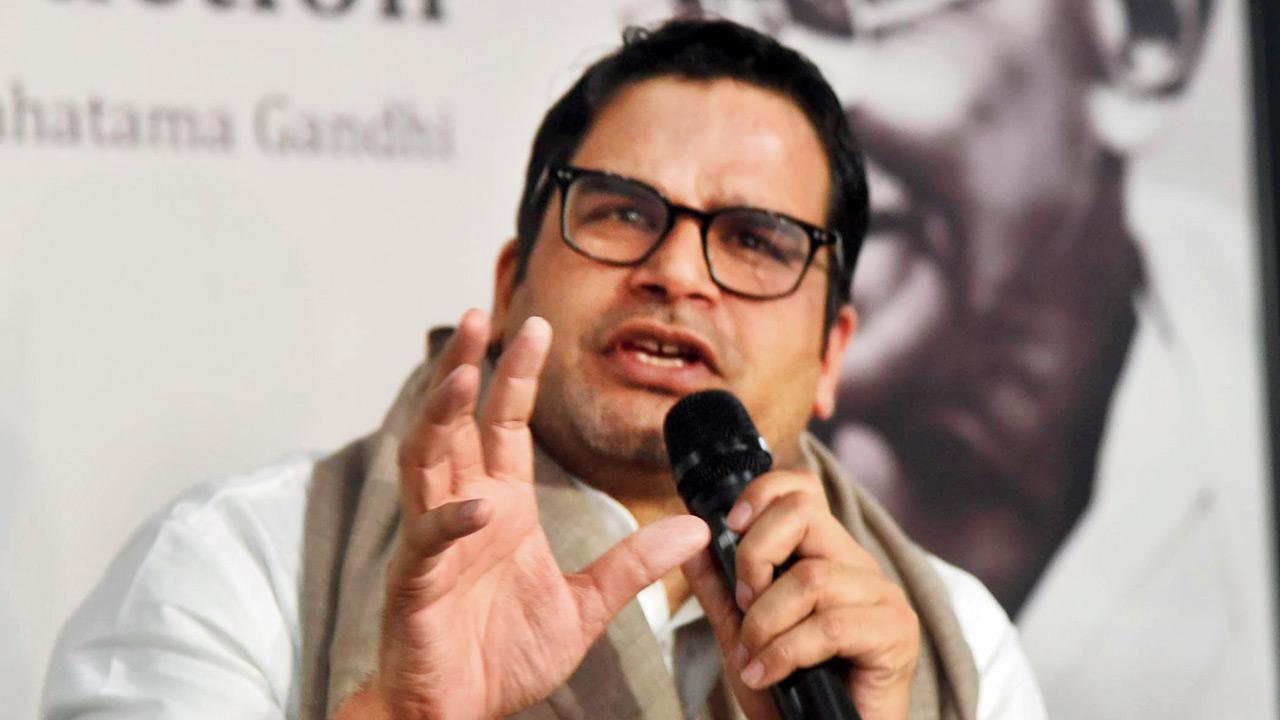 For someone who does not have a mass following, Kishor's importance in the political realm mimics the role consultancy firms play in India's corporate sector. Pic/File
Political consultant Prashant Kishor has a knack of creating a buzz around himself. His luncheon meeting with Sharad Pawar had the grapevine buzzing about the possibility of the latter spearheading an alliance against the Bharatiya Janata Party. Weeks later, Kishor's meetings with the Gandhis triggered speculation that he might be joining the Congress. It now seems Kishor will be deployed to restructure the party, particularly in the Hindi heartland, where it has been moribund for years.
Kishor is a symptom of the unhinged times we live in. For someone who does not have a mass following, Kishor's importance in the political realm mimics the role consultancy firms play in India's corporate sector. They are supposed to possess the skills to answer questions such as these: Does a firm's fortunes decline because of flaws in its functioning? Or is it because the firm is no longer in sync with the changing ecosystem?
These questions are indeed relevant to political parties. Kishor is presumed to have the answers because he has had a role in the success of many. He was integral to Prime Minister Narendra Modi's innovative 2014 campaign. The interest in Kishor matched the excitement successful starts-ups generate. He built upon it by scripting Nitish Kumar's victory in 2015.
Consultancy firms thrive on diverse portfolios. So it has been with Kishor, who assisted Capt. Amarinder Singh to overtake the Aam Aadmi Party in 2017 in Punjab. In 2019, he strategised for YS Jagan Mohan Reddy to vanquish N Chandrababu Naidu and the Congress in Andhra Pradesh. Thereafter, he batted handsomely for Arvind Kejriwal in Delhi, and then secured spectacular victories for Mamata Banerjee in West Bengal and MK Stalin in Tamil Nadu in 2021.
Kishor's Indian Political Action Committee (IPAC), which styles itself as the "platform of choice for college students and young professionals" wishing to contribute to political affairs and governance, mentions on its website only the names of Kishor's clients, not their parties. Kishor works for the leader, not his or her party. The leader is to the party what the proprietor is to the firm. It is the proprietor's burden to stem differences over Kishor's strategy, inevitable in any political party. For Kishor, his client's interest is paramount. It is not his task to reconcile the conflicting interests of factional leaders, even though these are taken into account before he chalks out a strategy.
The party, in a way, acquires an undemocratic structure, over which presides the leader working in tandem with the outsider, the consultant. Follow the consultant's strategy in toto and win. Or else do not blame him for defeat, as Rahul Gandhi learnt the hard way in Uttar Pradesh. Kishor's suggestion to project Priyanka Gandhi as the Congress' face there was rejected.
Kishor has an enviable mechanism for sussing out what voters want. IPAC had an army of over 3,000 footsoldiers and generals, mostly in their 20s and 30s, working on the ground and war rooms in West Bengal and Tamil Nadu. Their only stake is to ensure their business assignment is a success. This has them become ideologically neutral. Or they are ideology-less professionals, given to assessing the popular perception on objective criteria.
Comprehending the popular mood was earlier the work of party functionaries. Their replacement by the consultant signifies a change in our socio-political system. Most parties have become a vehicle for acquiring power rather than effecting social change. This has distanced them from the people. Our modes of forming opinions have changed with the advent of social media. Fake news influence political consciousness. The divide between propaganda and reality is blurred.
Above all, our social relationship has become transactional. Voters offer support in return for tangible gains. This societal change is reflected in Kishor's strategy for his clients. What IPAC conceives as the leader's vision is often a set of public goods promised to voters. This should be welcomed. It is also why Kishor's blueprint for leaders helps them win.
But democracy is also about becoming, whether we wish to be a nation bristling with religious hatred and wallowing in class-caste inequities. Do we want the status quo to prevail? These questions do not engage Kishor. His past shows he is ideologically flexible. He worked for Modi even though his authoritarian streak and inclination to polarise the society was dreaded.
Kishor has seemingly turned a new ideological leaf. Yet his favoured strategy of challenging Modi and the BJP is to not directly counter Hindutva. Kishor believes Hindutva can be vanquished by offering good governance, defined as effective delivery of public goods. For too long, the non-BJP formations have ignored fighting for the constitutional idea of India through everyday politics. They either lack conviction or have become too indolent to battle for India's soul.
This leaves the Opposition with only one option of weakening the BJP—wresting power from it. They think they can then deploy power to check and reverse India's ideological transformation under Modi. In this context, Kishor's importance has been enhanced because of his clients registering stupendous victories. He, ironically, symbolises the desperation of the BJP's opponents—and their fear of what the nation might become.
The writer is a senior journalist. Send your feedback to mailbag@mid-day.com
The views expressed in this column are the individual's and don't represent those of the paper.