'You seem a little crestfallen, Lobo Lobo, beneath the bonhomie… didn't you have fun, this was a reunion of all your old teammates... a boys get-together?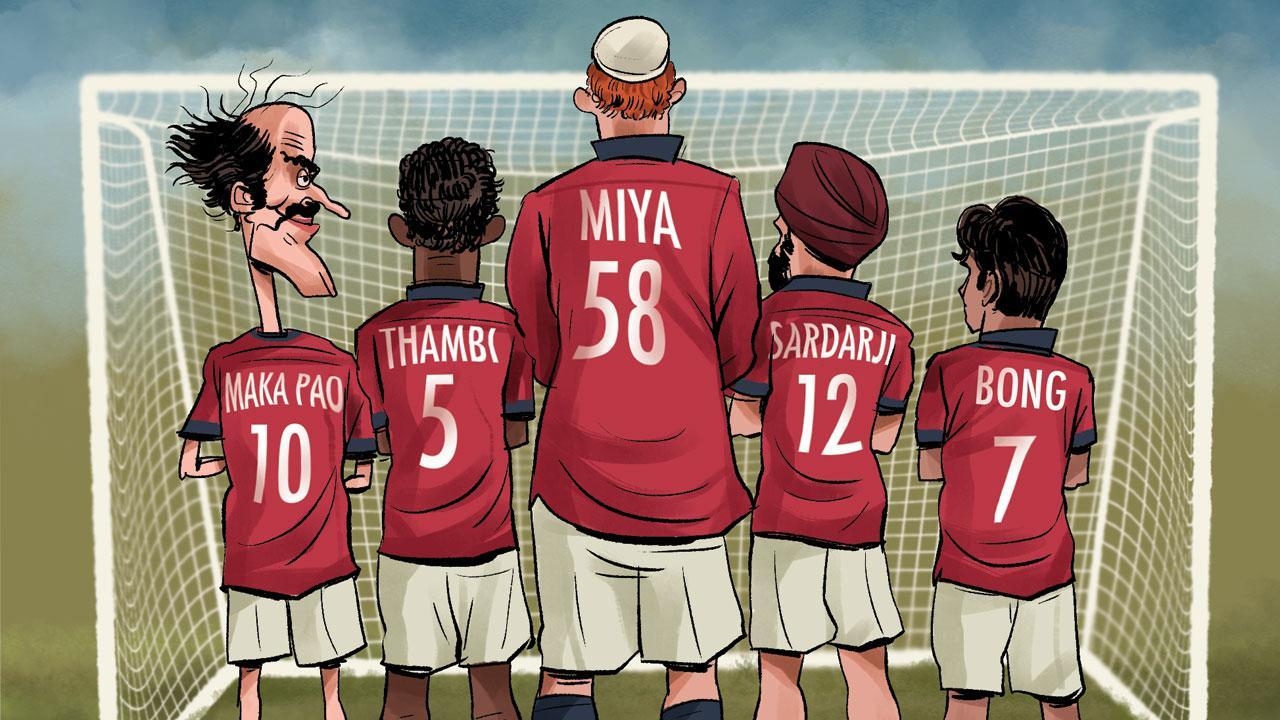 Illustration/Uday Mohite

Hey Dikuna men!" Lobo Lobo yelled across my building compound.
"Lobo Lobo… hi, you wanna keep it down?" I said.
"Sorry men Bossie, just returned back from Goa wid my old football teammates…we all met up foe de 40-year reunion of our football victory! Among dem nobody tolks at de normal volume, everyone shouts at each udder… wedder it's on de footer field or wedder it's normal chit chat."
"Tell me about this team, Theo?"
"Us men, our football team at Glaxos, we won de Durand Cup in 1981. Solid team we were… remember I tolded you about the LGBT forward line formation I was part of… ah solid harmony we had… mainly de foe of us... LGBT… Lobo Govindraj Bandopadyaya Thampi, we had our own Tiki Taka formation... we called it as 'Dis way Dat way'," he said nostalgically.
"You seem a little crestfallen, Lobo Lobo, beneath the bonhomie… didn't you have fun, this was a reunion of all your old teammates... a boys get-together?"
"Men Dikuna… you are right, we had socko 'damaal'… all celebrating de good ol' times—But I'll tell you sumting… I have not shared wid anyone. See we were a team from Bombay… all all communities were dere, full 'cosmo' we are, we never cared about who is from wot state or religion… we were a team of guys who worked togedder, who happened to love footer—I, Teo Lobo was Catlick, from Bandra. I was referred to as, 'Maka Pao', our inside- right from Kerala was Govindraj who was called 'Mallu', den Shunasir Bandophadyaya, so we called him, "Bong' was de centre forward, Thampi was de right winger from Tamil Nadu so he was 'Tambi'… we foe of us formed LGBT. Den all de udders—Nallaseth, called 'Bawa' from Dadar Parsi Colony… tin bugger but like one eel, he could slider past de opposition and his counterpart, was Homiyar Irani aka Iru… ooff dose two buggers… deadly combo dey were! And de full back Rakesh Solanki was 'Gujjubhai' and our captain was Satyapal Singh Bindra, 'Sardarji' he was to us, imagine he was a truckdriver for Glaxo goods, but still captained us!
And de goalkeeper Taqdeer Aslam, from Dongri. 
Big blighter he was, 'Miya' we called him, he toh covered de full goalpost… what a religious man… didn't matter what he was doing, he toh prayed five times a day… arrey even we were playing… at de appointed hour, he would stop, take out his mat and do namaaz ."
"So why you 'down' Lobo Lobo?"
"Everyting has changed men Dikuna! We were in de dining hall eating de buffet, and I shouted to Natarajan, "Oi Tambi, mereko ek jalebi leke aana!" Arey full restaurant stopped eating, pin drop silence… and solid 'gusss guss' started."
"Yeah this is the new India, Lobo Lobo."
"Dikuna men, it wasn't just in public… we were playing a friendly footer game on de beach, and I'm yelling to Shunasir, 'Hey Bong, men… pass de ball to Mallu, pass pass!' After de game, we were all having one two beers, Shunasir  told me, in frent of everyone… 'Uhm Lobo… please no offence, will you call me by my name… not 'Bong'. Den slowly one by one, everyone said, dat we should refrain from dese, community pet-names. Even  my best friend in de team, 'Miya' said dat it was ok, in de '80s, but not now… 'Lobo Bhai, aaj se main Taqdeer hoon, please sirf  Taqdeer'."
Then Lobo Lobo broke into a smile and said, "Accha but all is not a sob story, our Parsi dikra Nallaseth spoke up, 'Hey listen you rascals, I insist you still call me 'Bawa' samajyu ke or else?'"
"Why treatening, men 'Bawaji', we aksed him.
"Because anyone who calls me by my real name, 'Dadabai Dhunjisha Dorabji', will pay for it!" he said wid a twinkle in his eye.
Rahul daCunha is an adman, theatre director/playwright, photographer and traveller. Reach him at rahul.dacunha@mid-day.com