Uneven footpaths, potholed roads and wading through chaotic traffic on the jam-packed station road on the east side are the only options for now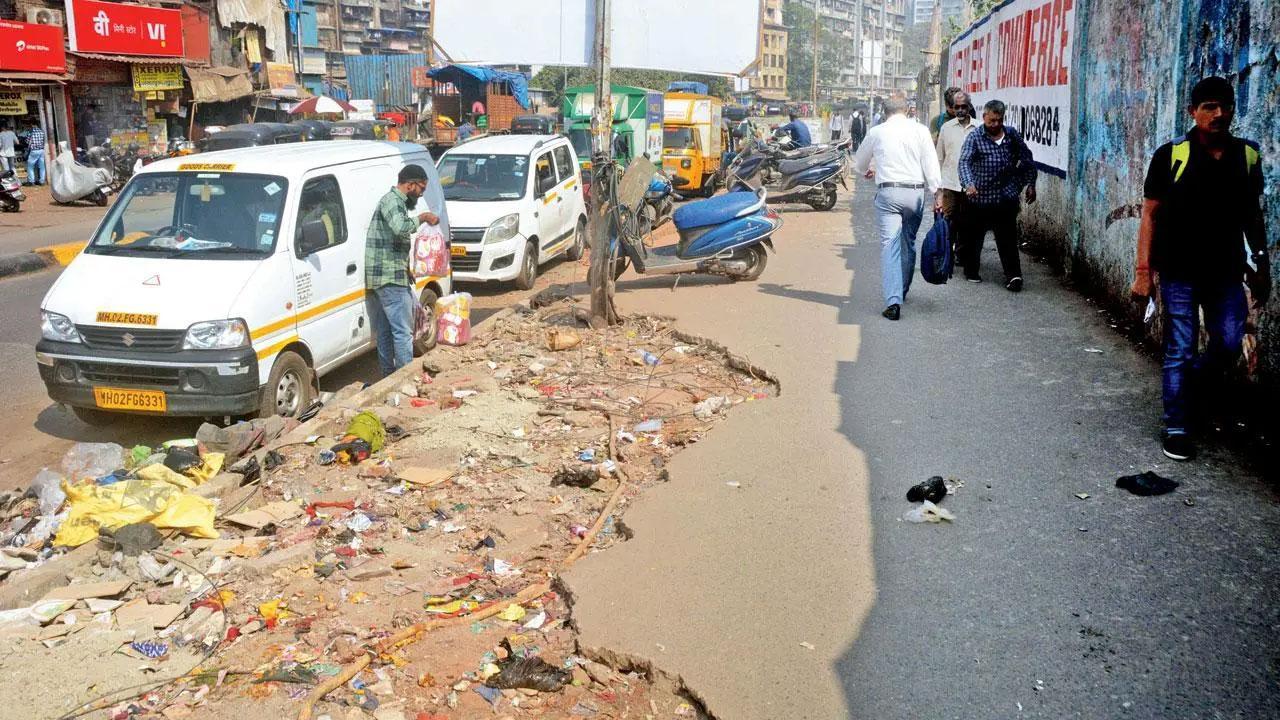 Encroached roads and uneven footpaths in Bandra East. Pic/Satej Shinde
Even after four years, pedestrians continue to bear the brunt of the off-limits Bandra skywalk, which was shut down by the BMC. The civic body has not started rebuilding the structure, although a work order in this regard was approved last February.
Uneven footpaths, potholed roads and wading through chaotic traffic on the jam-packed station road on the east side are the only options for now. 
The skywalk, the city's first, was built in 2008 and shut in 2019, just after the collapse of the Chhatrapati Shivaji Maharaj Terminus foot overbridge. Until then, it had the highest footfall in the city.
One arm of the skywalk is to be rebuilt, but this has been inordinately delayed. While authorities have offered explanations, care must be taken that pedestrians have some easy access even without the skywalk.
This is an extremely traffic-dense zone, which is also crowded. Until the delay is sorted out or decisions are taken about what is to be done, we have to make the best of the situation.
Encroachments on pavements or even obstructions on dividers need to be removed. The way to and from the station on both sides have to be as clear as possible to facilitate ease in pedestrian movement.
Unease or discomfort is secondary. Skywalks had been made so that it is people could walk easily to stations or cross roads. It is dangerous when many pedestrians rush to catch trains or move out to get transport or walk to their destinations.
This space has highlighted time and again that clearing debris after the demolition of structures and ensuring spaces remain clear should follow as a natural aftermath of 
removing facilities.
Unfortunately, we either see debris or piles of rubble lying around or a quick takeover or encroachment. This familiar and unfortunate scenario must change for everyone to be safe.