The walls of CCI's opulent room named after India's first Test captain continue to be without previously-installed images of great cricketers, who have been recipients of the BCCI lifetime achievement award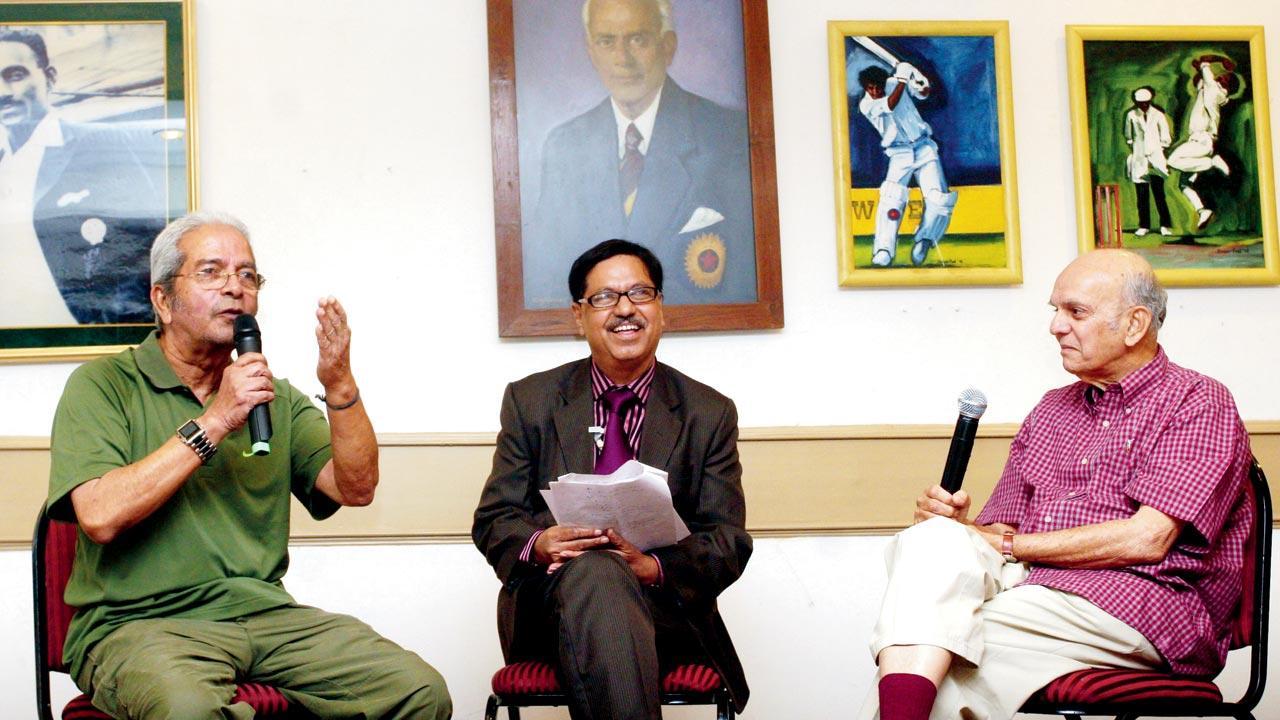 Paintings of CK Nayudu, Sunil Gavaskar and Kapil Dev adorn the CK Nayudu Banquet Hall as presenter Dwarkanath Sanzgiri (centre) is with the late Test cricketer Madhav Apte (right) and the late Mumbai player Vasu Paranjape at a function in 2011. Pic/mid-day archives
Listen to this article
Make CK's hall picture perfect
x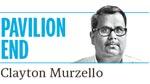 I really look forward to such functions which provide us the best opportunity to meet and interact with cricketers, cricket lovers and friends from the media under one roof," Prof Ratnakar Shetty, one of the most popular cricket administrators, said to me while we sipped our coffee at the Cricket Club of India's CK Nayudu Banquet Hall on Tuesday.
We were there to witness the release of former Indian cricket team manager Amrit Mathur's book, Pitchside at the hands of Sunil Gavaskar.
Watching Gavaskar yet again on the dais of this hall made me wonder how he feels each time he arrives at the club. It's a venue which he visited for a match way back in 1958, when the touring West Indies team played against CCI.
ADVERTISEMENT
The batting great also made his debut for Bombay at the Brabourne Stadium—in the Irani Cup game in November 1967. Gavaskar played for CCI for a couple of years in the early 1970s. The Nirlon team which he was part of in the 1970s and 1980s, also practised at the CCI.
There is no doubt Gavaskar loves the venue. He mentioned how it does not have restrictions like at Lord's, which he referred to as the home of English cricket (only), indicating how wrong it would be to call it the home of world cricket. It's certainly not and Gavaskar is right in his assessment. The International Cricket Council is not headquartered there anymore and if something is called home, it should welcome its guests with open arms, something that Lord's cannot be credited for doing very often.
Yet, there are a lot of things the authorities at Lord's do that other venues don't. If the London ground reeks of history, it's not only because of the efforts of the past bosses of the ground. They keep coming up with new things. You can see it at the back of the stands where cricket greats are honoured by way of posters and signage.
Even if the Cricket Club of India cannot be called the home of Indian cricket since international cricket games held there are few and far between (the last Test held there was in 2009, the last ODI in 2018 and the only T20I in 2007), it is still a prominent cricket house.
To be fair, they have a lot of photo frames in their pavilion. They have Polly's Bar in honour of PR Umrigar, who served Indian cricket in several capacities after the curtains came down on his 1948-1962 Test career. The reference library named after late statistician Anandji Dossa is a treasure trove of information.
They even have a gate named after Raj Singh Dungarpur, their late president, whose contribution to the CCI and Indian cricket is immeasurable. Mathur was moved to say that he couldn't help thinking about the late towering figure each time he is at the club. A lot of us feel the same too.
Mathur has this to say about Raj Singh in his book: "Cricket wasn't just in his blood, it was Raj Bhai's life. In Mumbai, he lived at the CCI, which was home and office. He took great pride in making it an institution that celebrated Indian cricket and even now, one can't walk in there without feeling his imposing presence."
Raj Singh took great pride in being at the CK Nayudu Hall. Only once did he refrain from entering it—at a get-together organised for Mumbai Ranji Trophy players. Raj Singh was obviously invited, but when I asked him why he wasn't around, he said he didn't want to be amongst a gathering which had members of Bombay teams that beat his first-class team Rajasthan in seven Ranji Trophy finals.
The CK Nayudu Banquet Hall is posher than in earlier years. But once again, I couldn't spot the Nayudu painting (behind the backdrop for the book release function). It's good to hear that it is back, but it should be re-positioned so that the audience can see it. What is not re-installed are several photo frames of some great Indian personalities, who were recipients of the CK Nayudu Lifetime Achievement Award instituted when Raj Singh was a powerful force in the BCCI. From a media point of view, I'm particularly disappointed not to see KN Prabhu's frame again. The great cricket writer claimed the lifetime honour in 1997.
There were also paintings of MAK Pataudi, Sunil Gavaskar, Kapil Dev, Sachin Tendulkar and Rahul Dravid.
CCI's contribution to cricket is immense. Their helping hand is not restricted to established players, but also players coming up the ranks. And they've given even schoolboys a chance to play their big games there. In contrast, the display of cricketing greats in the hall may appear trivial. But re-installing them will make our Tuesday-like visits more special.
mid-day's group sports editor Clayton Murzello is a purist with an open stance.
He tweets @ClaytonMurzello Send your feedback to mailbag@mid-day.com
The views expressed in this column are the individual's and don't represent those of the paper
"Exciting news! Mid-day is now on WhatsApp Channels

Subscribe today by clicking the link and stay updated with the latest news!"
Click here!