I noted with envy, one such bunch who traipsed into the theatre slightly self-conscious, in "Mausam Bigadne Wala Hai" hoodies.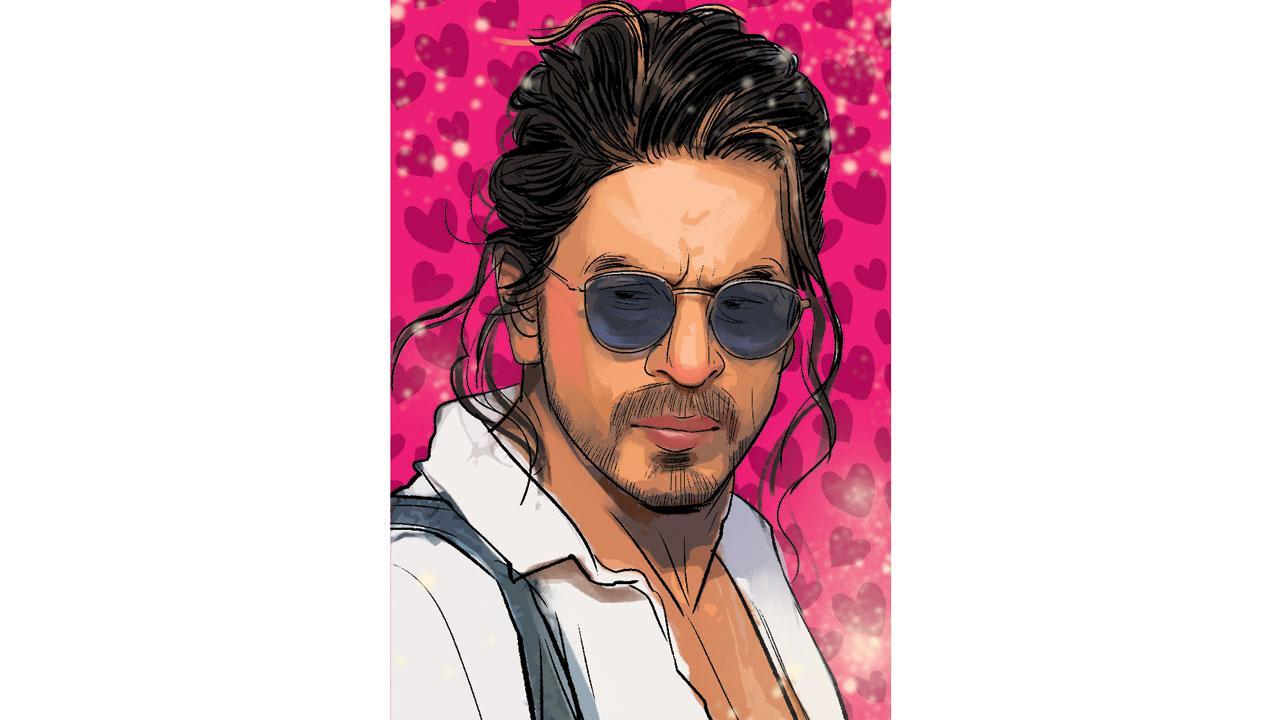 Illustration/Uday Mohite

And now for the weather report. Love is in the air. Yaniki mausam bigadne wala hai, causing turbulence of love and tehelka of box office. The release of Pathan has indeed felt like piya aaye, sawan laaye and it's the time to disco. Fan clubs I follow online had been preparing for a good while. I noted with envy, one such bunch who traipsed into the theatre slightly self-conscious, in "Mausam Bigadne Wala Hai" hoodies.
In honour of the festival of delight, no one sent me any "gentle reminders" on January 25th (next day, yes, with many namaste emojis). The morning after was spent reliving the pleasure zarra zarra with friends, as after a dream date. My single tweet saying I love you @iamsrk was shared and liked by hundreds of people who do not follow me—we all follow Shah Rukh Khan and were unconnected playmates brought together in revelry. No small thing, that togetherness, least of all nowadays.
ADVERTISEMENT
Lovers often enter a party in disguise. Pathaan comes disguised as an action film. But everyone knows, it is in fact a love story—  between Shah Rukh Khan and his public. He came bearing gifts, offering up his body to our gaze and as always, his charm, wit and collegiality—giving co-stars ample space to be super sexy and starry in their own ways. John Abraham's white shorts, Deepika's to-die-for black bra, SRK's hot gaze—the party favours were plentiful. A lot can happen over three hours of unabashed pleasure.
Such pleasure makes some people anxious. Boycott brigade bechare valiantly persisted in trying to prove the film was a flop. Chalo, everyone has the right to try and save face. #BoreMatKarYaar brigade also stood sternly to tell us how stupid we are. Because: this is not really a good film, ok? Oh stupid you, do you think because Pathaan is a hit, the right wing is defeated? Oh you stupid capitalism ki shaadi mein salma deewani. Until recently they had a lot more company in those who lectured us same-same but differently: oh you stupid, how can you love SRK, he has no artistic merit, this is politically pointless, Bollywood is regressive vaghera. Since SRK was persecuted by the right wing, they have appointed him secular bae, in ideological fair-weather love.
Also Read: I'm not biased, you're biased
These seemingly antagonistic parties are connected by several things—they express their commitment more in terms of what they oppose and they distrust pleasure as undermining seriousness. But frenz, two things can be true at once, yaniki Pathan released on Republic Day, but also on Basant Panchami. We can ponder the complexities of nationhood while celebrating the preparations for spring. We can love something and be aware of its flaws—in fact it is this expansive idea of love Pathan works with—there can be love for your land, but also critique of its institutions alongside kinship with people in another land who cared for you. We can feel hope alongside despair and disagreement alongside acceptance, and a timepass film can have serious meanings. Love, like politics, is imperfect, but it is rooted in conviction, no matter the weather. It doesn't have to toe a party line. There's much to analyse in Pathaan (coming soon). Analysis can co-exist with fun. Partying has its own fertile politics, which sometimes births new political parties. Quick, take a deep breath, while love is in the air.
Paromita Vohra is an award-winning Mumbai-based filmmaker, writer and curator working with fiction and non-fiction. Reach her at paromita.vohra@mid-day.com