ChatGPT declared that I was a renowned Kannada writer who'd started India's first low-cost airline. I decided to find out who had inspired it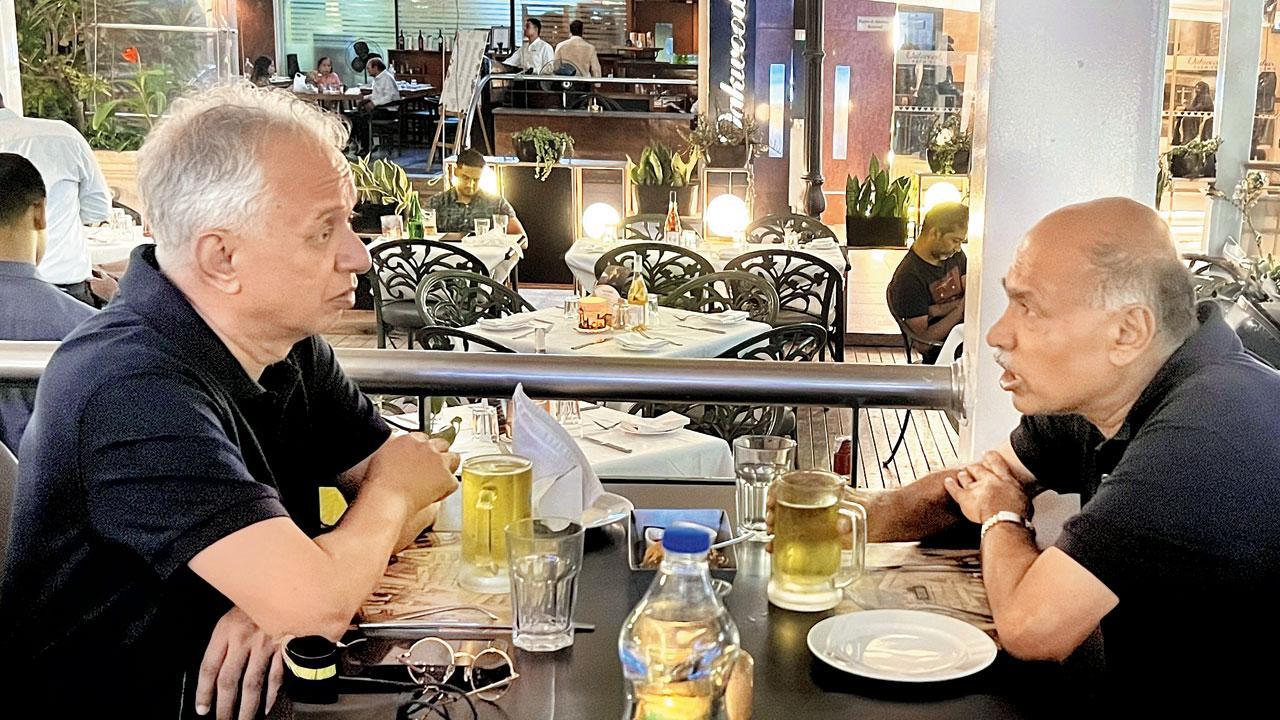 I was taller than him by six inches. He was older by six months. We were dressed identically in navy blue T-shirts. We both drank Coronas. We were both Gopinaths. Photo from C Y Gopinath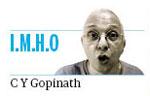 I first became aware of the other Gopinath thanks to ChatGPT, which is known to occasionally spew unfettered nonsense. My self-serving question, mainly to check ChatGPT's prowess, had been: What can you tell me about the writer C Y Gopinath?
The response came a few seconds later — "C Y Gopinath is a beloved Kannada writer known for his humorous, emotionally rich satires about village life, with unforgettable, colourful characters. Gopinath won the Sahitya Akademi Award, but shortly after, he became fascinated by civil aviation and went on to launch India's first low-cost airline."
ADVERTISEMENT
Since I have had a lifelong relationship with C Y Gopinath, starting from his very birth, I recognised every word here as ripe bullshit. I am far from winning any awards, do not write in Kannada and definitely am not beloved, judging from the mail I receive. As for civil aviation, I have a profound fear of flying and prefer trains.
I'd be lying if I told you that I put the incident behind me and returned to the full-time job of being the real C Y Gopinath. I knew that ChatGPT's replies were sometimes a plausible soup made up of factoids hoovered up from adjacent sources.  
It shouldn't be very difficult, I thought, to find who had inspired the AI program.
Finding a Kannada satirist who wrote emotional stories about village life was easy. Goruru Ramaswamy Iyengar, born in Gorur, Karnataka, died in 1991, aged 87. He lived by Gandhian principles and was jailed briefly for his role in the Quit India movement.
His most celebrated books included Halliya Çhitragallu (1930) and Namma Oorina Rasikaru (1932), but it was his Amerikadalli Goruru 47 years later, a tongue-in-cheek travelogue of an Indian in the United States, that won him the Sahitya Akademi Award in 1981. He was loved for his affectionate wit and insightful depictions of the eccentricities of rural life.
Also read: Maharashtra: Man held from Punjab for 1994 Navi Mumbai murder
All very well. But why would ChatGPT decide to transplant Goruru Ramaswamy Iyengar's literary achievements on to a hack like me?
One day about four weeks ago, in response to my column The Revenge of Indian English, I got mail from a namesake, Captain G R Gopinath, in Bengaluru. What a delightful piece, Gopi! he wrote. Wonder why you didn't make the cut to be the top dog for the CEO's post of Grammarly! — Gopi
I googled him and struck gold right away. Serving in the army for eight years, from age 20, this Gopinath had fought in the trenches of the Bangladesh Liberation War and earned the rank of Captain before taking early retirement in 1979, at 28. His career took its first sharp turn here—he turned to farming, setting up a sericulture farm. Some of his innovations in ecological sustainability here won him the Rolex Laureate Award in 1996.
But it was his next career twist that stopped me in my tracks: in 2003, he founded India's first low-cost airline, Air Deccan, with a fleet of six 48-seater twin-engine aircraft flying once daily between Hubli and Bangalore. He announced that he would make it possible for Indians to fly at a rupee.
In 2005, he came up with "dynamic pricing", where early bird flyers could get a ticket for a rupee. By 2007, Air Deccan had a fleet of 45 planes, Airbus and ATR, and was operating 380 flights a day from 67 airports, many in small towns. At least three million Indians flew at one rupee a ticket.
ChatGPT had clearly been inspired by this Gopinath's passion for aviation while hallucinating another Gopinath's fake bio.
Here finally, in the flesh, was the real Gopinath who had started a low-cost airline, and also inspired ChatGPT.
I'll be in Bengaluru soon, I WhatsApped him. Can we meet?
Gopinath met Gopinath one evening at Toscano, a restaurant in Bengaluru's UB City. I was taller than him by six inches. He was older by six months. We were dressed identically in navy blue tee shirts. We both drank Coronas. A bystander might have mistaken us for brothers.
Like me, he seems to have flitted from one thing to another all his life but never let go of one driving passion. For me, it has been the change words can achieve when driven by passion and precision; for him, it was what airplanes could do when powered by idealism and compassion.
I suspect that, also like me, he is better at making ideas than making money. When Vijay Mallya's Kingfisher gobbled up Air Deccan and then sank with it, Captain Gopinath was briefly shattered. But he was soon back with Deccan Charters, along with Deccan 360, a cargo airline. In 2019, he reincarnated Air Deccan but it's still finding its wings. 
Might he quit? "That would be like asking M S Subbulakshmi not to sing," he replied. I suspect Captain G R Gopinath might be just getting warmed up.
A mystery still remained. What on earth had the Kannada writer Gorur Ramaswamy Iyengar to do with me—or the namesake I was sipping beer with?
The Captain was amused that I hadn't figured this out. He laughed and said, "He was my grand-uncle on my mother's side. Like him, I was born in Gorur. I, like my father, was even named after him. My initials stand for Gorur Ramaswamy."
You can reach C Y Gopinath at cygopi@gmail.com
Send your feedback to mailbag@mid-day.com
The views expressed in this column are the individual's and don't represent those of the paper.
"Exciting news! Mid-day is now on WhatsApp Channels

Subscribe today by clicking the link and stay updated with the latest news!"
Click here! Do you like spending your whole day in bed?