The immediate concern though is that paved surfaces are dangerous for horses and consequently, riders. The equines, experts and locals claim, are losing their grip on these slippery surfaces. This is causing falls and grave injuries to horses and humans. There is evidence that one horse has died post fall, suffering a haemorrhage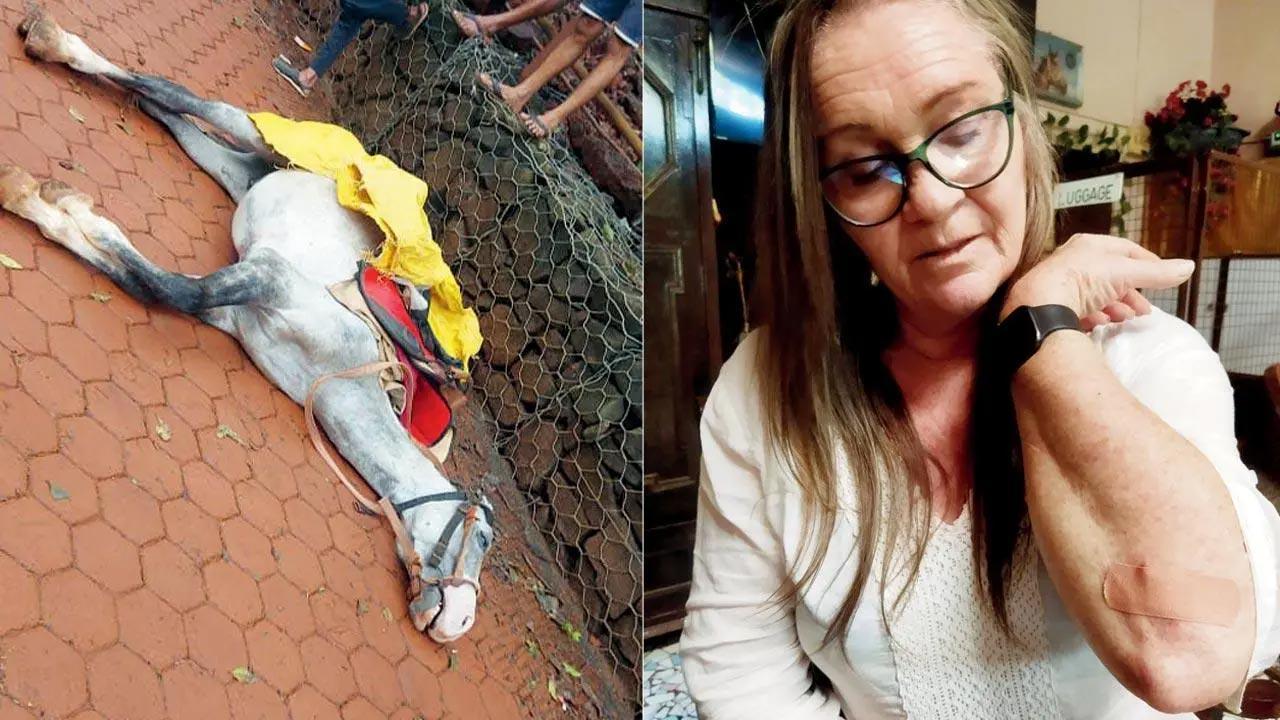 This horse died after slipping and falling on paver blocks; (right) Lisa Taylor, injured as she fell off the horse
This paper ran an extensive piece about a spike in accidents resulting in injuries and a recent fatality as riders are falling off  horses in Matheran. The hill station, with its most distinctive feature, red mud, has several stretches of mud replaced by  paver blocks on the surface, to facilitate movement of e-rickshaws. The e-rickshaw trials are on in Matheran, raising fears that more e-vehicles will be allowed and the 'no-vehicles allowed' getaway may lose its pristine, natural environment.
The immediate concern though is that paved surfaces are dangerous for horses and consequently, riders. The equines, experts and locals claim, are losing their grip on these slippery surfaces. This is causing falls and grave injuries to horses and humans. There is evidence that one horse has died post fall, suffering a haemorrhage.
Also Read: Maharashtra: Paver blocks to blame for Matheran death, say locals
Immediate remedial action needs to be taken, as horses are the mode of transport in the hill station, besides of course walking and hand-pulled rickshaws. A committee, along with locals and some of the most experienced ghoda wallahs, needs to sit down and make a firm decision about how to go about sorting this out.
We cannot have ego battles or pass the buck as time is of crucial importance. We often witness a frustrating passing the parcel game when it comes to road conditions. One agency will point fingers at the other, saying so and so is responsible for this particular stretch.
Currently, with a number of experts flagging pavers as being dangerous for equines, it looks like we may have to revert to the earlier mud surface. We need quick and decisive action with long-term vision. All stakeholders to the table then, with concern for safety superseding commercial gain. Do you think Budget 2023 will meet aspirations of common man?