No other performer could shift so seamlessly between male muscularity and female feather-touchness as Tina Turner.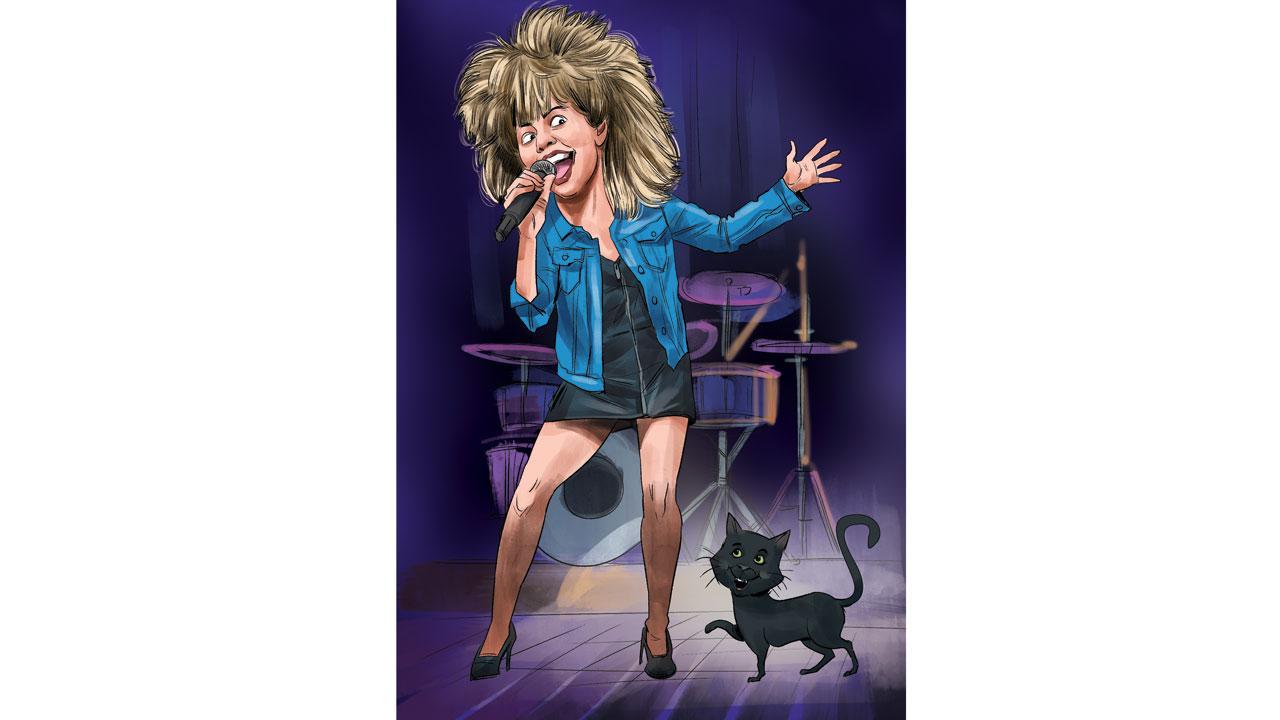 Illustration/Uday Mohite

You were a diva cum demon
You were a Mad Max
ADVERTISEMENT
Beyond the Thunderdrome
You were an Acid Queen, an Aunty Entity
You withstood years of domestic abuse
To become the 'queen of rhythm and blues'
You could move, you could groove
You could steam up any window
You were river deep
You were mountain high
You were Proud Mary
Rest in power
Rest in pain
Rest in pop immortality
Rest in passion and compassion
Rest, oh private dancer.
In October of 2007, my little black kitten, all of three months, came through my front door. She jumped out of the Surf Excel cardboard box, leapt onto the curtain, and hanging on like Errol Flynn, let fly a meow suggesting, "Hello, this home is mine now!"
I remember replying, "Mind if I share it with you, little Tina Turner?"
The name came to me spontaneously, clearly her colour being the first consideration, but even at that tender age, she had the spunk, she had the sizzle of the original Tina Turner. (that she never responded to my 'Tina Turner, come here', only to the maid's, "Rani, chalo khana ready hai", is another matter)
My little feline passed away in 2020,  Anna Mae Bullock nee Tina Turner, left us a few days ago.
She was in my view one of the greatest ever singer-songwriter-showmen, and my top female vocalist.
Over the years I've had a complex relationship with women singers, divas like Aretha and Whitney albeit the nightingale-like voices, stayed behind the safety of their mics, not venturing much beyond the fourth wall. The Madonnas and Mariahs, their oomphy sensuality cum oral dexterity notwithstanding, their personas have been over-curated.
No other performer could shift so seamlessly between male muscularity and female feather-touchness as Tina Turner. 
I've always gravitated towards rock chicks like Lizy Halestrom or Beth Hart, and Ms Turner was as good in a studio as she was on stage. 
Her voice emanated from an underground universe, a subterranean sea-bed that could climax to a  stratospheric finale.
The guttural pain in her ballads, the galactical growl in her belters were unsurpassed. 
Tina could take you on journeys that were autobiographical in their pain, and absolute in their power. 
And she was a born collaborator, a generosity of spirit was her hallmark. Deep in her DNA, from her Ike & Tina days, was the belief that 1 + 1 equals 3.
Tina, I felt, had X and Y chromosomes in equal measure— her duets were at their best with male singers who possessed strong female in them—Bryan Adams, Sting, David Bowie, Rod Stewart and Elton John. The female duets were also with wild women who had strong male vibes, Cher and Janis Joplin, being two.
Tina Turner, was an R & B queen, a rock goddess, a reservoir of radio hits, she was a roller on the river, she had razzmatazz, she had 'ra-ra', she was a rumble in the depths of a volcano, she had a rhythmic rasp, she was a rock and roll role model.
She was the best, simply the best. 
She was a survivor, will we survive her?
Rahul daCunha is an adman, theatre director/playwright, photographer and traveller. Reach him at rahul.dacunha@mid-day.com