Just had to ask the Swedish master about the puking madness in Triangle of Sadness!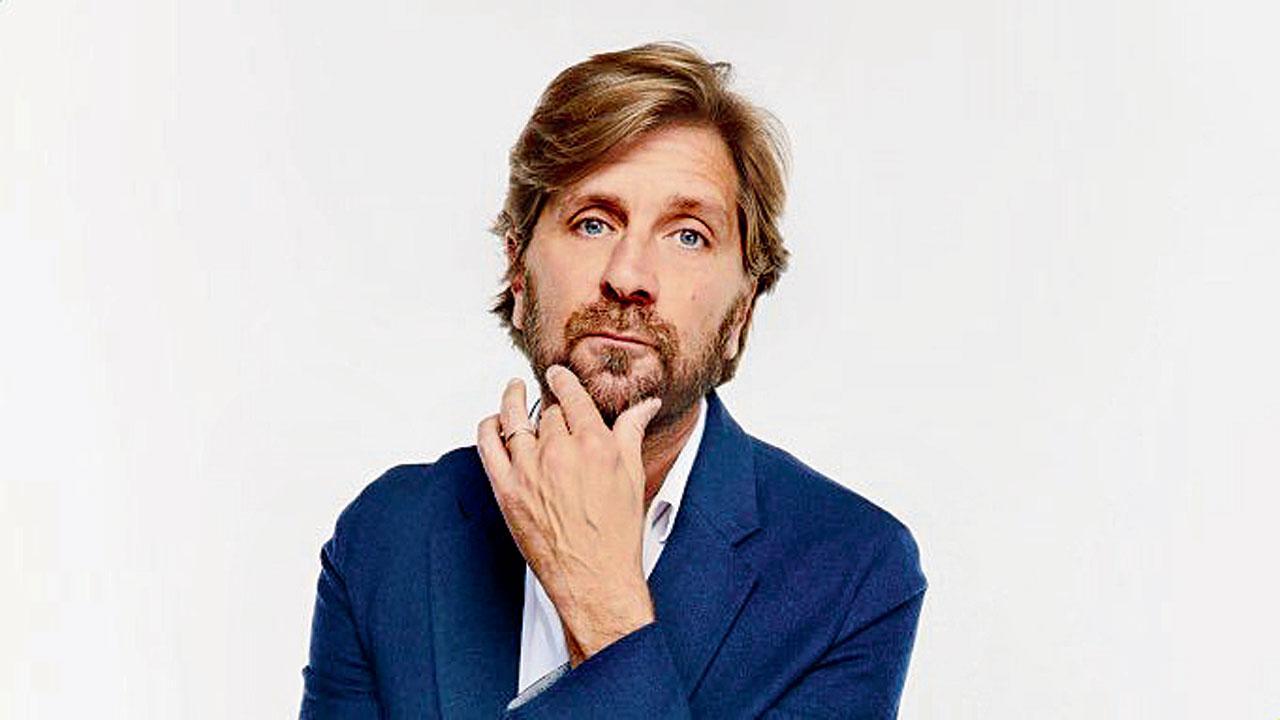 Swedish director Ruben Ostlund whose Oscar contender Triangle of Sadness opens in Indian theatres on March 3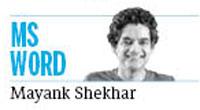 Tell you what: My next film will have the largest walkout in the history of Cannes," Swedish master-director Ruben Ostlund tells me, over a video-call, while patiently narrating specific scenes from his forthcoming movie, titled The Entertainment System is Down (ESD). I didn't ask if he's already shot, edited, or still scripting his next.
Firstly, which writer-director dives so deep into a movie that isn't out yet, while the overt agenda for the conversation is Ostlund's Triangle of Sadness (TS, 2022). 
ADVERTISEMENT
More specifically, I just wanna be around Ostlund, 49. This is something I feel about a few auteurs, when the evident distance between what they think, and film, is zero.
Through their movies as wholly personal, suitably off-kilter expressions, they come across as familiar people you'd wanna hang with (the ultimate compliment a person can pay another!). Which is also a reason, like a backslapping buddy, I go off on another tangent with Ostlund myself.
Randomly wondering—arrey, how did you shoot that climactic sequence in TS—where the cruise-ship, filled with the ultra-rich, rocks in the ocean, while the guests puke en masse. It looked so real, I just couldn't omit the vomit from my head!
"Okay, three things. One, there was a tube inside the [actors'] mouths, attached to air-pressure pumps, to let out liquids. A lady in the cast had done plays, where she'd learnt to puke on command, hundreds of times! Finally, we added VFX (visual effects)," Ostlund smiles.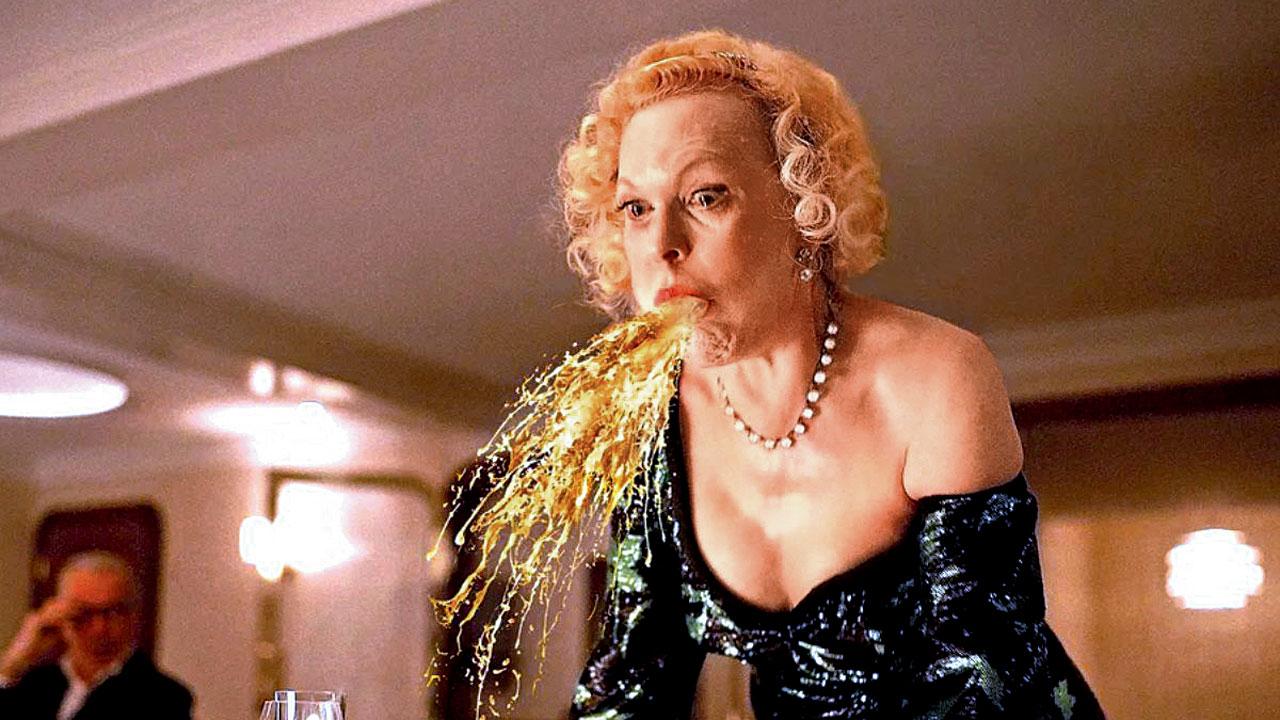 A still from the film. Pics/Twitter
For all its inherent humour and sassiness, TS is expectedly a take/meditation on life, and relationships. Aren't all films—or art, for that matter—whether inadvertently or not? Ostlund's works are more overtly so—ranging from the strangely surreal, to a ravishing realism—anything but predictable. 
Especially with TS, which refers to the frown lines between your eyebrows, called the 'triangle of sadness'. Once the film begins with a couple conflicted over who pays the restaurant bills—it's impossible to tell where you'll end up with it, detouring to communism, power structures, how humans organise themselves, the works!
Surely, that's both disconcerting, and delightful; depending on you, the audience, eventually. Also, he takes risks with attention spans in ways that few contemporary directors are as securely capable. 
Drawing you in deeper and deeper still—the film ideally consumed in parts, like a book; not binged, as if popcorn—while it's as big-screen/cinematic as it gets. Consider the man-turns-monster-monkey sequence, in The Square (2017), or the mundane beats—brush, breakfast, trip, repeat—of a family holiday, in Force Majeure (2014).
I mention The Square and Force Majeure, along with TS, since there's a sense of trilogy there. Also, you can access them on Amazon Prime Video—the streamers having made art-house the new 'mainstream'. 
Also Read: The great boom in crappy ideas 
TS is the first Ostlund film to open in Indian theatres (March 3). I ask him the usual rubbish about whether he's watched Indian cinema, or what he thinks of his picture debuting among desis in a hall. 
He's heard of the joyful loudness of Bollywood—both as content, and a consumption space. There's no point probing further on this cliché. 
As a film-buff, Ostlund says he was most influenced by Roy Anderson, whose visual style, especially from advertising, was impossible to escape, growing up in Sweden; whether or not you knew his name.
As a student at film school, though, when he saw Michael Haneke's Code Unknown (2000), the penny dropped. He discovered the form to bleed his art into. A recurring theme in his films, he says, are blinding societal compulsions, that bizarrely burden/bind the individual.
An obvious connection between Haneke and Ostlund is their intense obsession with setting. He agrees further to suggest that the setting is itself the point of his story, from which flow the characters. He first wants you to enter the ski resort, in Force Majeure, or the museum, in The Square.
And, indeed, the fashion week, cruise liner, and a deserted island, in TS—nominated for Best Picture, Best Director and Best Screenplay, at the Academy Awards, 2023. 
A YouTube video of Ostlund's that went viral in 2015, was him and his producer recording their disappointment, live, at missing out on Best Foreign Film Oscar nom, for Force Majeure, which was otherwise globally feted. 
The Square won the Palme d'Or (topmost prize), at Cannes. As did TS. Ostlund didn't upload that happy video for the TS Oscar nom—"sad video is more interesting!" Expected no less from the current, undisputed champion of the melancholically lingering, long takes, who patiently mines characters on screen, as if they were experiencing life itself. 
Okay, so let's hear about Ostlund's next feature. ESD is literally about a pilot announcing that the plane's entertainment system is down, once the passengers have boarded a really long flight—"say, between New York and Bombay". 
Now, everyone has to confront their boredom. There are two children, with one iPad to share. The mum times their iPad usage. 
The waiting kid has eight minutes to go, for his turn. The audience watches this child, in real-time, for eight minutes…
By the way, forget that Ostlund expects hordes to walk out of ESD, at Cannes—he's told his team, let's grab the third Palme d'Or, "a hat-trick!" Pass me my LSD!
Mayank Shekhar attempts to make sense of mass culture. He tweets @mayankw14
Send your feedback to mailbag@mid-day.com
The views expressed in this column are the individual's and don't represent those of the paper.
"Exciting news! Mid-day is now on WhatsApp Channels

Subscribe today by clicking the link and stay updated with the latest news!"
Click here!