Two different sets of data show the average deaths in J&K's 30 years of violence are 14 to 26 times the average Covid deaths countrywide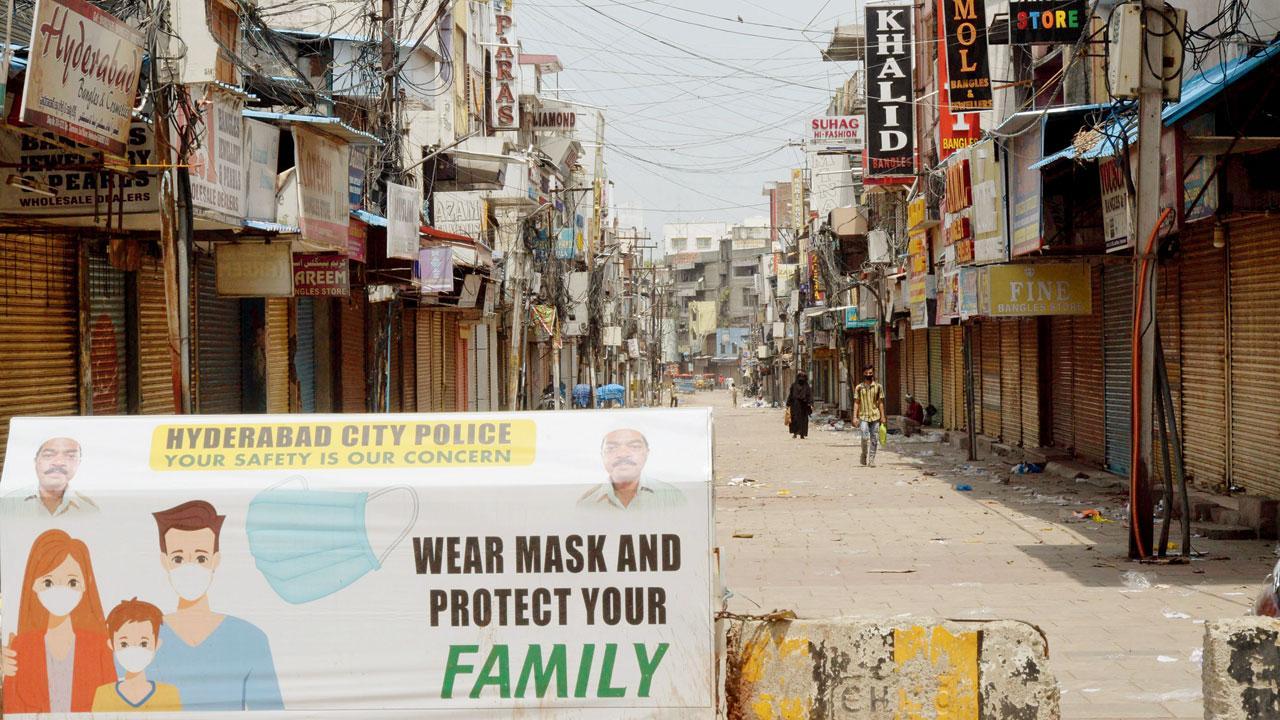 This became the most common sight across Kashmir months before COVID triggered a national lockdown, apart from a crippling curb on the internet. Pic/AFP
I always wondered whether Kashmiris were exaggerating when they would claim there was not a person among them who did not know someone whose friend or relative had been killed or injured in the 30 years of conflict in Jammu and Kashmir. Their claims popped out of my memory as the gigantic tide of Covid-19 lashed India, for rarely did a day pass, over the last month, without I hearing of friends or acquaintances who had contracted the virus and recovered – or died.
I had always thought India's mammoth population of 121.05 crore (2011 Census) would insulate many of us from traumatic occurrences having a national spread. I checked the Covid dashboard on May 18. Dead: 2,78,719. These deaths account for 0.023 per cent of India's 2011 population. This means 23 persons out of every one lakh people died due to Covid-19. Perhaps we do not experience the sorrow and terror shrouded in statistics until someone whom we know becomes part of it.
ADVERTISEMENT
This had me ask: Could three decades of violence have touched Kashmiris as personally as Covid-19 has us? I undertook a statistical analysis of deaths in the J&K conflict, and came across two differing sets of data. One of these was of the Union government; the other was of Jammu and Kashmir Coalition of Civil Society (JKCCS). Both sets count civilians, militants and security forces who died in the violence between 1990 and 2019. Neither segregates security forces between Kashmiri and non-Kashmiri. This skews figures for "Kashmiri deaths", but does help imagine the intensity of violence in J&K.
First, the government data. In September 2017, late Foreign Minister Sushma Swaraj told the United Nations that 41,000 people had died in J&K between January 1990 and 2017. To the count of 41,000, I added 662, the number of people who were killed in 2018 and 2019. The total death toll of 41,662 works out to 0.33 per cent of J&K's 2011 population of 1.25 crore, which also included the Ladakhis. Thus, 330 persons out of every one lakh people died in the J&K violence.
A report of the JKCCS, which came into existence in 2000, estimates the number of people killed between 1990 and 2006 at around 70,000. The JKCCS annual reports say 5,272 people died in the violence between 2007 and 2019. The total death count of 75,272 works out to 0.60 per cent of J&K's 2011 population, so a whopping 600 persons out of every one lakh people died in the 30 years of violence.
Whether we take the government's figure of 0.33 percent or JKCCS's 0.60 percent, both these percentages are far higher than the 0.023 percent of India's population who died of Covid-19 until May 18. This means the average deaths in J&K are 14 times (government data) or 26 times (JKCCS data) of the average Covid deaths countrywide.
To get an idea of Kashmir's killing fields, I turned to JKCCS's report, Dead But Not Forgotten, for which a door-to-door survey was conducted in Baramulla district to estimate the number of people who perished between 1989 and 2006. The survey began in 2003 and ended in 2006. Baramulla's population then was 11.69 lakh. The JKCCS found the conflict wiped out 0.44 per cent of Baramulla's population. Or 440 persons out of every lakh people in Baramulla were killed in that period.
For sure, Covid-19 has generated intense emotions because 2.78 lakh deaths occurred in just one year, in comparison to fatalities in J&K having been spread over 30 years. But the shorter timeframe is more or less balanced by the smallness of J&K's population, which constituted just 1.04 per cent of India's in 2011. It is also said that the official figures for Covid deaths are grossly underestimated – and, therefore, fail to mirror our woes.
But then, Kashmir's sorrow is not confined only to its people falling to bullets. For instance, a 2016 JKCCS report says 1,178 people were wounded by pellets fired by security forces. Of them, 52 were blinded and another 300 were left with partial vision. A JKCCS report of 2019 says violence consumed 318 children between 2003 and 2017. The United Kingdom-based Save the Children found that 37 per cent of the Valley's 215,000 orphans lost one or both parents to the "prevailing conflict".
For years, curfew has defined life in Kashmir. Think of the weeks of lockdown Kashmiris endured when Article 370 was read down in 2019, a year before their experience became ours too. Think of the hundreds of people who were incarcerated then – and in previous years, insulted and tortured; the imperious manner in which the internet is shut down in the Valley. Imagine the trauma of those whose children or spouses, said to be around 8,000, disappeared, never to return. Or Kashmiri Pandits who pine for their home – and remember the 219 of their brethren killed since 1989, according to State government figures (a community organisation claims a death toll of 399.) Or the 157 soldiers who, according to a JKCCS report, committed suicide between 2004 and 2009. Covid-19 has given us a sense of Kashmir's woes. We need vaccines against the virus and antidotes to the politics of death.
The writer is a senior journalist. Send your feedback to mailbag@mid-day.com
The views expressed in this column are the individual's and don't represent those of the paper.
"Exciting news! Mid-day is now on WhatsApp Channels

Subscribe today by clicking the link and stay updated with the latest news!"
Click here!