Rohit Sharma's revelation about bowlers urging him for a bowl to achieve landmarks only underlines that some are driven by facts, figures, fifers; give-me-the-ball pleas gone down in folklore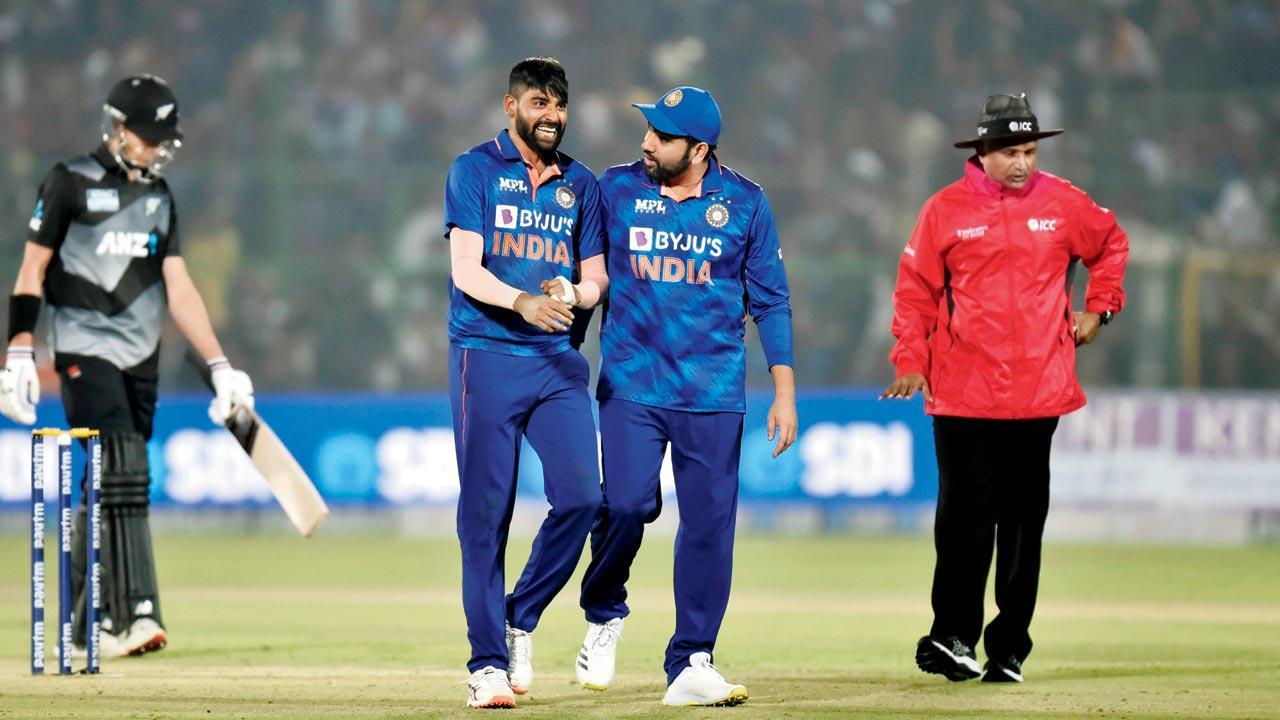 India's Mohammed Siraj with his captain during the T20 International against New Zealand at Jaipur's Sawai Mansingh Stadium on November 17, 2021. Pic/Getty images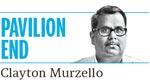 Every cricket enthusiast has a favourite autobiography. Mine is still Fred Trueman's Ball of Fire, released in 1976, long after the England fast bowling great played his last Test.
Well before audio books became common, Ball of Fire was released in a two-cassette set as well. This contributed to the success of the Trueman story package, lapped up with great interest by not only fans, but also his teammates, friends and foes. Yes, Trueman didn't hold back from showing appreciation to those who backed him despite his controversial ways. The book was also a tool to get back at people who were hell-bent on putting this angry fast bowler in his place.
ADVERTISEMENT
His captains were not spared. Len Hutton was a master tactician, but Trueman said he wouldn't forgive his fellow Yorkshireman and the MCC for not having him in the team for the 1954-55 Ashes in Australia.
Ted Dexter, another captain, who Trueman played under, was a beautiful batsman to watch, but he didn't score marks for captaincy in Trueman's book. He provided an example of it in Ball of Fire through a gem of a story, which I was reminded of the other day, when Rohit Sharma revealed to fast bowler-turned-commentator Irfan Pathan how the bowlers hound him to give the ball to them.
Also Read: Will Oz come first this time too?
In a lighter vein, Rohit remarked after the massive win over Australia in Nagpur:  "Every one of them is near a milestone. There's like a milestone every day. Someone is taking five wickets, someone takes 250 wickets, someone takes 450 wickets. So every day, someone or the other is getting to a milestone."
Rewind to the English summer of 1964. Trueman is on the verge of becoming the first man to take 300 Test wickets. He is back in the side after missing the fourth Test at Manchester and is determined to prove he still has something left to give for England, for whom he debuted way back in 1952 against Vijay Hazare's Indians.
Trueman came into The Oval Test three short of the 300-wicket mark. 
Just before lunch on Day Three, when Australia had already taken the first innings lead after England were dismissed for a mere 182, Trueman noticed his captain wondering who he should introduce in the attack. Typical of Trueman, he asked Dexter about his next move. When Dexter said he was thinking of putting Peter Parfitt on, Trueman exclaimed, "no, you're not," and grabbed the ball from his skipper. 
Dexter gave in and on the fifth ball of that over, Trueman wrote that he knocked back Ian Redpath's middle stump and had Graham McKenzie caught at slip off the last ball.
Trueman went to lunch with a hat-trick possibility. But that would be too much of a fairy tale to ask for. In the end, the new ball gave him his best chance and Trueman grabbed it, getting Neil Hawke to edge one to Colin Cowdrey at slip. By the way, the South Australian told Trueman that he didn't mind being his 300th scalp. History was made and it took another 11 years for another bowler to reach 300 Test wickets—West Indies' Lance Gibbs, during the 1975-76 series in Australia.
Like Trueman (307) and Gibbs (309), Ian Botham was once a record holder. There is nothing to suggest that Botham grabbed the ball from his captain Mike Gatting at The Oval in 1986 when he was on the cusp of going past Australia's Dennis Lillee (355) as the man with the most wickets in Test cricket. But Botham, recalled to the side after ending his drug ban, had to wait on the opening day of the third Test against the New Zealanders. Gatting opened the bowling with Graham Dilley and Gladstone Small. With the scoreboard reading 17-0, Gatting threw the ball to Botham, who sent back opener Bruce Edgar; caught by Graham Gooch at slip. In his next over, Botham trapped Jeff Crowe plumb in front for Wicket No. 356.
Botham did not beg his captain to bring him on, but he did indicate his desire to bowl when Allan Border and Jeff Thomson were taking Australia to a narrow win at Melbourne in the 1982-83 Ashes. When Botham was called on to bowl, nine-down Australia needed four runs for a win. But Thomson slashed at one to Chris Tavare in the slips only to see the edge ricochet to Geoff Miller, who held on to it for a famous England triumph. 
Botham was overjoyed, no doubt, but he wondered why Willis had not given him a bowl earlier. In the documentary Rookies, Rebels and Renaissance, which is about Australian cricket in the 1980s, Botham revealed how he had to remind Willis that his bowling arm was not broken. Willis, on his part, said that throwing the ball to Botham was the last throw of the dice.
Back to Rohit's chat with Pathan about bowlers coming up to him for a bowl. It proves that many cricketers are stats-conscious and even those who aren't, get apprised by the ones who keep track of figures.
New Zealand great Sir Richard Hadlee was not coy to admit how statistics motivated him. He wrote in Rhythm and Swing: "My hunger for cricket figures started at primary school and ultimately this stats mania became important to me in terms of my overall record, my contribution to my team's performance and as a source of motivation. What used to be a hobby evolved to become an integral part of my cricketing career."
Tomorrow's Test match at New Delhi has a big landmark written all over it—Cheteshwar Pujara's 100th Test. The champion batsman from Saurashtra won't need a reminder for sure, but his achievement is a reminder of how fortunate India are to have a batsman like him, who we viewed as the next Rahul Dravid.
mid-day's group sports editor Clayton Murzello is a purist with an open stance. He tweets @ClaytonMurzello
Send your feedback to mailbag@mid-day.com
The views expressed in this column are the individual's and don't represent those of the paper
"Exciting news! Mid-day is now on WhatsApp Channels

Subscribe today by clicking the link and stay updated with the latest news!"
Click here!