Between the fully fake, and the relatively real, what's it about Rocket Boys that we love it so much?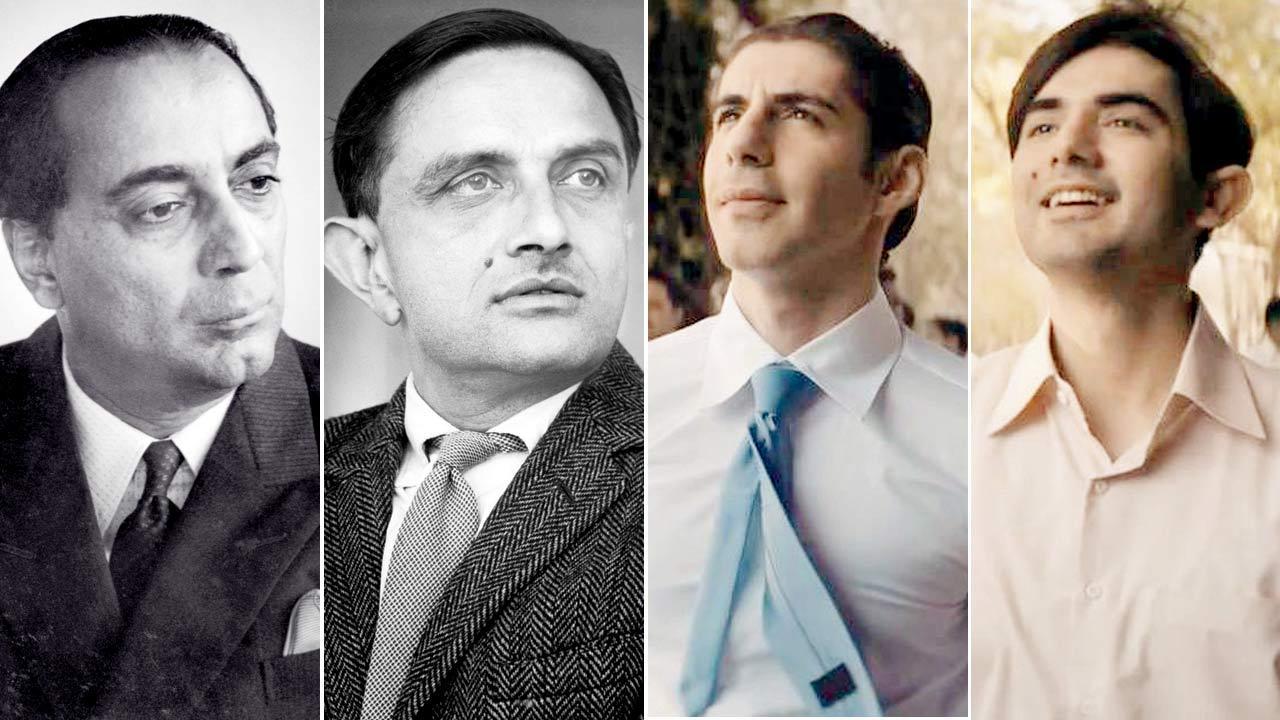 Legendary physicists Dr Homi J Bhabha and Dr Vikram Sarabhai and a still from the series Rocket Boys, where Jim Sarbh (left in pic) and Ishwak Singh play the two scientists. Pics/Twitter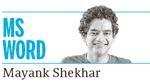 Easily the most provocative panel-discussion moment I've witnessed involved The Hindu newspaper's N Ram, speaking among journalists, at the Ramnath Goenka Awards, in 2006, in Delhi. 
In the audience were, among others, A P J Abdul Kalam, then India's President. Kalam was on his way out of the hall, but stopped summarily, to pick up the mic, and deliver his two cents on what he thought of the topic before the panel—which must've been along the usual lines: media, versus pressures, versus ethics, etc.
ADVERTISEMENT
I'm entirely paraphrasing here. Kalam suggested to top journalists on the podium that while they must pursue truth, it was their responsibility, being Indians, to push the nation's agenda. 
To which, Ram retorted that there really was no common national agenda. For instance, he looked straight into the eyes of L K Advani (in the hall), to say the mandir was his agenda.
To Kalam, he said, building a bomb may be "your agenda"—but it needn't be Ram's, as in, his publication's! Can't recall if the audience clapped. A (relatively) young fellow myself, I was impressed by this breezy audacity. 
Likewise, to build the nuclear bomb, or not, is the question central to the strikingly sincere, smart, sensible, sorted series, Rocket Boys, more so its Season 2 (S02; that dropped recently on Sony LIV). 
And a much younger Kalam—in the form of a similarly sweet-looking actor, Arjun Radhakrishnan—engages in the same debate.
Also Read: The honest truth about lying kids
This time, with Vikram Sarabhai, his mentor at India's space programme. Only that Homi Bhabha, the architect of the nation's nuclear energy capability, is no more. 
Bhabha was for the bomb. As is Kalam. Sarabhai, Bhabha's replacement, is a 'peacenik'—see the nincompoop-type words we reserve for those batting against mass, human annihilation!
Kalam, in the series, says, "War doesn't determine who's right; but who's left!" Sarabhai is stern—not going for the bomb! As was Jawaharlal Nehru. Which, the show/Bhabha argues, cost India the 1962 China war. 
To be fair, since complete nuclear disarmament by the world's top possessors, including China, is impossible, Bhabha's point is simple: "Equal power ensures peace." What's getting in the way? CIA. Wholly. 
Over the same issue, American spies, according to Rocket Boys, are the reason behind serious high-profile upheavals, including Prime Minister Lal Bahadur Shastri's death. That they couldn't prevent India's first nuclear test still (in 1974) is well-known. The operation was executed as an incredibly elaborate secret drill, ducking satellites, the works. 
You see almost a repeat of that in the decent, John Abraham-starrer, Parmanu (2018), on India's second set of nuclear tests (of 1998). Vivek Agnihotri's sleeper super-hit, The Tashkent Files (2019) is similarly on conspiracy theories behind Shastri's demise. 
Both stand nowhere near Rocket Boys, mainly because of the kinda credibility the series earns, as you go on watching it, first episode onwards. 
It's hardly ever about the story—all in the telling of it, isn't it? And so it doesn't bother us that the character with the maximum nuisance value in SO1, Raza (Dibyendu Ghosh), and S02, Mathur (K C Shankar, that's my dost from junior school, guys)—are altogether frickin' fictitious. 
We do know from Vinod Mehta's fab book, Lucknow Boy, that Y B Chavan, one of India's top ministers at the time, was a CIA mole! That's not clear in this show, though. 
And yet the heroes, Bhabha (shining, with Jim Sarbh), and Sarabhai (subdued, with Ishwak Singh), are obviously real. It's not the same thing as concocting a steady, companion-like friend, Pipsy (Saba Azad), for Bhabha. Someone like her did possibly exist. We are looking at fake villains here, which make for the essential conflict, hence the entire story!
This doesn't bother us, I guess, because of what Rocket Boys is about? Science, yes. But not in terms of pioneering inventors/discoverers. As it is, there aren't many of those in modern India (a badly cast, Dev Patel, has gone and destroyed one—mathematician Ramanujan, on global screen, already!). 
Rocket Boys is playground for India's institution builders: Kamla Chaudhary (Neha Chauhan): IIM; Mrinalini Sarabhai (Regina Cassandra): Darpana Academy of Performing Arts; Bhabha: BARC, TIFR; Sarabhai: ISRO, even Krishi Darshan on DD! Nehru, of course. It's about legacy. 
How many Indian institutions of the same calibre can we name from the past 40 years? We've begun to celebrate anniversaries of bars and restaurants lately! 
And that's what makes Rocket Boys, as a subject, more refreshing than the usual big boys, with grand biopics. Sorry, if I've made it sound like a government document. 
It's so engagingly filmed as the best of 'em all—sample one of the climax sequences, for instance, cut four-ways, between Bhabha, Mathur, Raza, Sarabhai; hands down, Best Editing Award material. 
The series is written-directed by Abhay Pannu; created by Nikkhil Advani. Advani is a Bollywood veteran. Don't know why Pannu isn't getting lauded more for a rare, Indian series that will universally stand the scrutiny of time; even if, S01>S02. How does one carry on something like this, if/once the protagonists are gone? 
Ah, there is always Kalam! If there's a S03, I hope the 'People's President' is soberly critiqued as well—the way Ram could in real life. What's the point, otherwise. 
Mayank Shekhar attempts to make sense of mass culture. He tweets @mayankw14
Send your feedback to mailbag@mid-day.com
The views expressed in this column are the individual's and don't represent those of the paper