This draconian law is rarely invoked against the upper caste Hindus who are not communists or Ambedkarites or atheists, which is a commentary on the nature of the Indian state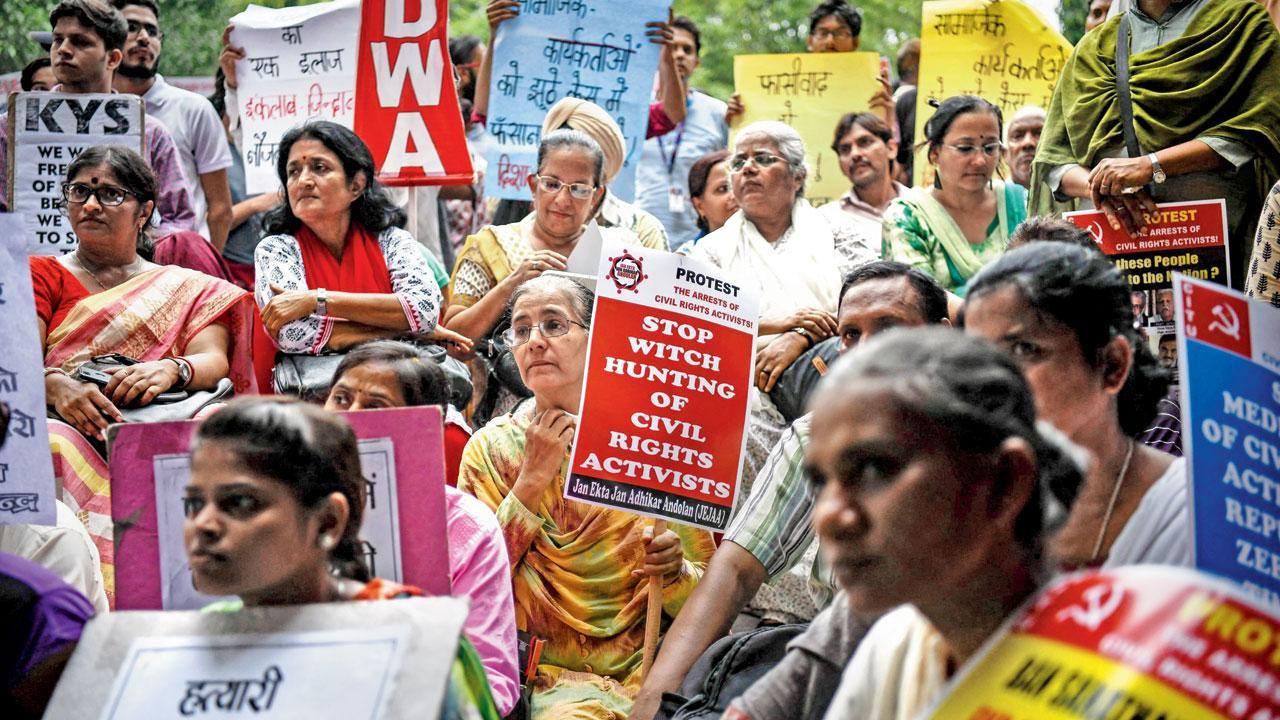 People protest against the detention of human rights activists under the Unlawful Activities Prevention Act (UAPA) in New Delhi on August 30, 2018. Pic/AFP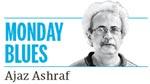 This column has featured, over the past five months, stories of those families whose members have been booked under the Unlawful Activities (Prevention) Act—and persistently denied bail. They continue to languish in jail. With the exception of Fahad Shah, editor of The Kashmir Walla, the column focussed on the accused in the 2018 Bhima Koregaon violence and the 2020 Delhi riot cases. Their tragedy is compounded as the charges against them are widely believed to be imaginary.
The accused I wrote about are undeniably famous, educated and middle class. Should I not have narrated the stories of unsung UAPA undertrials? People like Mohammed Ilyas and Mohammed Irfan, two Mumbai residents, who were incarcerated for nine years under UAPA before they were acquitted?
The Union government disclosed, in July, that 24,134 people were arrested between 2016 and 2020 under the anti-terror law. A mammoth 97.5 per cent of them are awaiting courts to determine their fate; only 2.5 per cent of them have been either acquitted or convicted. It is an enormous task to categorise them by class, caste and religion. Nevertheless, the accused in the Bhima Koregaon and the Delhi riot cases do constitute a microcosm of India, as all social groups and classes are represented.
My focus on middle-class UAPA undertrials was to also tell readers that an elite background is no protection against the state's authority to brand people as terrorists. Tomorrow, you could be booked under UAPA. The column was, in a way, an attempt to awaken readers to the misery of those denied their freedom because of UAPA's stringent bail provisions; for, whether we like it or not, opinion-makers largely belong to the middle class. Indeed, both the Bhima Koregaon and the Delhi riot cases have already sparked passionate debates on the misuse of UAPA to torment and stigmatise dissenters.
The crime of these dissenters is to speak for India's wretched, to fight for their rights squashed by the state. Quick to invoke UAPA against dissenters, the state has been tardy in pursuing their prosecution in court. Thus, four years after the first string of arrests in the Bhima Koregaon case, even the charges against the accused have not been framed. This is also true for those against whom UAPA was invoked two years ago for fomenting the Delhi riot. History will remember their incarceration as contempt of justice.
The Bharatiya Janata Party's misuse of UAPA has spawned innumerable stories of misery. But the Congress has been no less culpable. During its rule, Vernon Gonsalves, Arun Ferreira, Sudhir Dhawale, Sagar Gorkhe and Ramesh Gaichor were imprisoned for waging war against the state, a charge pressed against them all over again in the Bhima Koregaon case. This is a commentary on the character of the Indian state, which reserves its most deadly bite for activists working to alter the prevailing class-caste structure of our society. That said, it's unlikely the Congress would have enacted as discriminatory a law as the Citizenship (Amendment) Act, 2019.
Such thoughts are no recompense to the families of UAPA undertrials. They meet in jail and in court, but also in dreams at night, always vivid, seldom without hope. Every joyous moment kindles thoughts about the one unjustly imprisoned, their joy segueing into sadness. Mothers weep as they cook dishes their children relished before the police pounced upon them, as slyly as wolves do. Children weep on birthdays, for the treats and gifts they cannot demand from their papa or mama lodged in jail. And the "immense night becomes more immense" for those whose partners are no longer beside them. Yet, they keep the light of love burning, for they know that love, too, is a form of resistance.
I often think of the resources the undertrials and their families rely upon to endure their darkled lives. Among the Bhima Koregaon accused, Stan Swamy, a Jesuit priest, died. Hany Babu is a born-again Muslim. His faith is his cushion. All others are atheists, Leftists or Ambedkarites, who live in rebellion, learning from their activism that the state suppresses those who rise against its pro-business, anti-poor policies. They know the price of their activism. And they are willing to pay it, without hoping for divine intervention.
The UAPA accused in the Delhi riot still in jail are all Muslims. Perhaps, barring one, their faith has them believe their fate is Allah's will, and that their suffering and eventual release will be divinely determined. This belief has reconciled them to the harshness of their existence.
The one category of people missing among the accused in both the UAPA cases discussed here are upper caste Hindu believers. Could it be that they do not challenge the state because the notion of inequality is deeply ingrained in them? Or does the state not invoke UAPA against them as they are an integral element of the power structure? How many believing caste Hindus, who are not communists or Ambedkarites or atheists, are UAPA undertrials, and persistently denied bail? Your answer will tell you a thing or two about the Indian state.
The writer is a senior journalist.
Send your feedback to mailbag@mid-day.com
The views expressed in this column are the individual's and don't represent those of the paper.