A Mumbai-based author relives her childhood in the mountains of Uttarkashi with a new illustrated book in Hindi that reflects on a life filled with myths and mysteries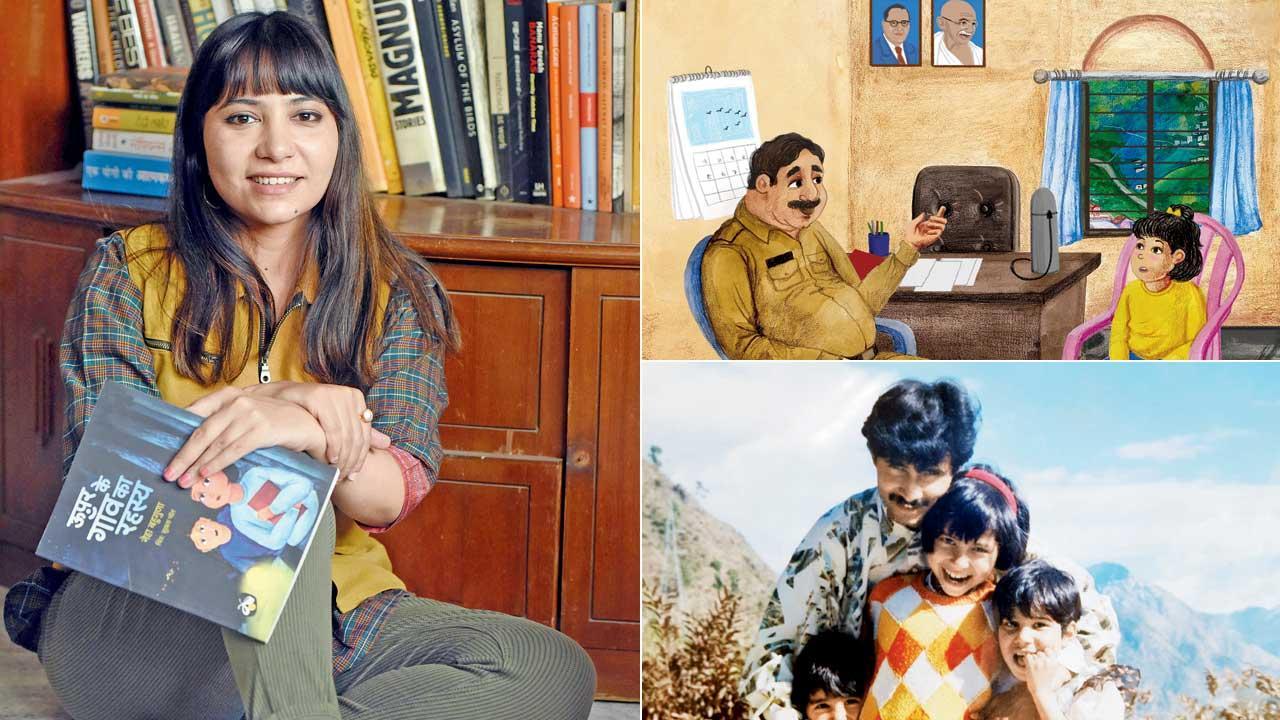 Neha Bahuguna says mentoring sessions with theatre veteran Makarand Deshpande helped shape her debut novel Upar Ke Gavn Ka Rahasya; The author's protagonist is a precocious nine-year-old Gopu whose life revolves around the Ramleela season, which both she and her police daroga father relish. Bahuguna has dedicated the book to her father, who also worked in the police force. She says that the police in the mountains "have a difficult life because of the harsh, cold weather. They have to deal with daily calamities on a tricky terrain"; Bahuguna, who was raised in Rudraprayag, Uttarkashi and Chamoli districts of Garhwal, seen with her uncle, sister and a neighbour. Pic/Sameer Markande

Gopu alias Gopika Khanduri, a nine-year-old school-going girl, resident of a tiny kasba in Uttarakhand, has only one goal in her life. She wants a colourful Ramleela in her vicinity, so that she doesn't need to negotiate a late evening mountain walk to the neighboring village where all the fun lies. Her childlike enquiries about the mysterious discontinuation of the annual event in her village awakens us to some truths from the complicated world of adults. 
Neha Bahuguna's 68-page debut Hindi novella, Upar Ke Gavn Ka Rahasya, published by Bhopal-based Ektara Trust, presents Gopu, a curious, endearing interrogator. 
ADVERTISEMENT
Mumbai-based writer, designer and storyteller Bahuguna, 34, successfully evokes Gopu's carefree life  in the Garhwal region of North India. Gopu and Minni inhabit an idyllic world made delicious by gud-moongfali chabena, boondi ka chura, namkeen matthi and the citrus-packed pahadi malta. They walk miles without adult escorts, make friendships with pujaris and lie down unapologetically on the cool temple floor, giggle and laugh audaciously. And most importantly, they are forever seeking juicy entertaining stories, either from parents, grandparents, neighbours, passersby, even history teachers narrating Mahmud Ghazni's exploits. Life is not dictated by TV show timings or weekend visits to malls, but driven by animated narrations of epic sequences by dadis and nanis, particularly excerpted from the Ramayana. 
In fact, the annual Ramleela staging provides ample fodder in Gopu's life—the build up to a grand Lanka Dahan, the joke around a wrinkled face Manglu tau who played Shurpanakha, or wonderment over a good-looking boy Kamal who carried himself gracefully as Sita Maiyya. Gopu feels privileged  when she catches an amrood thrown from the stage by Hanumanji. She is upset about the fact that only male students are given a holiday from school for populating the vaanar/rakshas sena scenes. Couldn't she happily volunteer for the costumed performance?  Gopu's life revolves around such anecdotal fun, more so because her police daroga father equally relishes the Ramleela season.
Her everyday exchanges present a slice of life in Uttarakhand. Susnata Paul's illustrations do justice to the green countryside conjured up by the author.  At the core is a slow-paced reflective life rhythm that modern-day Indian metros are oblivious of. Bahuguna points towards the importance of community bonding, aimless chatter over chai, give-and-take with neighbours, an identification  with the wilderness, and to top it all, a rahasya about an interrupted Ramleela repertory in which the lead went missing. 
Bahuguna became a Mumbaikar only after 2012. She was raised in Rudraprayag, Uttarkashi and Chamoli districts of Garhwal. While her father was in the police, her mother was a school principal.  "My entire childhood was in the hills, next to rivers, temples and mountains. I have grown up amidst myths, legends and stories. Life in the hills might seem dreamlike, but it has its own challenges. Floods, landslides, difficult winters, earthquakes, and roadblocks are a regular phenomenon over there," says Bahuguna, who feels nature teaches the values of life. "It's like living with nature and respecting its boundaries, which I learnt from my parents." 
The book is dedicated to her father, Bhaskaranand Bahuguna. "Being a police-kid, I always felt that policemen do not get real representation in our stories. The police in the mountains have an even more difficult life because of the harsh, cold weather. They have to deal with daily calamities on a tricky terrain.  Yet, they don't have any privilege of health insurance, residential facilities or free education for their children, like the Army personnel have." 
Upar Ke Gavn Ka Rahasya has helped the author share the life she has lived in the mountains. She feels hill stations offer a unique experience because pilgrims, tourists, trekkers and travellers congregate over there, which enriches the people living in these prime locations. She feels Mumbai, though not a hill station, attracts multitudes. "People from different places are doing things every day in the hope of making it big. Mumbai's multi-storey buildings remind me of the huge mountains sometimes. And the running traffic seems like a river. Survival instinct is high in the city." 
Bahuguna was first exposed to a life beyond Uttarakhand when she landed in Ahmedabad for her graduation at the National Institute of Design.  Career prospects brought her to Mumbai where she worked in many avatars—graphic designer, storyteller, creative director for TV channel shows, feature film writer (Aafat-e-Ishq) and animation writer (Oye Golu, Piku-n-Tuki for TipTales). She designed a Hindi typeface called Kunkun Devnagari as part of her graduation project and the font is also used in Upar Ke Gavn Ka Rahasya. It is now the brand font of Bhau Daji Lad Museum.
Bahuguna was educated in Hindi-medium government schools, which shows in the freshness of the idiom. In fact, she could have infused some more flashes of the Garhwali dialect into her debut work.  Interestingly, Upar Ke Gavn Ka Rahasya was primarily written as a feature film.  She was once part of the Kahanikar event where she got talking with theatre veteran Makarand Deshpande. He found Bahuguna's writing more suited for the cinematic medium. Further mentoring sessions with Deshpande helped shape the debut novel. While the story was written speedily, the pandemic and lockdown protocols played villains in delaying the process of publication. 
But Bahuguna has no regrets. She is happy to have gotten the opportunity to present her world view to the reader. "Most of us are like children in real life; and believe it or not, every adult has some sort of traumatic child inside. Some of us have dealt with this child and many of us are still trying to correct or justify the childishness we carry." For her, everyone who has been a child is her reader.
Bahuguna's book indeed operates at different levels for different readers. The caste politics subtly woven into the village Ramleela is educational. Suman and Gajendra's unfulfilled love story further underlines social equations in contemporary North India. Surnames like Khanduri and Bishth hold their own narratives. But even as the reader absorbs the sub-text in Upar Ke Gavn Ka Rahasya, Gopu's everyday adventures ensure a fun read.
Sumedha Raikar-Mhatre is a culture columnist in search of the sub-text. You can reach her at sumedha.raikar@mid-day.com