What's it about Jha as an onscreen performer that makes you wonder why he's been behind the camera for 40 years!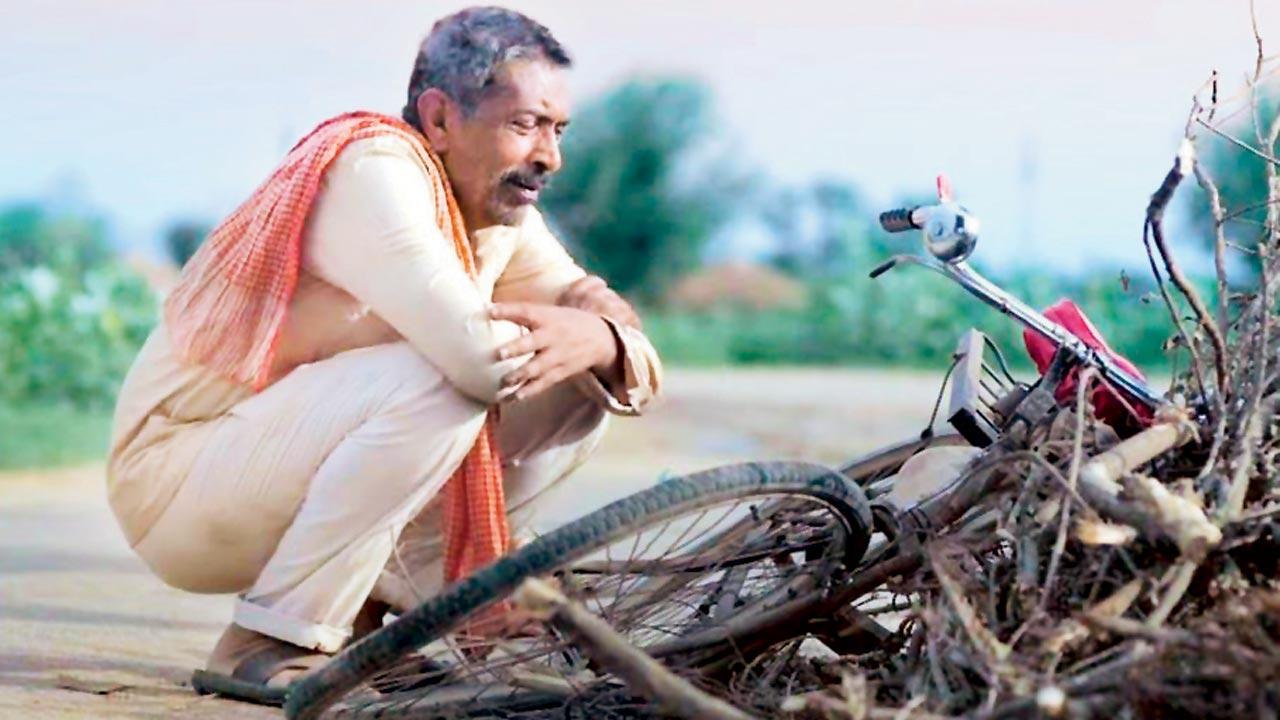 A still from the movie Matto ki Saikil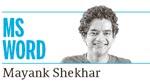 While Prakash Jha's Damul (1985) had generated much buzz in the art house circles, it didn't secure a theatrical release. Which, of course, didn't stop him from hosting its 'premiere', at his own home, with Deepti Naval, his (then) wife, and friends. 
Everyone was obviously in praise of this fine film on feudalism, that astutely explains migration of farm labour at the time in Bihar. After his friends left, Jha asked his house help, who had equally dressed up for the occasion, what she felt about Damul. She said, "Acchi thi. Par agli bar banana, toh film banana (Was good, but make a proper film, next time)!"
As with all National Award winning pictures, Damul played on Doordarshan's Sunday time slot, but upon Jha's insistence, for the first time, against a grant of R12 lakh to the filmmaker—which is exactly the amount Jha was in debt for the film. Apparently, the same grant amount, and time slot, has remained on DD since!
This is also from a time when state-run National Film Development Corporation (NFDC) prolifically funded independent cinema. Once NFDC itself got defunded, post-liberalisation, several independent voices became irrelevant as well. Jha, though, remembered his house help's advice still.
Which explains Mrityudand (1997). It originally starred Pallavi Joshi, and was written differently from how it eventually turned out. Upon Subhash Ghai's recco, Jha went over to Madhuri Dixit, to narrate the script to her, between shots, while she was filming 'Choli ke peeche kya hai'. 
The point is this, Jha tells me at Goa (advertising) Fest before a live audience that's come down chiefly to discuss his hugely popular MX Player web-show Aashram, "The language of cinema is different for a common viewer. Mrityudand was an attempt to use their language, to tell my story! It was a different country for me, my friend… Par kehna toh apni hi baat hai (But you have to make your point)."
Post-Mrityudand, Jha further found his centre, between self-expression/art and public/commerce, with Gangaajal (2003), Apaharan (2005), Rajneeti (2010), Aarakshan (2011), Chakravyuh (2012), Satyagraha (2013), besides multiple films as producer. While this meeting midway between messaging and masses has been common, hence, as a deeply political filmmaker, Jha is a pioneer of sorts in the mainstream.  
The idea he's dabbling with currently is to prove how democracy is under threat, because the cunning common man has been corrupted—a new system must evolve, which isn't simply based on the rule of majority. "The one in power is bound to be unjust." This is why, as a writer-director, he considers himself as "sthayi vipaksh (permanently in opposition)."
 
That gap you notice in his filmography is, in fact, because he'd actively dived into electoral politics as a Lok Sabha candidate thrice; placing second, each time. Few artistes have this level of practical exposure to society at the ground-level. As for business, he also runs a couple of malls in Bihar (Patna) and Jharkhand (Jamshedpur). 
Or even look at jobs he's done before he became a documentary filmmaker (for three years with BBC in London), and after Film & Television Institute of India (FTII). Dropping out of Delhi University, before that—living in Bombay, teaching English to Gujaratis in Kalbadevi, doing accounts for a construction firm, working at a restaurant, where he also learnt cooking… He essentially came to Bombay to enter Sir JJ School of Art and become a painter. 
Of all the parts he's surely good at, what's astounded me most is when he showed up as the pitch-perfect, wily cop, B N Singh, soaked in subtle swag, going, "Madam Sir, Madam Sir," to Priyanka Chopra in Jai Gangaajal (2016). 
Frickin' eh! If he's that naturally good before the camera, what kept him exclusively behind it for 34 years, I ask him. He firstly defines filmmaking as a composite art/craft, and that he's equally interested in "operating the camera, the sound department, lighting, and so why not acting?" 
But then he adds, "To reveal to you, over the years, I've quietly enrolled myself in tonnes of acting workshops, with the best teachers in the world—Paris, Vienna, Amsterdam, New York, LA. I've performed Shakespeare, Brecht, etc, at these workshops—crossing that line, when you're naked; but both a magician, and the object." 
"Al Pacino, De Niro, even now, go back to school. I'm disgusted with actors here—nobody's ever asked me when is the scene [set in], what's the weather like [outside], where exactly is the location… They just say, 'Haan, kya karna hai? Okay!"
I sense what Jha means—simply looking at him debut as the lead, Matto, in M Gani's film, Matto Ki Saikil (2022). Sweaty, sitting on his haunches with a gamchha, it's striking how the soft-spoken Matto seamlessly merges into the background, that is Mathura. I can't see a performer in it. The film is as much about a physical cycle, as the cycle of life itself.
Have seen it twice. It instantly takes you back to the 1980s parallel cinema—a minimalist, genuine peek into the state of the inhuman condition. 
Only that Jha's secured a theatrical release, with Matto. And quite frankly, he deserves a national award nomination at the least—of course for completely other reasons than Damul! "There's more to come," Jha, 70, tells me, as an actor. Wow.
Mayank Shekhar attempts to make sense of mass culture. He tweets @mayankw14
Send your feedback to mailbag@mid-day.com
The views expressed in this column are the individual's and don't represent those of the paper