It is unhealthy for decisions to be made concerning the most popular sport in the land with only flakes of official information thrown in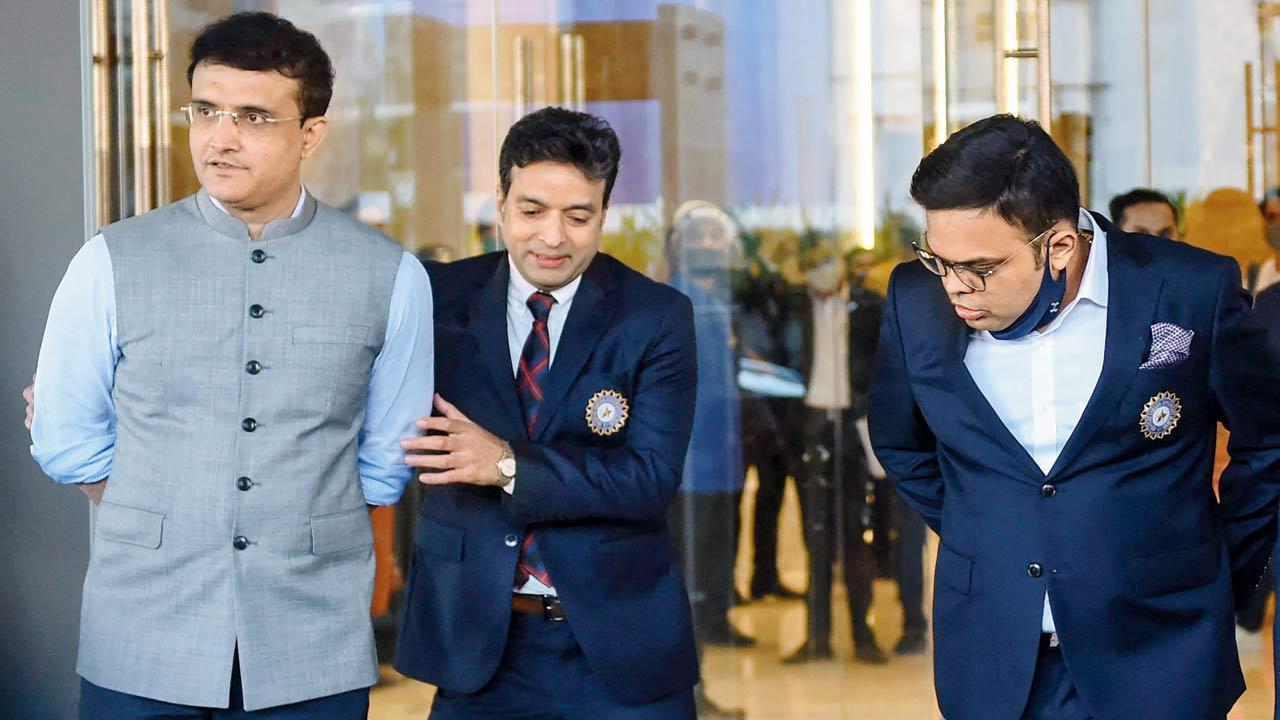 BCCI president Sourav Ganguly (L), secretary Jay Shah, (R) and treasurer Arun Dhumal (C) after the Annual General Meeting of the board in Ahmedabad, last year. Pic/AFP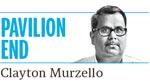 The irony cannot be missed. The wealthy Indian cricket board continues to be miserly on a key front, on an aspect which directly or indirectly concerns the followers of the game. The name of that button, like the sport, also starts with C. But the czars of Indian cricket don't want anything to do with that commonality. The word is communication.
The deplorable lack of it is not something the establishment is embarrassed about, though. They give the impression that doing the minimum on this score is the only way to run the game.
ADVERTISEMENT
The one occurrence that took the cake with all its cream and candles was the press release the BCCI sent out on December 8. It was primarily about the Test team for the three-match 2021-22 series in South Africa. Towards the end of the press note—fifth paragraph to be precise—appeared these words: "The All-India Senior Selection Committee also decided to name Mr Rohit Sharma as the Captain of the ODI & T20I teams going forward."
It's a development that merited a virtual press conference, but that has become too much to ask considering how few and far between BCCI-media interactions have been in the last few years. Indeed, the establishment works on a no-questions basis.
President Sourav Ganguly's interactions with the media are near-zilch and it's been more than two years since he became president. Rameez Raja, who took over as Pakistan's board chairman in September, has had far more conversations with his country's media.
If Ganguly wants to leave a legacy as glowing as his cream captaincy years, he must be more proactive from his president's seat.
Even India's chairman of selectors (former fast bowler Chetan Sharma) is not made to face the media or explain his committee's moves.
Undoubtedly, chief selectors the world over would love to have such a job—make key decisions without having to answer a single question at a press conference.
Yes, the BCCI is an autonomous body and probably the only time they were under pressure to be transparent was when the Lodha Panel put in regulations. But it is unhealthy for decisions to be made concerning the most popular sport in the land with only flakes of official information thrown around for the media/public to consume.
I come back to this passage again: "The All-India Senior Selection Committee also decided to name Mr Rohit Sharma as the Captain of the ODI & T20I teams going forward." This well and truly proves that things are reduced to lip service.
If Chetan's predecessors think about his current luxury, they'd probably realise how fortunate he is. I have seen a few chief selectors more than merely nervous before addressing the press after a selection committee meeting. I also remember how a former great, while paying tribute to a departed chairman of selectors, pointed to the pressure the media put on him and how that contributed to his ill health. Not for a moment am I underestimating this particular aspect. For, nothing is more important than life. But it's only fair for people in power to deal with questions, especially when it's a paid job.
For example, we would like to know why Ishant Sharma is persisted with (Test debut way back in 2007) and whether too much is being read into Bhuvneshwar Kumar's disappointing show at the T20 World Cup to leave him out of the mix. Or what forced the selectors to remove Ajinkya Rahane from the Test vice-captaincy and hand it to Rohit. Considering what Rahane had achieved (a Test series win in Australia in Virat Kohli's absence after an opening Test defeat where India were bowled out for 36) was there a case for more tolerance, some of us may have wanted to know. As it turned out, the Test team were without a vice-captain when Rohit was ruled out of the South Africa series with a hamstring injury. It's not the first time he's missing an important Test tour through injury. And if Rahane's scratchy form and Rohit's promotion as limited overs captain are reasons why the middle-order batsman cannot continue to be vice-captain, have Rohit's fitness issues been put forward in the corridor of powers while deciding his leadership roles?
The Board's reluctance to spell out details about injuries seems to have spilled over to pre-match conferences. No injuries were revealed to the media the day before the India v New Zealand Mumbai Test. But, on the morning of the match, the media were told through a press release that Rahane sustained a left hamstring strain, Ishant Sharma had injured his little finger and Ravindra Jadeja was enduring a swollen forearm—all out of the playing XI.
Meanwhile, nothing has been more talked about than Kohli's sacking as ODI captain. The decision by the BCCI/selectors may have been laden with logic, but it needed to be explained along with the official communication if there was no intention of conducting a media conference.
Some pundits reckon that the decision to take away Kohli's ODI captaincy was unfair considering India were a dominating force in 50-over cricket under him. However, Kohli shouldn't have expected to retain his ODI captaincy after having relinquished the T20 leadership. But he did, considering what he wrote in his statement: "I feel I need to give myself space to be fully ready to lead the Indian Team in Test and ODI Cricket."
The Board/selectors cannot be faulted for having one captain for both shorter formats, but where they embarrassed themselves was when they forgot to acknowledge the big contribution Kohli made to India's ODI fortunes as captain. They did so the following day.
In trying to execute the downplay of the year—sacking their ODI captain—they forgot grace. They didn't forget to stay arrogant.
mid-day's group sports editor Clayton Murzello is a purist with an open stance. He tweets @ClaytonMurzello
Send your feedback to mailbag@mid-day.com
The views expressed in this column are the individual's and don't represent those of the paper
"Exciting news! Mid-day is now on WhatsApp Channels

Subscribe today by clicking the link and stay updated with the latest news!"
Click here!