How do social/academic overachievers fare in Indian politics? Does sassy Shashi provide a different answer?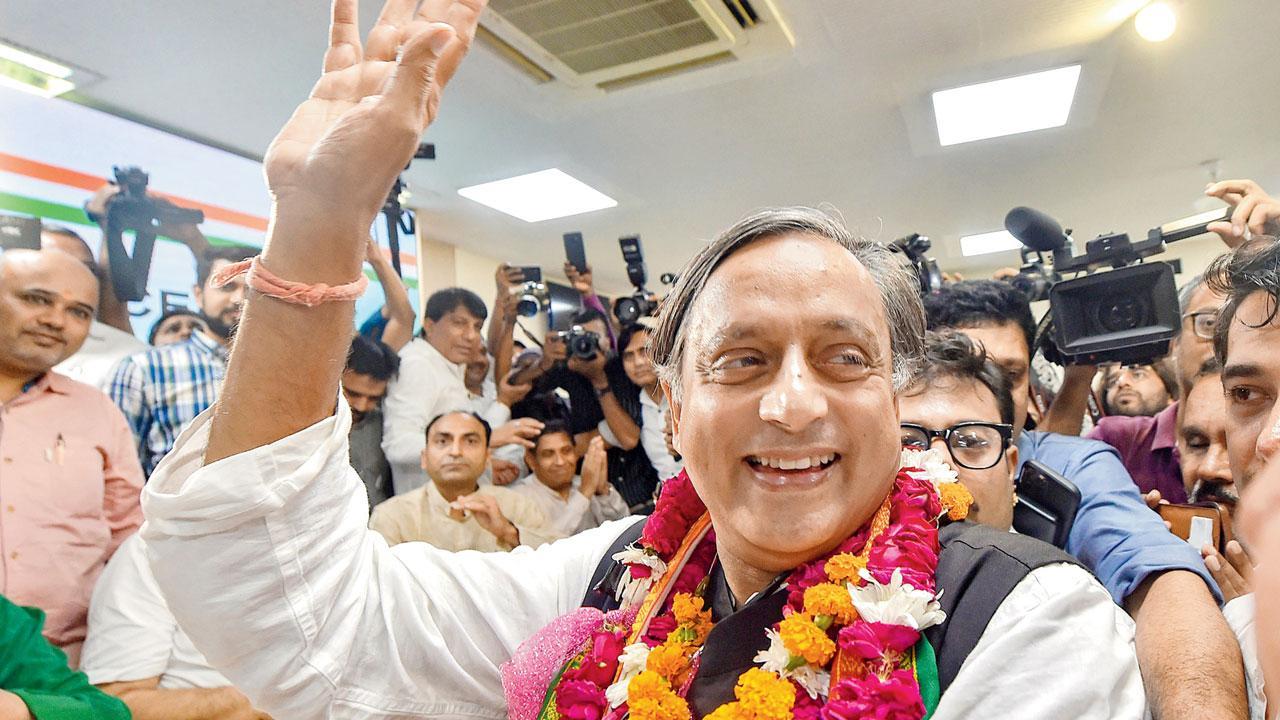 Senior Congress leader Shashi Tharoor during filing of nomination papers for the post of party president, at the AICC headquarters in New Delhi. Pic/PTI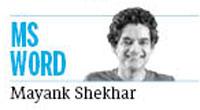 When I entered St Stephen's College (SSC), Delhi University (DU) as a student, over three decades after Dr Shashi Tharoor graduated from the institute, I realised he was a revered figure still! And not just for being a prolific writer. The Great Indian Novel, Tharoor's adaptation of Mahabharat, framed around the independence movement, was popular in its nth reprint already.
The enduring story on campus, even if slightly apocryphal, was about how Tharoor had once headed the college's prestigious Shakespeare (dramatics) Society, Debating Society, Quiz Club (that he founded), and the Students' Union, simultaneously—a distinction yet unsurpassed. 
That he was the college (union) president is now well-known. Apparently, late journalist-politician (with the BJP) Chandan Mitra was his campaign manager. Slogan: 'Shashi Tharoor, jeetega zaroor!' Campus elections could be a stepping stone for a political career, especially if it's not your family profession. 
Only that, unlike other DU colleges, elections in SSC are held internally. Meaning, the candidates, with zero budget at their disposal, do not belong to students' wings of national outfits, such as NSUI (Congress), ABVP (RSS), etc. They stand on individual merit/manifesto alone. 
SSC is also the only DU college that holds interviews, rather than admitting students based only on academic scores. Is that why so many social/extra-curricular achievers, school head-boys/girls, make it at once? 
A top-ranker in class throughout college, Tharoor had won all major inter-varsity debates in the country, barring Mukarji Memorial, SSC's own championship, that he didn't contest in. We know he played Mark Antony to Mira Nair's Cleopatra for Shakespeare Society. Nair, at DU's Miranda House then, hated kissing him on stage—for all the hooting from audiences that followed. 
With grey-blue eyes, Dev Anand-like demeanour—the way he flicks his hair sideways, Tharoor must've been quite the star in his youth. I know he'd principally said yes to play the lead in a film, around 2012, that actor Rajat Kapoor did later. 
Nair told me that even in college, friends used to poke fun at Tharoor's Anglicised twang: "We'd say he got it, because his mother flew over England, when she was pregnant! But he's always been a sport; used to take it well." 
While born in London, because his father—a salaried, corporate executive—was posted there, Tharoor has been entirely schooled in India—Bombay (Campion), Calcutta (St Xavier's). Today I learnt that when he was a post-grad student in the US, writing pieces across desi publications, he won the then coveted Rajika Kriplani prize for 'young journalist, under-30'. 
It must be empathy for this profession that he generously allowed me to interview him first, when I was barely in my early 20s, and he was under-secretary general at the United Nations (UN)—also throwing some 'colour' for my copy, over how actor Venessa Redgrave was just on the phone with him, etc. 
The setting was his staid, sarkari office at the UN headquarters in Manhattan. I asked him if he aspired for the UN secretary general's job. He said a flat no—subsequently standing for the top-post in 2006, placing second to Ban Ki-moon.
That thereafter Tharoor, a diplomat-writer—he's published 23 books—returned to India to join active politics, seemed an anomaly. Chiefly because, from afar, Indian politics appears heavily loaded against first-rate social/academic achievers with multiple interests, and a life. Which is also a reason most of them stay away. Of course there's a place for the highly educated in Indian politics—it's usually routed through the backdoor, such as Rajya Sabha, or lateral entries, as technocratic ministers/advisers in government/party. 
Also, major politicians with direct public appeal currently, you'll notice, have built their popularity/standing, working ground-up, in their home state first, over years. The incentive to do so for entry-level rank outsider, with professional options, isn't particularly high in political parties, especially regional. They don't exactly work like democracies—although the elections they consequently fight do. 
Navigating the same-party system, social media-savvy to the core, watering his own roots, Tharoor won three back-to-back, direct Lok Sabha seats for the Congress (in Thiruvananthapuram), when most of his colleagues lost—many of their deposits forfeited (jamanat japt). So much for being the 'elite' (even Mahatma Gandhi was). 
This, when he's endured barbs on Hindi skills; English vocabulary; misinterpreted jokes on airline's 'cattle class'; placing hand over heart during national anthem; and other such trivia. Worst of all, IPL controversy, and mysteries surrounding his wife's death. 
What kept him going, I asked Tharoor (over an email interview in 2017): "Focus. Kofi Annan once told me, citing a Ghanaian proverb: If sharks bite you, don't bleed. Don't give sharks/snakes, who abound in public life, the satisfaction of seeing you suffer."
What next? Tharoor is standing for Congress party president. As it is with, say, Conservatives in the UK, or primaries in the US, when was the last time anybody stood for such a position, in any Indian political party, including the BJP? Can't recall right away. All such positions are secured by "consensus" (euphemism for diktat?). 
Reportedly, Tharoor was asked (by the opponent) to go with "consensus" too. He didn't. Aren't parties in democracies, without proper elections, like governments, without an opposition—dictatorships, too? 
Whether 'Tharoor jeetega zaroor' or not, he makes politics feel like SSC elections, about merit and manifesto, still! That's a start. 
Mayank Shekhar attempts to make sense of mass culture. He tweets @mayankw14
Send your feedback to mailbag@mid-day.com
The views expressed in this column are the individual's and don't represent those of the paper.