It's Peak Manoj Bajpayee, delivering the final showdown, in a Jodhpur courtroom, that's blown everyone over, to end with, isn't it?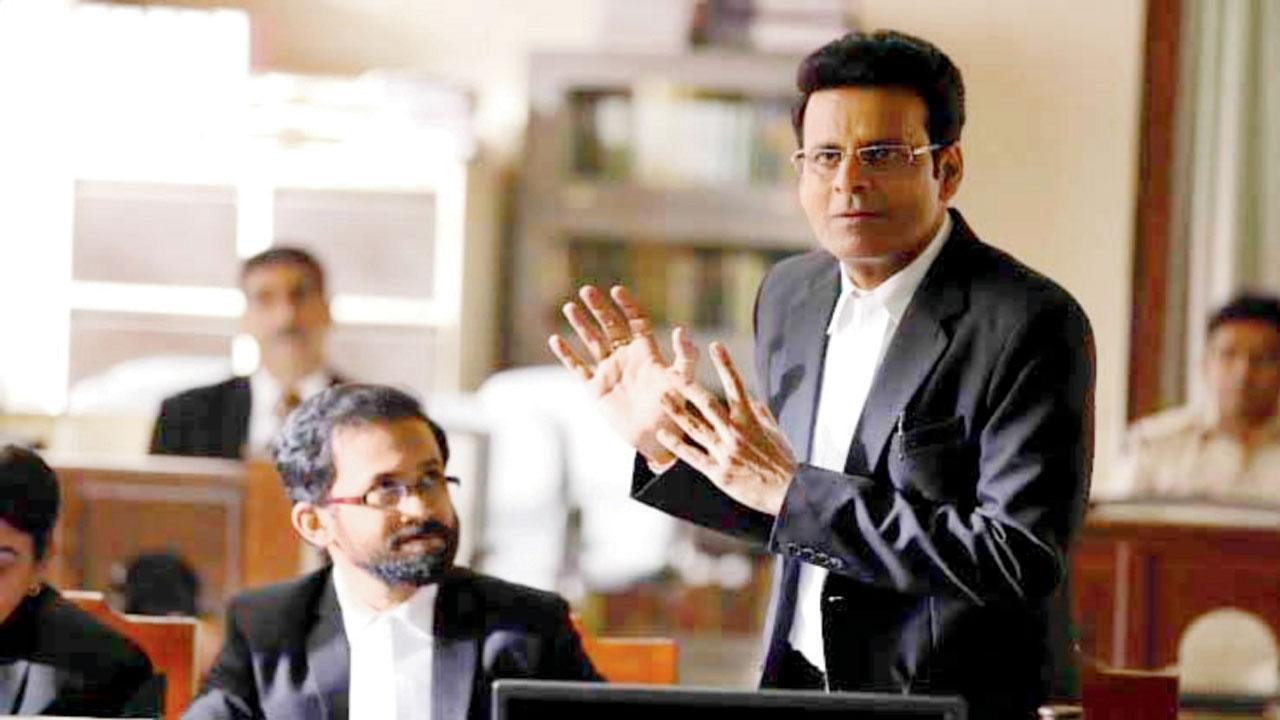 Manoj Bajpayee in Sirf Ek Bandaa Kaafi Hai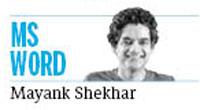 Pretty much all courtroom dramas hinge on a verbal showdown, that neatly underlines the picture's point. "The final monologue"—as debutant filmmaker, Apoorv Singh Karki, of the scintillating Sirf Ek Bandaa Kaafi Hai (Bandaa; on Zee5), calls it.
There's that Amitabh Bachchan line, "No means no", if you recall, from Aniruddha Roy Chowdhury's Pink (2016). Likewise, probably my favourite: Naseeruddin Shah as a maulvi delivering, "Deen mein dadhi hai, dhaadi mein deen nahin," in Shoaib Mansoor's Pakistani film, Khuda Kay Liye (2007).
ADVERTISEMENT
Who's ever forgotten Sunny Deol's "Tareeq pe tareeq" from Rajkumar Santoshi's Damini (1993), for instance? And it's inevitably this climactic, courtroom sequence, with actor Manoj Bajpayee, rendering a soliloquy of sorts, that's first blown over those who watched Bandaa, isn't it?
It's also director Karki's favourite scene because, he tells me, "There are three layers to it. One, is the defence counsel's (Vipin Sharma) point of view. Second, is where Bajpayee patiently details an episode from Ramayan, as a 'katha vachak' (story-teller).
"And then, in the final part, he bursts into: 'Yeh Raavan hai, Raavan!' That's when you truly feel the frustration [of lawyer, P C Solanki], up against dangerous odds, still on the case, for five years!"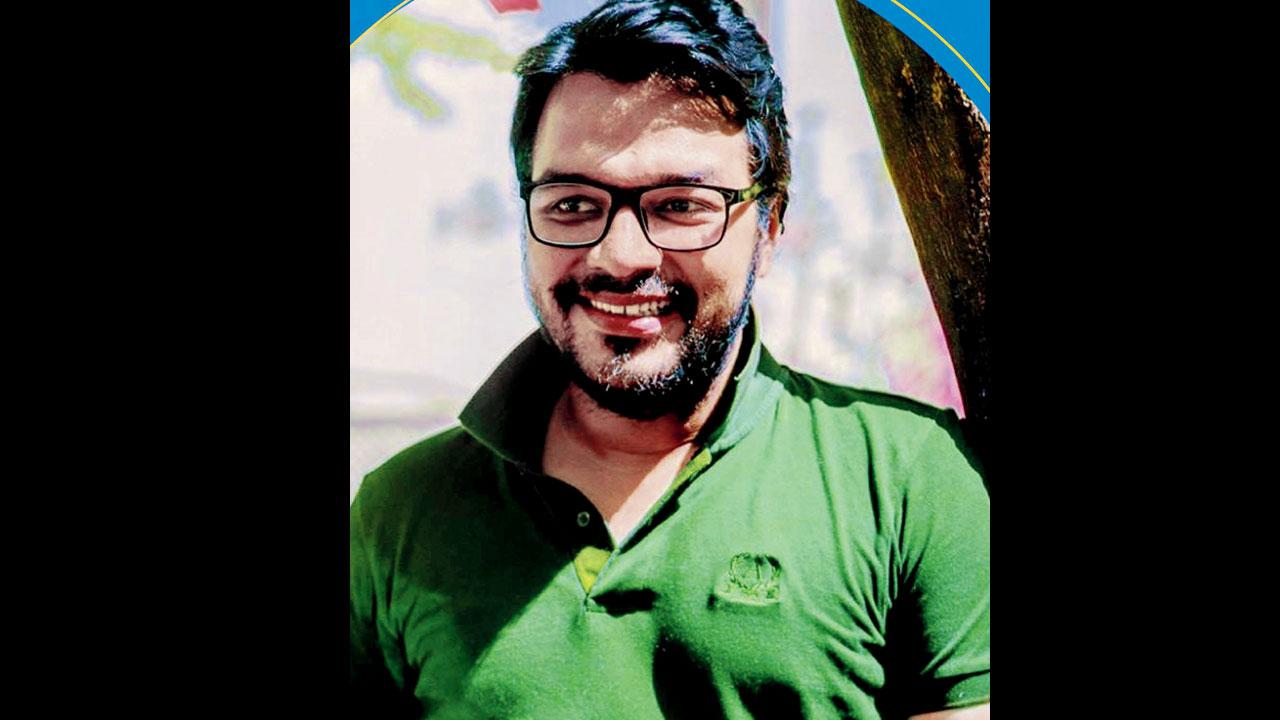 Apoorv Singh Karki, the director of the courtroom-drama film. Pics/Twitter
The "Raavan" here is obviously modelled on Asaram Bapu, accused of molesting a minor in his ashram. Among the most-watched mainstream films/series—both Rajkumar Hirani's PK (2014) and Prakash Jha's Aashram (2020, MX Player) have engagingly exposed 'god-men' for the oxymorons they are. Many are not even good men, let alone god. And yet, those content pieces have been ludicrously panned by some for being anti-religion.
Karki, as director, wished foremost to steer clear of such needless criticism. He says, "I am adhyatmik (religious/spiritual) myself. So is Manoj Bajpayee. The idea behind that monologue was to speak of the good that dharm (faith) represents—respect for women, fellow humans…. Once you do that, it becomes possible to separate the 'dhongis' (charlatans)."
Lawyer Solanki's speech recounts how Lord Shiva refused to grant his greatest disciple, Raavan, an audience. He explains to wife, Parvati, why. Because Raavan committed the worst of all sins—ie, not that he abducted Sita; but that he pretended to be a sadhu, doing it. 
Something tells me this courtroom scene will go down as among the best. Karki's other favourite from Bandaa is where Bajpayee's character invokes religion, again—likening goddesses Durga, Kali, to calm down the survivor, who's given up hope, and wants to commit suicide. "The lawyer sees her as bacchi (little girl), as against a victim that society will deem her."
Bandaa zeroes in on the 2012 law, POCSO (Protection of Children from Sexual Offences). One of the challenges for Karki was to get technical/authentic on matters of the court, without alienating lay audiences. 
Which explains how Bandaa has turned out as much a courtroom drama as a legal procedural—getting the god-man right, and the equally costumed finery of law-courts as well.
You can visually relate to the likes of big-hitters 'Ram Jethmalani', 'Subramanian Swamy', 'Salman Khurshid'—batting for 'Asaram Bapu's' bail, while the case for acquittal carries on alongside.
In the middle of this is, of course, the public-prosecutor protagonist—P C Solanki (name unchanged), from Jodhpur, who also participated in the film's writing. Karki says Bajpayee only once met Solanki for an hour, before they began shoot.
This real-life person that Bajpayee was meant to play had been pitched to him by the producers (Vinod Bhanushali, Suparn Verma). He could pick a director of his choice. This is when the actor was watching the fab TVF/YouTube series, Aspirants, that the Delhi-based Karki had directed. 
Aspirants is set in Delhi's Rajender Nagar world of IAS exam competitors— 'Kota Factory' for UPSC, if you may. Which tallies with Karki's own life. After doing a few odd jobs in Bollywood, Karki, originally from Nainital, had left Bombay in 2013, owing to poor health. He pursued IAS entrance after, but failed the test.
Impressed with Aspirants, Bajpayee handed Karki his feature film debut. This is quite in line with how Bajpayee 3.0 has been working lately—his first phenomenal phase was post-Satya (1998) onwards; the second, largely low phase, after Jaago (2004); and an absolute revival with Rajneeti (2011), and thereafter. 
This is when you could also sense him nurturing/attracting a mini-ecosystem of indie, relatively untested filmmaking talents—picking up tough parts for himself, totally undeterred by their potentially popular appeal alone. 
Whether that be capturing the beats of deadened life as a retired cop, in Devashish Makhija's brooding Bhonsle (2020, Sony LIV); or what he considers his best work yet, as the lead in the even quieter and depressingly sombre, Gali Guleiyan (2018, Prime Video). 
The absolute entertainer, Bandaa, has come right after Bajpayee's glorious Gulmohar (2023, Disney+ Hotstar), by newbie Rahul Chittella. 
Bandaa is probably the first Indian film to hit theatres, on popular demand, after premiering on OTT. Unless you count the post-Netflix, theatrical release of RRR in the US! 
Thrice, I've picked up a ticket, and not showed up for Bandaa at the cinema. Knowing it's online gets you lazy AF. How much fun it'll be to watch audiences respond to the courtroom climax scene, though. 
Can't replace audiences' claps at home, no? Nope.
Mayank Shekhar attempts to make sense of mass culture. He tweets @mayankw14
Send your feedback to mailbag@mid-day.com
The views expressed in this column are the individual's and don't represent those of the paper.