In an exclusive walkthrough of an upcoming exhibition that examines the stories of our forgotten textile trade history, the monumental influence of India on dyeing, printing, weaving and embroidering techniques is awe-inspiring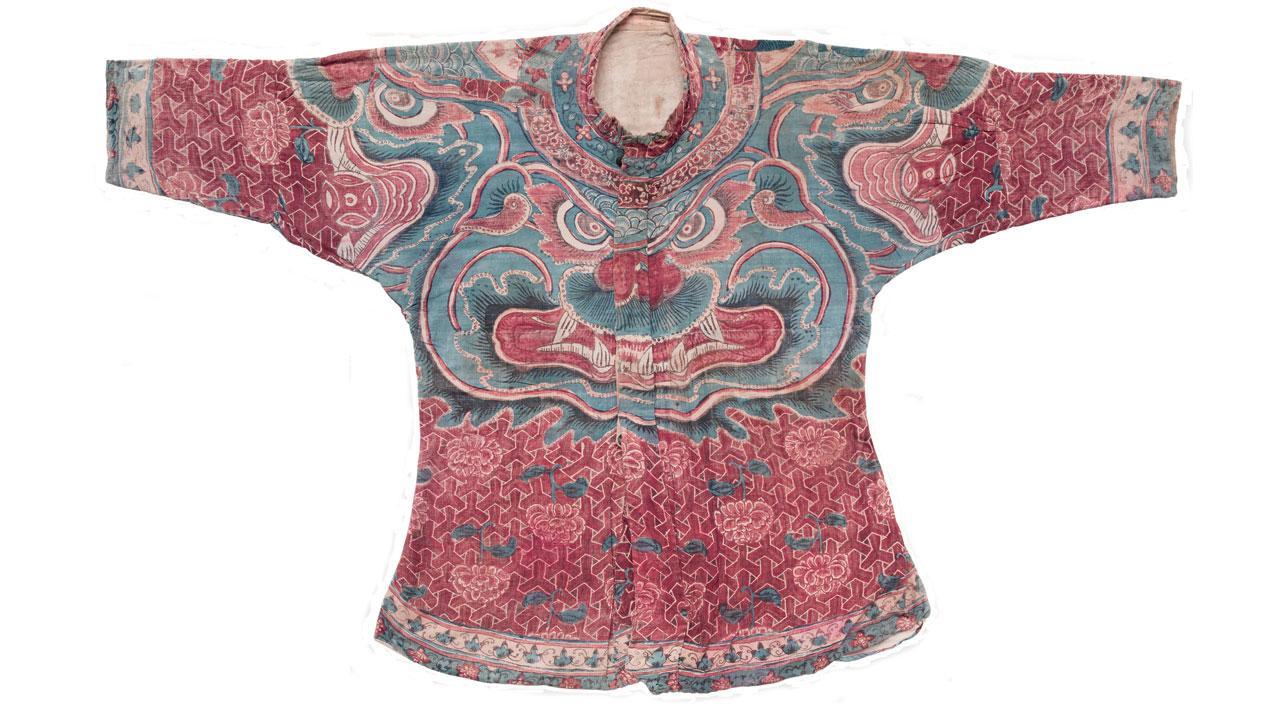 Thai soldier's tunic

From hand-spun khadi which became a symbol of protest during the Indian independence struggle to Hyderabad's colourful chintz that found fame in Europe thanks to Vasco da Gama's arrival, India's history is tightly interwoven with textiles. Tracing her journey through a 5,000-year-long trade in textiles is the focus of the upcoming exhibition, When Indian Flowers Bloomed in Distant Lands: Masterworks of Trade Textiles 1250-1850, which opens at the Chhatrapati Shivaji Maharaj Vastu Sangrahalaya (CSMVS) on February 3. It is being held in collaboration with Praful and Shilpa Shah, collectors who have dedicated much of their lives to building the TAPI (Textiles and Art of the People of India) Collection, a private curation of historic textiles and art, in Surat. 
The blockbuster show celebrates the role and significance of dyeing, printing, weaving and embroidering techniques originating across the country, from Gujarat and the Coromandel Coast to Bengal and Kashmir. Since several of these cloths were meant for export, there is very little by way of specimens surviving in India. Some were commissioned by visiting merchants and dignitaries, others were produced by local entrepreneurs to cater to markets in Europe, America, Indonesia, Japan, Middle East, Thailand and Sri Lanka.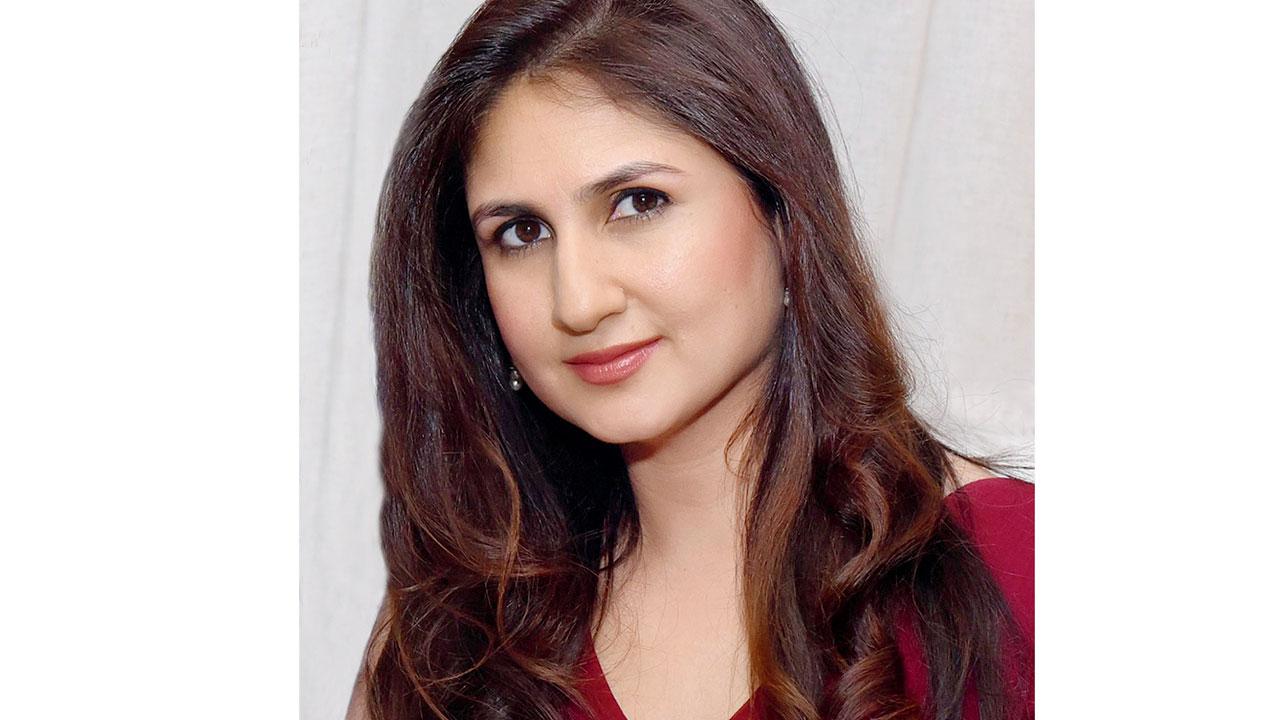 Deepika Shah, show curator
Organised into two main sections, textiles traded to the East, and to the West, the exhibition features  "58 trade cloths" that are symbolic of the forgotten legacy of India's valuable cargo that travelled along oceanic routes, leading to an exchange of customs, techniques and fashion with far-flung cultures. Hybridity, the modern buzzword in the world of design and art, seems then to be as old as the sea. 
"She [India] was supplying a thriving export market. Indian textiles were an essential commodity in the economy of maritime trade, and exchanged for the rights to acquire spices, sandalwood and forest products. It wouldn't be wrong to say that at one point, India was clothing the world," explains the exhibition's curator, Deepika Shah, adding, "I'd like to think that the layout [of the exhibition] mimics the waterways, and you, as the viewer, feel like these are whistle-stops, going from one port to another." The show that has taken eight months to stitch together doesn't intend to perplex the visitor with a scholarly tone. All that it seeks to do is inspire awe and wonder.  
Expect to find heirloom chintz palampores produced on the Coromandel Coast; double-ikat silk patolas from Gujarat; rare fragments excavated in Fustat (near present-day Cairo); and the prestigious Sarasa remnants of pouches and wrappers used in tea ceremonies by daimyos or feudal lords of Japan. The patolas, so very prized in India, were also treasured in Southeast Asia, particularly in Indonesia where they were considered family heirlooms, sacred cloths and gifts to forge political and matrimonial alliances. Sometimes, they were even ascribed magical powers. The show ends with a small selection of Kashmir shawls that were objects of desire among 18th century European nobility. It is believed that French Major-General Napoleon Bonaparte's first wife Josephine (1763-1814) owned no less than 60 of them. "Josephine was the fashion influencer of her time. If she wore Kashmir shawls in the courts of Paris, every woman who belonged to high society, would aspire to own them."  
These cloths date from as early as the 13th to 16th centuries, before the European trading companies arrived on the scene to discover that it was Indian cloth—not bullion—that was the secret currency needed to procure the much sought-after spices. "It was this desire for trade in exotic spices and textiles that later fuelled imperialistic ambitions. Without it, who knows whether India would have been colonised?" Shah wonders.
The popularity and soaring demand for Indian textiles in the West had profound consequences as, by the 19th century, mills in Europe and Britain had found ways to produce imitations of Indian patterned cloths, eventually leading to the mechanisation of textile production. "In doing so, our textiles helped sow the seeds of the Industrial Revolution, which is ironic, but true."
The diversity in techniques is as wondrous as the variety of motifs, and the sort of influence artisans had at the time leads us to many stories of what has been lost, and what was saved. There is something in here for everybody; the design student, anthropologist, textile revivalist, influencer and even men and women of commerce.
Our favourite six
Thai soldier's tunic (su'a senakut)
Meticulously drawn and resist-dyed, Indian textiles designed for export to Thailand represent a high point in the journey of chintz artists of the Coromandel Coast in Southeast India and named after Cholamandalam, the realm of the Cholas. Indian textiles, held in the highest esteem in Thailand, were specifically commissioned for the military tunics of the royal guard called su'a senakut. The distinctive design of this tunic with the menacing face of demon Kala exemplifies the hand-drawn precision demanded by agents of the Thai court for all royal commissions of dye-painted textiles.
Chintz palampore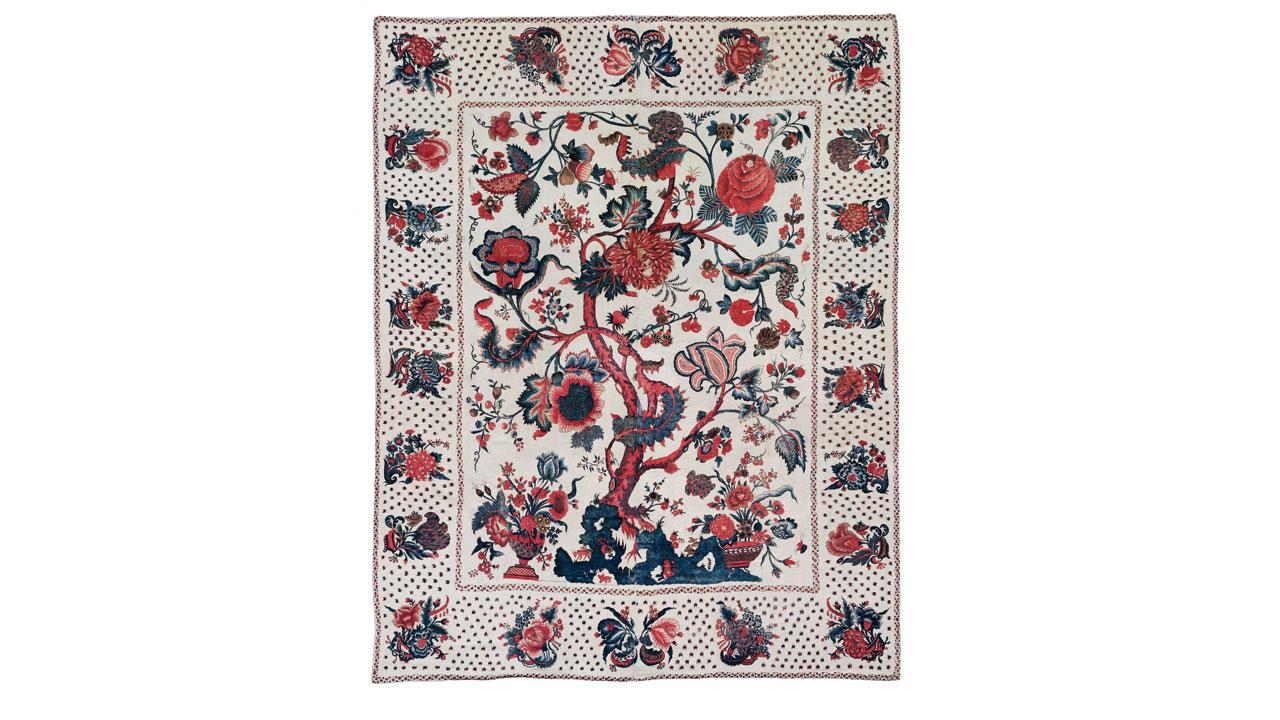 An exemplar of the cross-cultural exchange which resulted from the vast yet integrated network of trade in Indian textiles, this 18th century chintz palampore (derived from the word palang-posh) was produced on the Coromandel Coast and traded either to England or France. This piece remarkably demonstrates skill and cultural cross-germination seen in the depiction of an Indo-Persian tree with twisted trunk and curling branches in scrolling floral patterns emerging from rocks rendered in a Chinese-style and bearing a distinctly European flavour. The term 'chintz' was used by English traders to describe cotton dress materials and furnishing fabrics, painted and printed in India using mordant and resist dyeing, for the Western market. These textiles found favour amongst 17th and 18th century Europeans, and their appeal can be attributed to two key elements of the fabric: cotton and colour. Indians, whose dye technology was vastly superior to Europeans, were able to produce cotton cloth in brilliant colours that did not bleed or fade when washed. This is due to the all-important skill of mordanting—a process of adding a fixing agent that helps the dye adhere to the cloth to make it colourfast—a skill virtually unknown to the Europeans and unparalleled in the world.
Patolu ceremonial cloth of caparisoned elephants depicts a royal hunt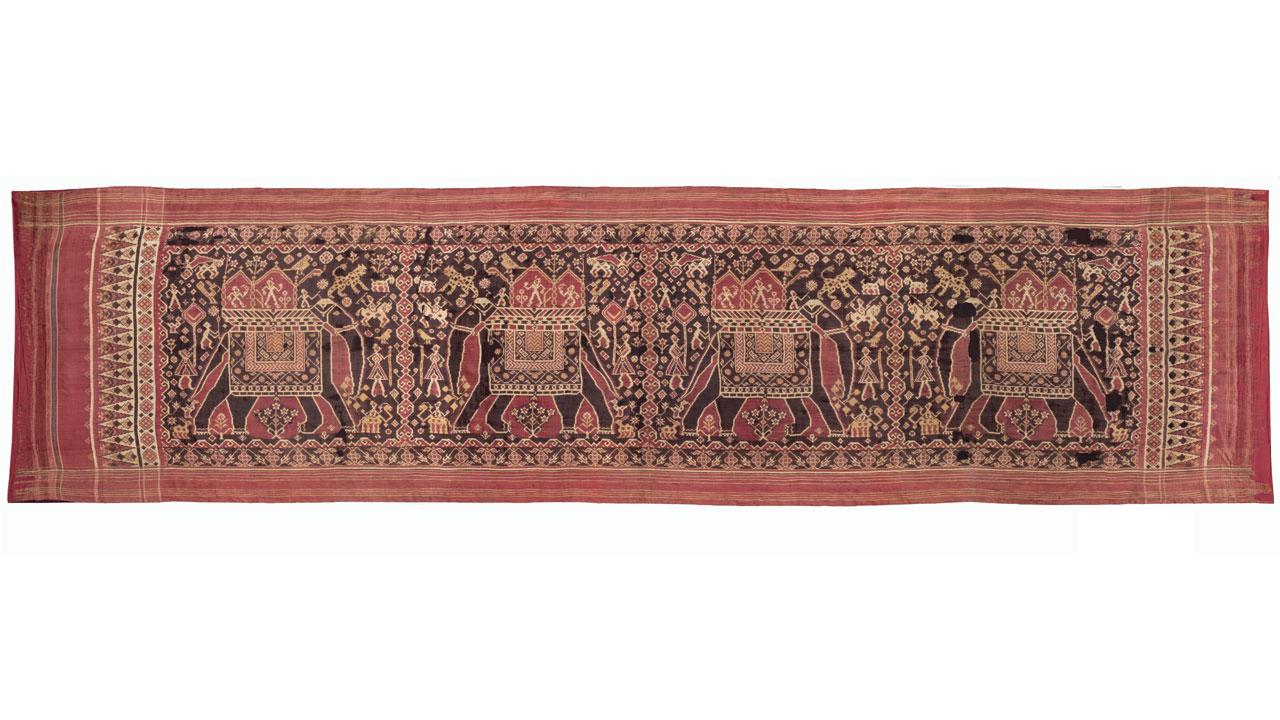 With its pairs of confronting elephants, this ceremonial patolu depicts a royal hunt, a subject matter reserved for royal taste. Silk patolas such as this one were destined to be shipped off to regional courts and influential families in Southeast Asia. An aesthetically and technically accomplished textile, it uses the double-ikat weaving technique where the design is created by binding and resist dyeing the warp and weft threads according to a predetermined pattern before they are set on the loom. The process is laborious, requiring great skill and time to produce each piece, making them expensive and indicators of class and nobility.
Embroidered palampore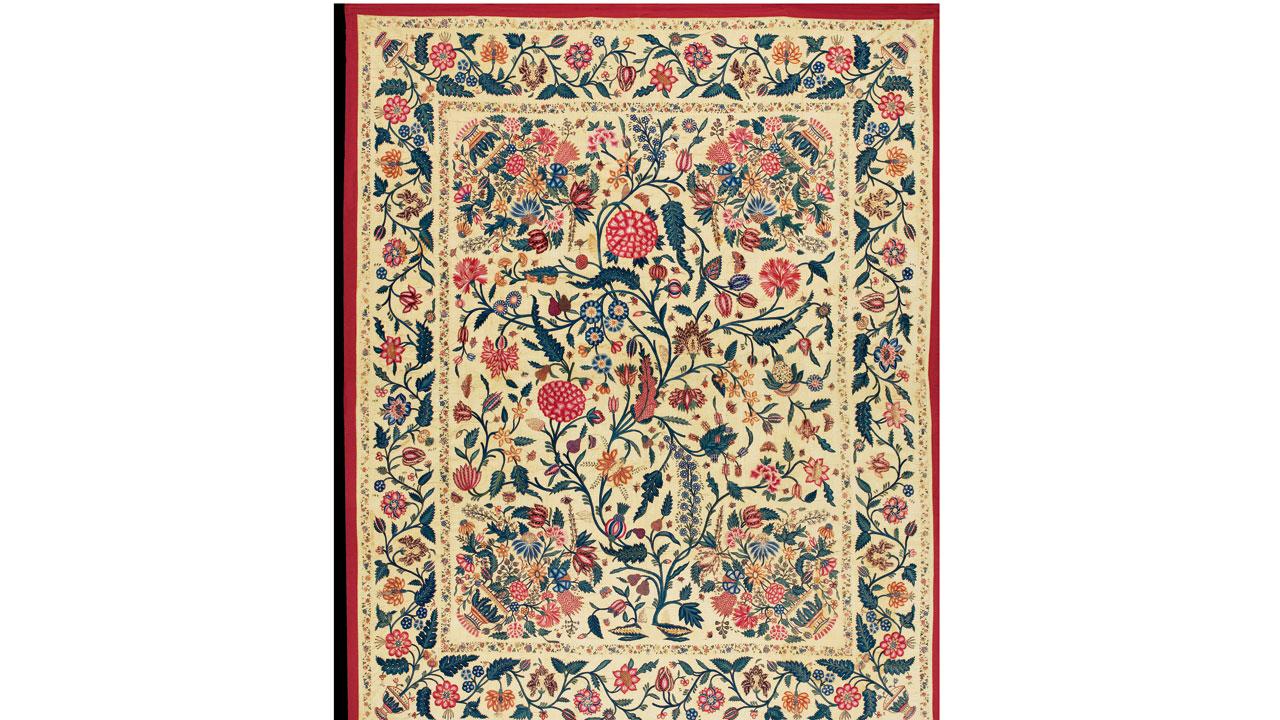 This exquisitely embroidered palampore,  originating in Gujarat, was most likely intended for export to the Dutch Republic. Embroidered palampores were a small but significant item of trade to Europe and are the highly skilled handiwork of artisans belonging to the Mochi community, whose mastery of embroidery is unsurpassed.
European market shawl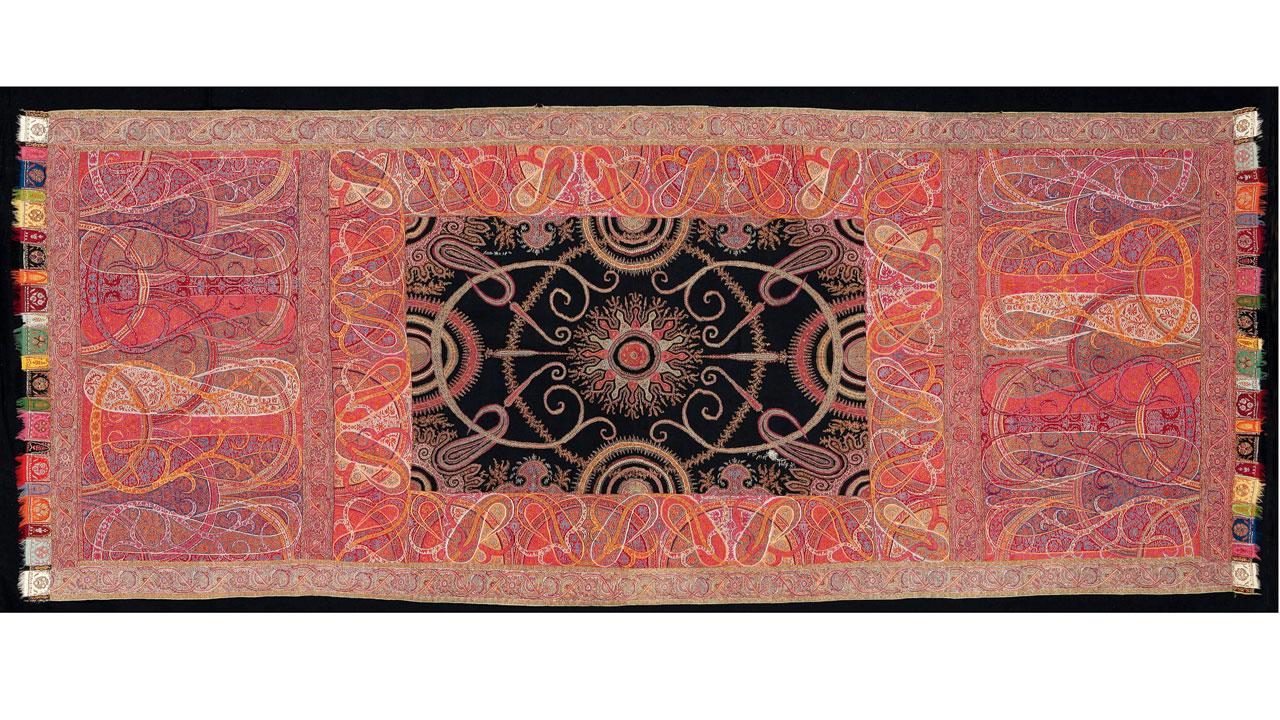 This beautiful example of the Kashmir shawl can actually be traced by the original tag accompanying the piece, to its likely owner, French princess Marie-Christine of Orléans, granddaughter of King Louis-Philippe (1830-1848). This shawl presents an immensely complex design, showcasing the technical mastery of Kashmir weavers. 
Heirloom textile of ladies with parrots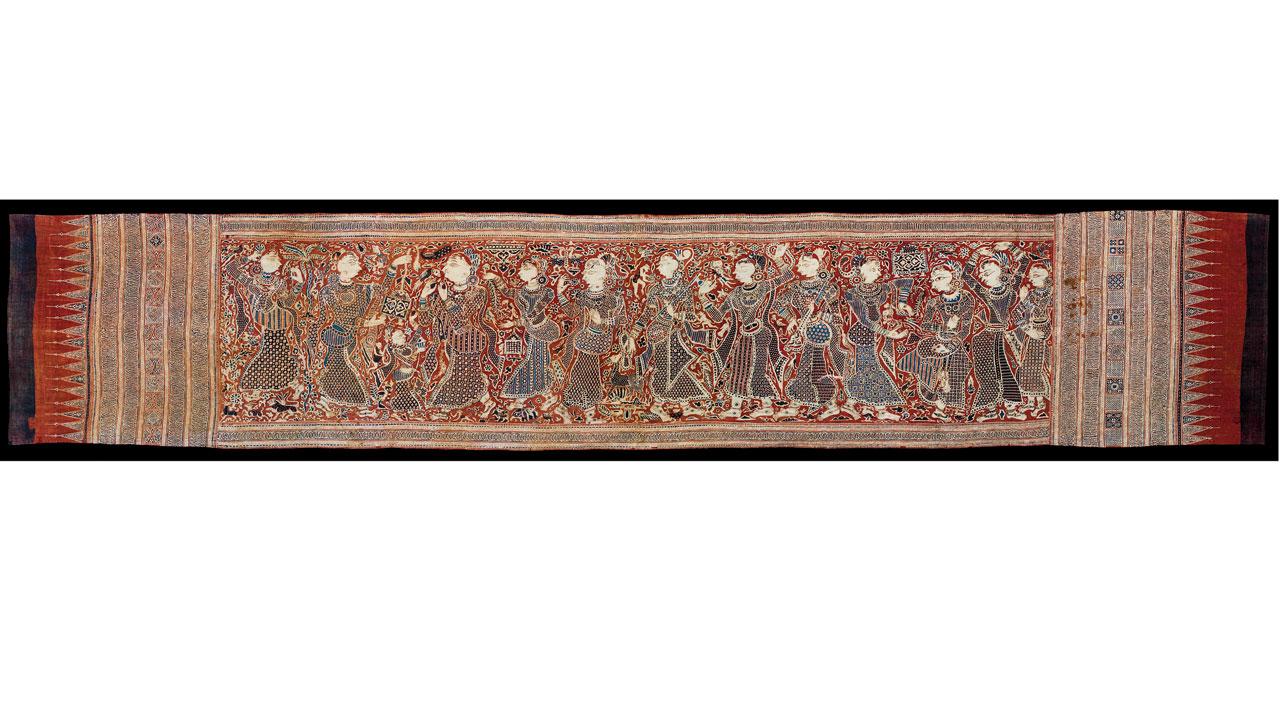 This striking hand-drawn, mordant and resist-dyed heirloom cloth was made in Gujarat and found in Sulawesi, Indonesia, where it was locally called Maa by the Toraja people. Radiocarbon dated (lab-tested method for determining the probable age of a textile) to between 1430–1530 C.E, the piece depicts an entertainment scene replete with dancers and musicians. Rendered in incredible detail, it features 12 ladies in different dresses and adornments. The presence of parrots feeding on mangoes suggests that the women are likely courtesans, as parrots have erotic connotations in Indian literary and visual arts.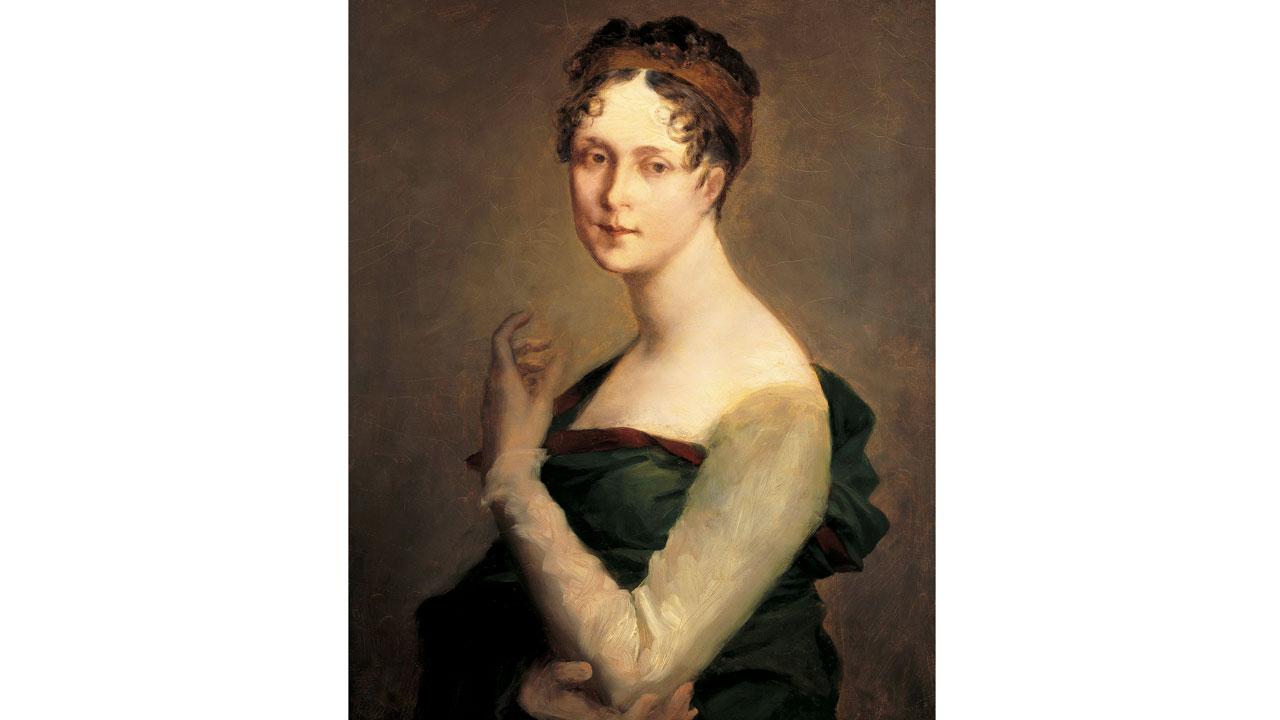 A portrait of Josephine Bonaparte by Pier Paul Prud'hon at the Rueil-Malmaison, Musée National Du Château De Malmaison. Pic/Getty Images