Is India going Brazil's way, where the executive's undermining of democratic traditions and encouragement of hate fomented violence?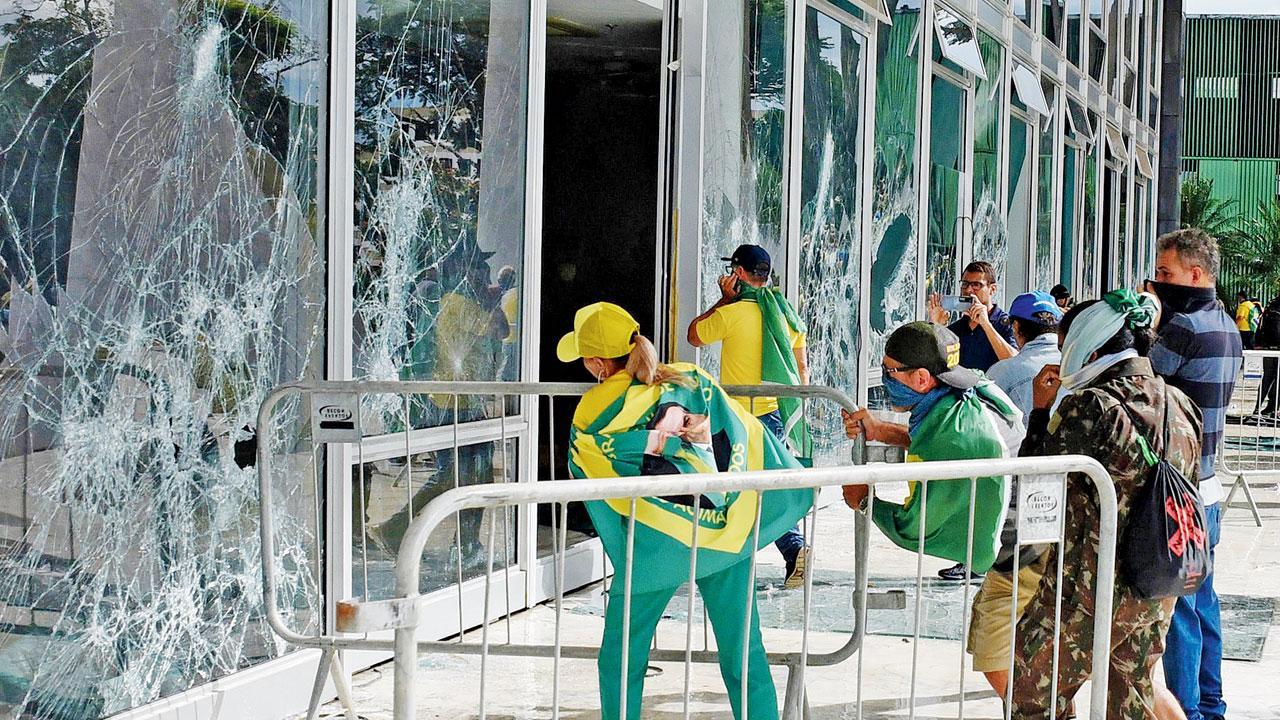 Supporters of Brazilian former President Jair Bolsonaro destroy windows of the the plenary of the Supreme Court in Brasilia on January 8. Pic/AFP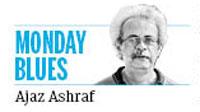 When the supporters of former Brazilian President Jair Bolsonaro stormed Congress, the Supreme Court and the presidential palace, Prime Minister Narendra Modi tweeted, on January 9: "Deeply concerned about the news of rioting and vandalism against the State institutions in Brasilia. Democratic traditions must be respected by everyone…" The tweet befits the leader wishing to make India the teacher of the world, yet seems mendacious when read in the country's political context.
Bolsonaro's supporters believed the presidential election was rigged in favour of his Leftist rival Luiz Inácio Lula da Silva. Their rioting in Brasilia was designed to reinstate Bolsonaro in defiance of the loss of his mandate. But violence is not the only method of subverting democratic traditions. For instance, the Bharatiya Janata Party installed its governments by engineering defections and splits in states where it had lost elections. Think Maharashtra, Madhya Pradesh, Karnataka, Goa, Manipur…
ADVERTISEMENT
The BJP's favoured method is to get MLAs of victorious parties to resign and deprive them of their majority—and then get re-elected on its tickets the MLAs who vacated their seats. Such an operation does not entail violence but requires lavish funding. In the Rampur Assembly bypoll in Uttar Pradesh, security forces reportedly frightened Muslims from casting votes. A case of disenfranchisement without violence.
Months before every state election, Enforcement Directorate sleuths swoop down on the BJP's rivals—and entangle their leaders in cases. They are projected as corrupt, unfit to get elected. An Indian Express analysis shows that 115 "prominent politicians" have been raided, booked, questioned or arrested by ED since Modi became the prime minister. Using state power to create an uneven playing ground is a travesty of democratic traditions, as is the harnessing of governors to destabilise Opposition governments.
Also Read: Coming soon: A brand new city
Take Tamil Nadu Governor R N Ravi, who elided portions of his address to the Assembly, traditionally prepared by the state government. What he left out included references to social justice icons; he insists on calling the state Tamizhagam (Abode of Tamils), a nomenclature Hindutva favours, instead of Tamil Nadu (Tamil Country). Ravi's counterpart in Kerala, Arif Mohd Khan, too, is guilty of flouting the tradition that governors should rise above party politics. When he was governor of West Bengal, Vice-President Jagdeep Dhankhar infuriated Chief Minister Mamata Banerjee to the point she blocked him from her Twitter handle.
From Modi's Brazil tweet, it would seem violence "deeply concerns" him only when it is directed against State institutions, for he, at home, has never spoken out against the lynching of Muslims, or against the bashing up of Christians. He has seldom discouraged his followers from resorting to hate language. Indeed, the politics of hate creates an ecosystem for violence, as Brazilian writers noted in their analyses of the rioting in Brasilia.
India's political ambience increasingly resembles Brazil's. In the run-up to the presidential elections, Lula took to Facebook to deny he had done a deal with Lucifer to become president, as Bolsonaro's followers claimed he had. Not too different from Swarajya, a rightwing magazine, arguing, rather absurdly, that Rahul Gandhi's Bharat Jodo Yatra is Hinduphobic. In Brazil, a cardinal sporting a red gown was accused of backing Lula, for the colour red defines the Left. In India, the film Pathaan has come under attack because of actor Deepika Padukone wearing a bikini in the colour of Hinduism—saffron.
Bolsonaro often mocked his country's indigenous community. About them, he said, "They are increasingly becoming human beings just like us." Modi has never been so crass, but he has undeniably employed the dog whistle to target the Muslim community, as he did before the 2017 Gujarat and the 2019 Jharkhand elections. Home Minister Amit Shah once likened undocumented immigrants, mostly Muslim, to termites; not to forget BJP leaders and trolls who falsely accused the Tablighi Jamaat of spreading COVID.
Bolsonaro made it impossible to transfer land to indigenous communities and quilombolas, or descendants of slaves, for their settlements. In Jharkhand, the erstwhile BJP government incarcerated adivasis for protesting against the usurpation of their land for development. Bolsonaro sought to delegitimise Brazil's affirmative action but could not roll it back. The Modi government diluted reservation, by providing 10 per cent of quota in jobs and educational institutes to the Economically Weaker Sections among socially advanced groups.
Bolsonaro acquired infamy for annihilating tracts of the Amazon rainforest. Modi talks of climate change but his government split the Char Dham road project in Uttarakhand into 53 projects of less than 100 km each, in order to evade the statutory requirement of conducting the Environment Impact Assessment. Bolsonaro would mercilessly attack the Supreme Court. Likewise, Law Minister Kiren Rijiju has been severe on India's Apex court, and has now been joined by Dhankhar, even though its verdicts, unlike its Brazilian counterpart, have been mostly favourable to the Modi government.
Modi's Brazil tweet worries because it fails to recognise that the executive's undermining of democratic traditions and tacit encouragement of hate foments violence. As was true of the storming of Capitol Hill in the United States in 2021. As is true for what happened in Brazil. To what peril is then India headed, with its democratic traditions being eroded?
The writer is a senior journalist.
Send your feedback to mailbag@mid-day.com
The views expressed in this column are the individual's and don't represent those of the paper.