John is one of eight South Asians including six Indians, who won prizes at the Berlin Film Festival, for films and projects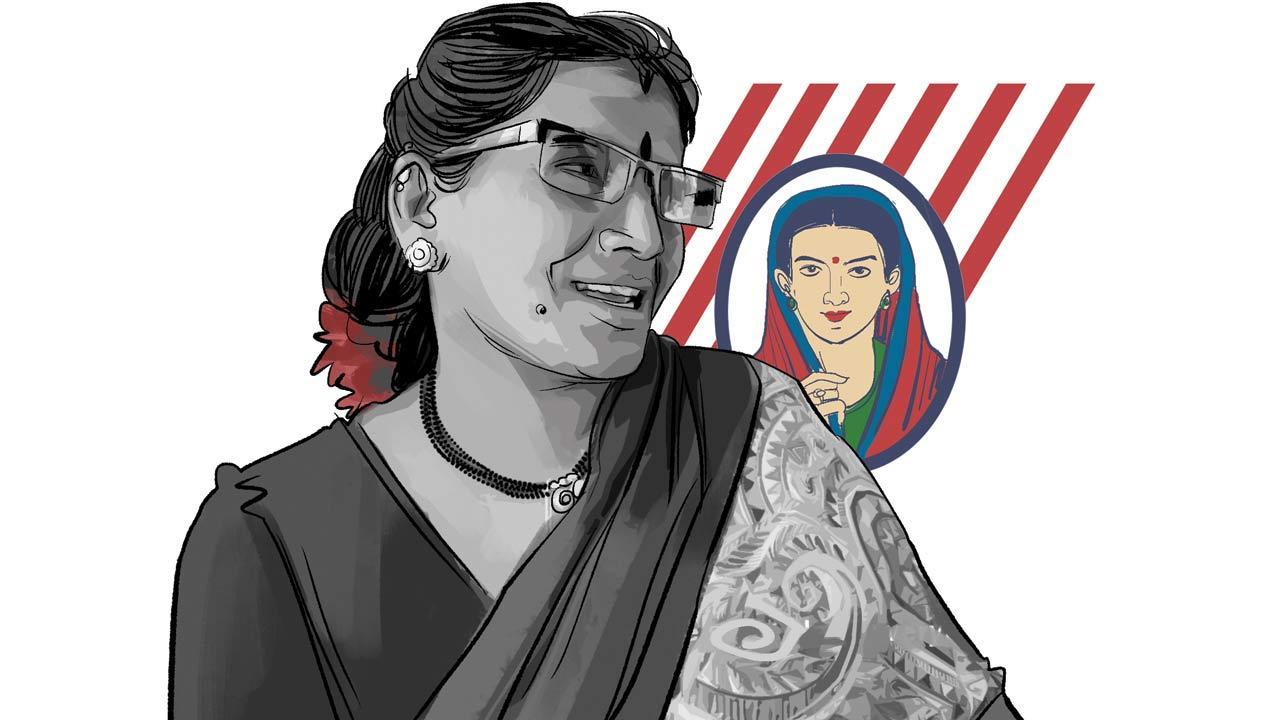 Illustration/Uday Mohite

In a delicious coup of globalisation, Indian filmmaker Rebana Liz John's feature documentary Ladies Only, has won the Compass Perspektive Award for the Best German Film in the Perspektive Deutsches Kino (Perspectives on German Cinema) section of the Berlin Film Festival. It is a wonderfully stylish, insightful, black-and-white film (79 min), on women in the ladies' compartment of Mumbai local trains, discussing their men, lives, ambitions and freedoms--and what makes them angry (men, men and men!). John is one of eight South Asians including six Indians, who won prizes at the Berlin Film Festival, for films and projects.
Born in Mumbai, John, 35, shuttles between this city and Cologne in Germany: the film is her final project for a Master's in film and media art at the Kunsthochschule für Medien Köln (Academy of Media Arts Cologne), which has produced this film, her debut feature. The film is also funded by the Film und Medien Stiftung NRW, Germany, and backed by John's own Camera Mischief Films.
ADVERTISEMENT
An alumnus of the Srishti Institute of Art, Design and Technology, Bangalore, John has made several shorts, including The Fortunate Son, Pasts: Paths and Ships Outside my Window. The last was at festivals worldwide, while Ladies Only was also at the Busan Film Festival, Korea. The crowded ladies' compartment of Mumbai locals, as well as the Ladies' Special, with the entire train reserved for women at peak hours, have been popular subjects for previous documentaries, including Nidhi Tuli's Ladies Special (YouTube) and Dorothee Wenner's The Ladies' Special, each engaging and insightful in its own way.
"In our culture, the husband eats, drinks and goes to bed," says a woman commuter in Ladies Only. John often goads the commuters with feminist thoughts and poems, and when she asks the commuter if this experience makes her angry, the latter replies, "It won't improve him, so why waste energy?" Another says she teaches her son, 10, to fill water and fetch veggies: "He can't depend on women, his wife may be working, and earn more than him, so the housework can't be only hers." Powerful words of wisdom that, unheeded, will cause India's divorce rate to skyrocket. (None of the interviewees is identified by name, except in the end credits.)
My favourite commuter is a feisty woman, who sits on the floor of the train, in ultra-cool shades, and suffers an alcoholic husband and four children, including a violent son who demands money by breaking down the door or kicking the fridge. "Kaam-dhandha, bachche, wohi bevda aadmi… aurat logon ka wohi gaana bajta hai na?" (Work, kids, the same drunken husband… it's always the same song for women, right?), she says, adding homespun philosophy, "Maybe I did something wrong in my past life to get pain and sadness in this one. So the next life will be happy, no problem!" She smiles brightly.
John speaks to a range of lively women—a labourer, a 'punk' woman with seven face piercings, a policewoman. A weight lifter who lifts 210 kg at squats at the national level: when her control-freak brother hit her while trying to stop her from going to the gym or getting phone calls from boys, she thrashed him back so hard, he started crying. A photographer who was earlier prevented from being a cricketer. A middle-aged woman, who was prevented from going to school as a child, weeps at the memory before John, a stranger. There is feminist lyricism as John asks the women to read aloud the late feminist Kamla Bhasin's powerful protest poems Azadi (Freedom) and Umadti Ladkiyaan (Rising Girls), and a young girl in a burqa who does so, also articulates the freedoms for which she yearns. There's plenty of train regulars, including a transgender who poses with mudras, and vendors of chikoos, gajras and hair clips.
John's 'writing,' direction and editing is polished. Milann Tress John's patient, unobtrusive cinematography yields many moments of depth and wit. Ankita Purkayastha and Navya Sah's sound recording is excellent. An all-woman crew disarms the protagonists into opening up bindaas in this all-woman space. The women's comments are devastating critiques of men and reflect the state of man-woman relationships worldwide: kabhi khushi, kabhi gham, but almost always, an unequal, uneasy truce. Tim Elzer's sound design is  superb, with engaging music by Jin Jim and others, and there's a bravura sequence of kinetic energy as the train rhythmically gathers speed, intercut with fabulous music. John has also put together a slim book, Documentary Process: A Case Study, based on this film. I hope the film is shown widely and provokes guided discussions on the pathetically unequal state of man-woman relationships and our legacy for future generations.
Meenakshi Shedde is India and South Asia Delegate to the Berlin International Film Festival, National Award-winning critic, curator to festivals worldwide and journalist. 
Reach her at meenakshi.shedde@mid-day.com