Irrespective of your political belief, the Information Technology Rules 2021, can be expansively unleashed on you on one pretext or the other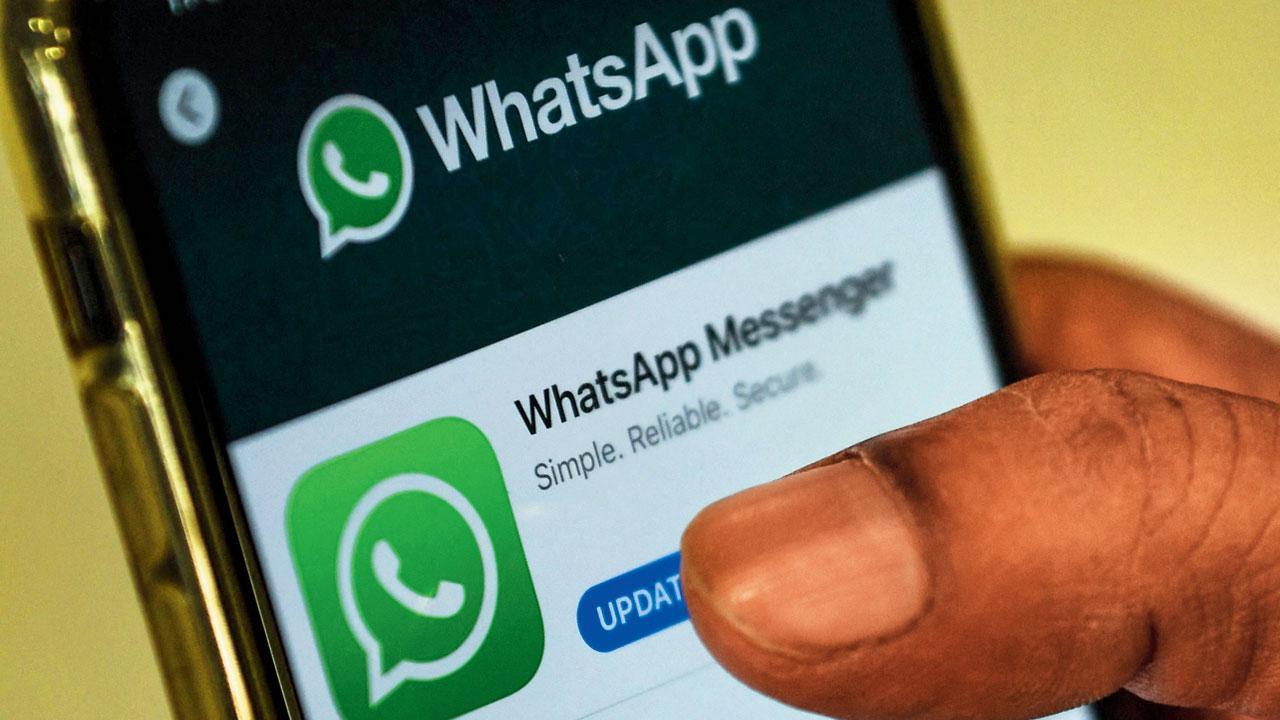 Since the IT Rules focus on the message, not the individual account, WhatsApp claims it will compromise end-to-end encryption and throttle free speech. PIC/AFP
There are three ironies in the battle between the Union Government and WhatsApp. One of these pertains to you even though you are not an activist, journalist, film-maker, academician or a lawyer. Unlike them, you never thought free speech was imperilled in India, for you never felt restrained airing your views among friends. In recent years, you took to smartphones to vent or send memes. Good time-pass!
But time-pass is likely to become time past because of the Information Technology Rules, 2021, which came into force last week. These rules make it mandatory for "significant social media intermediaries", defined as messaging platforms with 50 lakh users, to disclose, when asked by bureaucrats in the Central Government, who "originated" a particular message. This demand could be made in the interest of the sovereignty, integrity, security and defence of India, friendly relations with foreign countries, public order or to prevent incitement to commit cognisable offence. Some of these terms can be expansively interpreted — and misused.
ADVERTISEMENT
What is it to you, for you mostly echo the views of others?
A lot.
Suppose you stumble upon a catchy one-liner in a group chat. You copy and send it to a friend as a new message — now you are the originator, not the one who originally made the wisecrack. You WhatsApp a friend quoting author Arundhati Roy saying Prime Minister Narendra Modi's mishandling of the Covid-19 pandemic was nothing less than a crime against humanity. You are the originator, not Roy. It is you who can be booked.
You feel you have nothing to fear because you are a Modi supporter. Your social media engagement is mostly about transmitting the Pappu quips on Rahul Gandhi. But wait, non-Bharatiya Janata Party governments in States are also entitled to ask a messaging platform to divulge who originated a contentious message. Since there is no time-bar, the message you originated on May 31 can be flagged in 2024.
You now realise that an engaging time-pass is linked to free speech. That is Irony No. 1 – the Information Technology Rules will make those apathetic to fighting for free speech realise its importance.
Irony No. 2 springs from the battle between the Union Government and WhatsApp, which has petitioned the Delhi High Court to declare unconstitutional the clause on the originator. You will chuckle to read this line from Cyril Sam and Paranjoy Guha Thakurta's The Real Face of Facebook in India: "…It is also true that Facebook's employees in India conducted training workshops to help the members of the BJP's IT [Information Technology] cell." Facebook took over WhatsApp in 2014. Sam and Thakurta asked Vinit Goenka, prabhari of BJP's IT cell, "Who helped whom more, Facebook or the BJP?" Goenka replied, "You could say, we helped each other."
So, from being chums before the 2014 Lok Sabha elections, the BJP and WhatsApp have become foes. The souring of their relationship is complicated. Since the IT Rules focus on the message, not the individual account, WhatsApp claims it will have to keep tabs on all messages to figure out who originated what. This will compromise end-to-end encryption, which prevents a third party, including WhatsApp, from reading the contents of messages shared. The rules compromise privacy, and will also compel WhatsApp to spend a huge amount of money to track all messages.
You will counter, "India's integrity or public order cannot be risked to have a behemoth like WhatsApp save money!"
Herein lies Irony No. 3. Facebook coached the BJP so well that the party mastered the technique of making its social media posts go viral. Prodyut Bora, founder of the BJP's IT cell in 2007, told Sam and Thakurta that the "process of being economical with the truth (in the BJP) began in 2014… From there, fake news was one step up the curve." Bora quit the BJP in 2015. Shivam Shankar Singh resigned from the BJP's data analytics team because, as he told Time magazine, the "hateful rhetoric" was "forming an increasingly important plank of the BJP's electoral plan of 2019."
The BJP's mastery over WhatsApp was testified to by Home Minister Amit Shah. Recounting his experience of the 2017 Uttar Pradesh Assembly elections to BJP workers in Rajasthan, Shah boasted, "We are capable of delivering any message we want to the public, whether sweet or sour, true or fake." He said this was possible because the BJP had 32 lakh people on its WhatsApp groups in Uttar Pradesh. The BJP's veritable monopoly of social media prompted its rivals as well as citizens to harness WhatsApp and Twitter to counter Hindutva. The legal provision regarding the originator of posts could perhaps scare them and dampen their enthusiasm.
To be or not to be, Hamlet wondered. To post or not to post a meme, that is the question before you. Descartes said, "I think, therefore I am." A thought becomes a thought for others only when it is spoken or transcribed or visually depicted. The wise, therefore, say, "I speak, therefore I am." Its version in the digital age would be: "I post a meme, therefore I am." It only follows — if you do not post one, you might not be.
The writer is a senior journalist. Send your feedback to mailbag@mid-day.com
The views expressed in this column are the individual's and don't represent those of the paper.