In a major diplomatic victory for China, Philippines President Rodrigo Duterte yesterday announced "separation" from longstanding ally US, as the neighbours agreed to "temporarily put aside" their differences over the South China Sea (SCS) and signed 13 agreements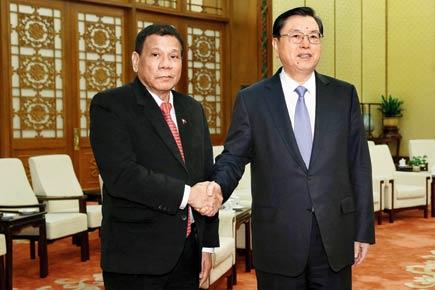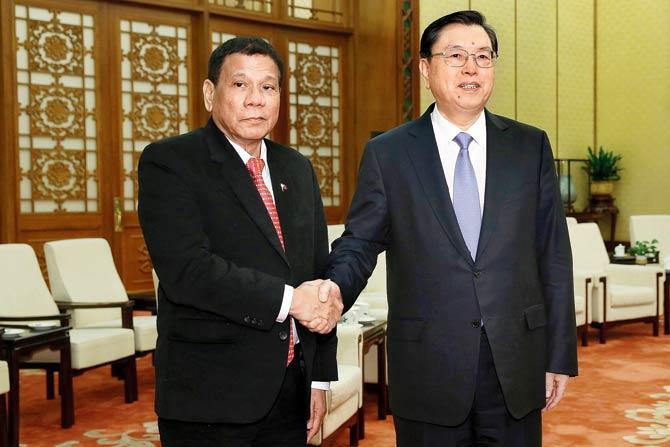 Duterte with standing committee of National People's Congress of China chairman. Pic/AFP
Beijing: In a major diplomatic victory for China, Philippines President Rodrigo Duterte yesterday announced "separation" from longstanding ally US, as the neighbours agreed to "temporarily put aside" their differences over the South China Sea (SCS) and signed 13 agreements.
"I announce my separation from the US," he said to applause at a business meeting in the presence of Chinese Vice Premier Zhang Gaoli at Great Hall of the People.
The comments by the Philippines mercurial leader may end Manila's strategic ties with Washington against China over its maritime dispute with Beijing. The comments came hours after he met his Chinese counterpart Xi Jinping, who told him "We're neighbours and blood brothers".
Welcoming Duterte, who decided to visit China after his bitter spat with the US over war on drug smugglers, Xi asked him to put aside the SCS dispute temporarily to improve bilateral relations. "This truly has milestone significance for China-Philippines relations," Xi said, praising Duterte's landmark visit to China to reset ties that have been damaged by the SCS dispute.
Beijing claims almost all of the SCS despite partial counter-claims from the Philippines, Vietnam, Malaysia and Taiwan. An international tribunal struck down China's claims in July, saying Beijing has no "historic rights" in the SCS. China had rejected the ruling as "null and void" and said it "neither accepts nor recognizes" the verdict of the tribunal established at the request of the Philippines.